Return of Sonic the hedgehog
View(s):

Following the immense success 'Sonic the Hedgehog', the second installment, the action-adventure comedy film based on the video game franchise published by Sega is now on theatres.

Directed by Jeff Fowler and written by Pat Casey, Josh Miller, and John Whittington the film stars Ben Schwartz reprising his role as the voice of Sonic the Hedgehog, alongside James Marsden, Tika Sumpter, Natasha Rothwell, Adam Pally, Shemar Moore, Colleen O'Shaughnessey, Lee Majdoub, Idris Elba and Jim Carrey. The film follows Sonic and Tails, who team up to find the Master Emerald before Dr. Robotnik and Knuckles the Echidna do, while also contending with the military organization G.U.N.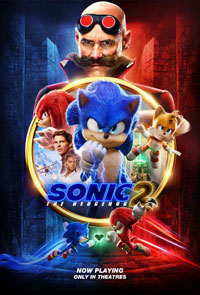 After settling in Green Hills, Sonic is eager to prove he has what it takes to be a true hero. His test comes when Dr. Robotnik returns, this time with a new partner, Knuckles, in search for an emerald that has the power to destroy civilizations. Sonic teams up with his own sidekick, Tails, and together they embark on a globe-trotting journey to find the emerald before it falls into the wrong hands.
From the filmmakers behind The Fast and the Furious and Deadpool, SONIC THE HEDGEHOG 2 stars James Marsden, Ben Schwartz as the voice of Sonic, Tika Sumpter, Natasha Rothwell, Adam Pally, and Jim Carrey returning, alongside new additions Shemar Moore, with Idris Elba as the voice of Knuckles, and Colleen O'Shaughnessey as the voice of Tails.
Following the success of the first film, Paramount Pictures announced the sequel in May 2020, with Fowler returning as director, while Casey and Josh Miller return as writers, and Schwartz, Carrey and the rest of the cast reprises their roles from the previous film. It was shot in Vancouver and Hawaii.
The films is now being shown at LSC – Liberty by Scope Cinemas, CCC – Colombo City Center, PVR Colombo 2, KCC – Kandy City Center, Majestic Cinema, Milano Kegalle and Savoy Rajagiriya.
Searching for that next furry family member but couldn't find one in your area? Hitad.lk has the solution with our extensive listings of dogs for sale in Sri Lanka!