A house of cards
View(s):

My dear new Cabinet of Ministers,

I thought I must write to you this week. Firstly, I should congratulate you on your new appointments. However, I should also be absolutely honest with you and let you know that, seeing you take your oaths as ministers, I didn't know whether I should laugh, cry or be very, very angry.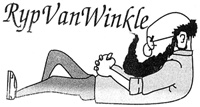 Here we are, facing our greatest economic disaster since the 'sudda' left our shores in 1948. Someone thinks that the crisis will go away simply by appointing one and a half dozen new ministers. It is like sending the 'B' team to play the big match when the 'A' team was badly beaten in a previous game.
When the earlier Cabinet handed in their resignations, four ministers were appointed soon afterwards. We thought a few subjects were hastily assigned so that essential business could be attended to, such as Sabry going to the IMF. A carefully chosen full Cabinet will follow, or so we believed.
Apparently Mahinda maama wanted a blend of youth and experience in the new Cabinet but they say he was overruled. So we now have, as doctors would say, a blend of geriatrics and paediatrics instead: political babies working with grandfathers like Mahinda maama, GL and Dinesh.
I am not sure whether the noise at Galle Face is heard in Gota maama's office across the road – or whether it is being drowned out by the sounds of 'kaputu kaak, kaak kaak'. If it is, he should have got the message loud and clear. The masses are clamouring to be ruled by those without the 'R' name.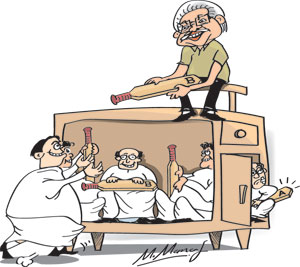 Neither Chamal maama, Basil maama or Namal baby are included alongside you in the latest Cabinet. However, the two most powerful positions in the Cabinet still carry the 'R' name. If anything, a very inexperienced Cabinet like yours will be under the control of the two 'R's, even more than before!
One of the demands made by those agitating at Galle Face is that positions should be offered on merit – and not because you are someone's son or daughter. What we can see is that, in this Cabinet of 17, there are no less than seven sons of former ministers and a nephew of one too.
Spare a thought for poor Johnny though. When only four ministers were appointed initially, he must have been a very happy man because he was one of the chosen four. Maybe that is why he began making threatening statements about killing crows and hanging their feathers for others to see.
Unfortunately for him, he has been booted out. While that is a step in the right direction, I am not sure that it will last long. If the dust settles on the current kerfuffle, I am sure he will be back with a bang and make up for lost time on the Highways portfolio – but right now, that is a big 'if', isn't it?
Also booted out are most other parties that once aligned with the 'pohottuwa'. The Blue party has lost its representation in the process, so it is clear that Gota maama wants to go it alone this time. If that doesn't go according to plan and he has to go home, Mahinda maama will say 'I told you so'.
As for you lot, some of you have already been in action. What we have seen so far doesn't inspire a great deal of confidence. We had that chap in charge of Health removing the requirement for masks a day after taking charge and changing his tune a day later – and they say he is a Professor of Medicine!
I don't know who among you is responsible for regulating gas prices. Whoever it is, a hefty increase in the price of a gas cylinder was announced, only to be reversed a few hours later. If decisions about masks and gas prices are being reversed in this manner, you are truly a government in reverse!
It seems it is a fashion now to submit your resignation soon after becoming a minister. Sabry did it first. Nalaka has done so too. Then you can tell everyone that Gota maama refused to accept it. That's not surprising because we know how averse Gota maama is to resignations – including his own!
Within days of your lot taking office, we saw that sad tragedy unfold in Rambukkana. There are many theories about exactly what happened, but what most people say is that someone involved with highways wanted to make a quick buck and another in charge of transport gave the orders.
Considering all the assurances we have been given about 'independent' investigations into the loss of a life, I am sure you will be very keen to find out the truth behind those horrendous events – in fact, as keen as you have been to find the truth behind the Easter Sunday attacks three years ago!
Dear new ministers, even though Gota maama wants you to take on this task, not everyone within his ranks is happy. Dullas has sent a letter saying all of you should be replaced with an all-party group. Whether he is saying so because some think he would make a good Prime Minister, I do not know.
As new ministers taking charge of Paradise, I suppose we should wish you well and be positive, if only because we don't want our nation to suffer even longer. It is hard to be optimistic though when we know we won't be dealt a better hand when the same pack of jokers are being recycled!
Yours truly,
Punchi Putha
PS: Dear new ministers, I noticed that despite one and a half dozen ministers being appointed to the Cabinet, there is no Minister of Justice. I think that is quite appropriate. As the tragedy of Chaminda Lakshan proves, there is no justice in our land anymore, so why do we need a Minister of Justice?