Appreciations
View(s):

He was an institution at the University of Moratuwa

Singarayer Pathinather

Singarayer Pathinather was an institution at the University of Moratuwa (UoM), particularly in the Civil Engineering Department, which was his academic home for so much of his life. This was partly due to his being a link between Moratuwa's eventual university status and its early roots in the Institute of Practical Technology, Katubedda (IPTK).

Pathi, as he was known to many of us, was a graduate of and teacher at the IPTK; but one who gradually but steadily improved his academic standing to become a university senior lecturer. This involved a diploma in sanitary engineering at IHEE Delft in the Netherlands and an MPhil degree in wastewater treatment at Moratuwa itself. He also played a major role, as a junior colleague of Professor Dayantha Wijeyesekera, in the initiation of the IHEE/UoM collaboration on postgraduate courses, which was a landmark for postgraduate education at UoM. This path of self-improvement displayed his determination and commitment to hard work, building of course on the intellectual skills he possessed in no small measure. He was an example to all of us, and no doubt to his children.

Mr Pathinather was extremely accessible to those of us who were his younger colleagues. And to many of us, his former students, who eventually became 'doctors' and professors, he graciously displayed deference. But much greater was the deference we reciprocated because, to contextualize a Biblical reference, he was a Sri Lankan in whom there was no guile – a rare breed indeed. He did not have any trace of pretence and was honest to a fault. He also bore with equanimity the occasional bureaucratic blunder that inevitably visits a long career – one of which was a delayed salary payment in the month of Christmas! In fact, such mishaps became grist for his raconteurial mill at the academic staff lunch table. Anecdotes concerning horses flying and snakes taking responsibility at survey camps were some of the other tales he regaled us with.

When the history of the Moratuwa University was being compiled at its Silver Jubilee in 1997, Mr Pathinather was entrusted the task of compiling the statistics, involving both staff and graduate lists. He had a phenomenal memory and paid great attention to detail. Some of us experienced this memory firsthand even after his post-retirement emigration to Canada to live with his daughter – through the birthday wishes he sent us via email.

Pathi's was a life well lived, amidst its various vicissitudes. He experienced the tumultuous times of July 1983 in the heart of Moratuwa, being assured by his neighbours that they would look after him and his family. He was devastated by the loss of his wife when his children were still in school; but then brought them up single handed and saw them established in life – a daughter in Canada and a son working in Dubai; and no less than six grandchildren. On one occasion, he was heartbroken at the loss of his pet dog. Such was the respect and love he commanded from his colleagues, that one of them, the late Professor Charles Senarath, drove him through the streets of Moratuwa in search of the canine – who was eventually found.

All of us at Moratuwa University were the poorer when Pathi retired from university life; and later migrated to Canada. No doubt he enriched the lives of those he encountered in Toronto – not least the members of his family. He has now taken leave of life itself – something that all of us have to do; but he has left so much of himself behind.

His colleagues at the University of Moratuwa
---
From brilliant student to Army and monkhood
Ven.  Buddangala Ananda Thera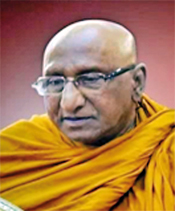 Venerable Buddangala Ananda Thera before his ordination was Ananda Weerasekera. He was a schoolmate of mine at Nalanda College, Colombo and I have very pleasant memories of our schooldays.
A brilliant student, he had an outstanding career in school.  He was head prefect, Athletics captain, captained the First Eleven soccer team, represented junior and senior cadet platoons, was a pioneer member of Sarvodaya, leader of the debating team, and President of the literary union. The College magazine of 1959 reported that he had been selected to represent Sri Lanka schools in the Asian Schools Soccer Tournament in Malaysia. His performances in school would have helped him in his later achievements in life to be the Vice President of the Football Federation of Sri Lanka and captaining the Sri Lanka soccer team.
Young Ananda joined the Sri Lanka Army in 1964 and progressed from Officer Cadet to Major General and Adjutant General.  In 1966, he graduated from the Pakistan Military Academy in Kakul and was adjudged first in the batch. As a military officer he obtained six awards as well as honours and six military medals. In 1998, at the age of 55 he retired from the Army.
In 1994, he completed his MA from the University of Kelaniya, Sri Lanka.
He continued MPhil and PhD studies in the same university. His dissertation was on the topic "Buddhist Approach for Conflict Resolution".
The President of Sri Lanka picked him when he was in the Army to be the Commissioner General of Rehabilitation on secondment (1990-1995). The urgent task assigned to him was to rehabilitate nearly 14,000 youths detained for insurgent/ terrorist activities during the riots in Sri Lanka and integrate them into society.
Under the above programme, I planned for Madanwala Rajamaha Viharaya in Girandurukotte to be one of the rehabilitation centres. The Chief Monk of the temple Ven. Sirisumanasara Nayaka Thera was not very much in favour. Hence, I arranged for Ananda to meet him and Ananda managed to persuade the Nayaka Thera. That was a character trait that I observed in him – strong persuasive power.
On the Poya day of May 1, 2007 Ananda entered the Buddhist order with the name Buddangala Ananda at Buddangala Aranya Senasana (forest hermitage) in Ampara District under the tutelage of Kalutara Dhammananda Nayaka Thera. There are two notable features in this hermitage. Firstly, in the stupa are enshrined the relics of the Buddha and of His chief disciples Arhant Sariputta and Arhant Moggallana. Secondly, the monastery has a recorded history of nearly 2300 years.
Accompanied by late Ari and Chandani, I visited Ven. Buddangala Ananda in Ampara in September 2010. Ven. Ananda had translated the life story of Thai Buddhist nun Silamata Chai from English into Sinhala and presented the first copy of the book to his loving mother on May 14, 2011. He took a keen interest in the Bhikkhuni order and established a Bhikkhuni centre in Ampara.
On March 6, 2012, the Viharadhapathi (Chief Abbot) of Siri Vajiraramaya Temple, Bambalapitiya Most Ven. Tirikunamale Ananda Mahanayaka Thera (Chief Prelate) invited Ven. Buddangala Ananda Thera to see for himself the almost 100-year-old library at Sri Vajiraramaya.
Ven. Buddangala Ananda Thera planned a visit to North America in 2016. But as the Canadian visa was delayed, he visited the USA and returned to Sri Lanka.
With the help of Canadian MP Terry Duguid, I was able to get a Canadian visa for him in August 2018 and had organised for him to deliver sermons in Toronto, Winnipeg and Calgary. Unfortunately, he fell ill and was unable to visit Canada.
May his sojourn in sansara be short and may he attain the Supreme Bliss of Nibbana in the shortest possible time!
Senaka A. Samarasinghe
---
The humble man whose dynamism was a great inspiration
 Dr. Victor Hettigoda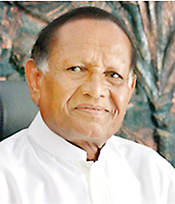 On April 2, we received the sad news of the passing away of Deshabandu Dr. Victor Hettigoda, a legendary Sri Lankan entrepreneur. He was nearing his 85th birthday.
When the history of Sri Lankan indigenous entrepreneurship is recorded, Hettigoda, better known by the flagship product "Siddhalepa" would no doubt figure prominently.
Having inherited from his father the recipe for a potentially miraculous product in the 1970's, Dr. Victor Hettigoda's inborn marketing acumen and skills came into full play. Starting with a modest capital, this "barefoot marketer" who would have never read Kotler or Michel Porter on marketing nor passed through the hallowed halls of learning in studying marketing, made a revolution in the balm market in Sri Lanka. With his vernacular tag line "sama gedarakama sitiyayuthu vedamahatmaya" he made massive inroads into the local market.
In the late 1970's he used the annual Sri Pada pilgrim season as the springboard to propagate this  remedy among the masses with tremendous success. Subsequently, diversifying into various related fields in Ayurveda (Ayurveda Products Manufacture, Ayurveda Hospitals, Ayurveda Resorts, Ayurveda Spas etc.) he provided gainful employment to thousands, earning valuable foreign exchange for the country.
In the1990's, he foresaw the need to cater to a specific market segment and introduced a 2.5 mg miniature Siddhalepa Balm pack to the market. Today over 30 years later, flexible packaging and miniaturising of pack sizes of FMCG's (Fast Moving Consumable Goods) has become the norm.
My association with Dr. Hettigoda started in mid 1995 when I called him with regard to an application to join the company. When Dr. Hettigoda asked me to come for an interview I suggested 8 the following morning with much trepidation since I knew that it is hard to find CEOs coming this early to office. To my surprise he readily agreed. When I walked in to his office at Ratmalana sharp at 8, he was at his desk clad in white sarong and bush shirt and just finishing his favourite breakfast of kurakkan roti and lunu miris on a metal plate.
Dr. Hettigoda was friendly but a stern taskmaster who never took no for an answer. True to the spirit of entrepreneurship in him he would create and innovate an idea and push the people around him to make it work. He would not be satisfied until it was accomplished. This was the time we dared not bump into him unless we had some tangible answers for his invariable question "what is the status of that project?"
However, he was humble to a fault when the occasion demanded. He had the habit of walking around the corridors of the factory or the offices in the mornings, barefooted, meeting people, exchanging pleasantries or asking a sharp question or two. This was his way of getting the feel of the workplace and engaging with the shop floor level. MBWA (Management By Walking Around) in modern parlance. Though he was a strict disciplinarian the empathy he had with the staff and with everybody who came into contact with him was phenomenal. I believe this was one of the secrets of his success.
Soon after my joining the company, in 1996 when the company had some issues with a project in Anuradhapura we had to get a report ready by the following day. I was in office with Dr. Hettigoda late into the evening and when we were just about to take the printout the power cable to the printer did not work. Dr. Hettigoda did not allow me to handle the situation but crawled under the table on his fours and adjusted the power socket. He had this knack of freely adapting to any occasion and was at ease with the highest in the land or the humblest worker of the company.
Perhaps due to the hardships he endured during early life Dr. Hettigoda possessed a seemingly inexhaustible amount of stamina and was always bubbling with energy. Climbing the summit of Sri Pada and descending in one stretch was no big deal for him. While on a company outing when he would have been touching 70 years, he effortlessly climbed the steep incline to the top of "Vedihiti Kanda" in Kataragama while some of us, much younger, were panting and trudging along.
In whatever he did, when he set his sights on a certain target he left no stone unturned to attain his objective. His zeal, determination, indefatigable willpower and dynamism ran like a beacon of light worthy of emulation. This was evident even when it came to his adventurous but abortive forays into the realms of the unfamiliar such as politics and journalism.
In later life he was a much mellowed person and as a Buddhist paid more attention to the spiritual side of life.
Dr. Hettigoda is survived by his wife Rupa, a gracious lady of immense charm and kindness, only son Asoka (well known in business circles) and the two daughters Vidyani and Lankani.
Dr. Hettigoda's life is an inspiration. May his sojourn in sansara be short and may he attain the Supreme Bliss of Nibbana.
T de S
---
 Remembering a generous heart 
SITA CHINTHAMANI (EDITH) SENARATNE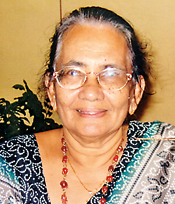 I still wonder why her family addressed her as 'Edith' ignoring the beautiful name given to her at her birth on April 13.
Her father was Proctor Frederick Senarath-Dassanayake from Katuwellagama Walauwa and her mother was from Debaraliyadda Walauwa in Pannala. She was the youngest in her family and when her father passed away, she was only three months old. It was her mother, my mother-in-law, a strong-minded lady who brought up the family of six children by herself.
Edith spent her childhood between her ancestral home and the boarding at Newstead College, Negombo. She was my husband's younger sister and we were married within a few months of each other. After marriage, she went to Anuradhapura where her husband Milton worked at the Conservation Board as an engineer. When we made trips to that beautiful sacred city, we took the train and they would pick us up from the railway station.
She had attended the Claremont Finishing School in Colombo and also learnt the basics of local cooking at home. She was a generous hostess. In a jiffy, she could turn out the most delicious dishes and there would be a good spread on the table.
She was always full of humour. When Milton was made redundant, it was she who kept her head up and became a businesswoman. She opened a pharmacy in Anuradhapura, and named it 'Chintha's Pharmacy' (part of her real name). Between them, they were able to manage well. Soon they shifted to Boralesgamuwa, and opened a new pharmacy  – P.S.S. Pharmacy and Mini Mart with the initials of their three children.  She was able to give the children a good education and upbringing and they are doing well in society now, all thanks to her. When she became a grandmother, she would help with babysitting. When her elder brother became ill, she would be at his bedside all night long on many occasions. Such was her kindness to her family.
She was involved in the Housewives Association and with all her business and social work, she never failed to participate in religious activities.
Our family migrated to New Zealand and when we visited her in 2013, she had had a stroke and was seriously ill. A month later, she passed away. With her goodness she collected in life, she would certainly attain Nibbana.
Pearl Senarath-Dassanayake
---
Searching for an ideal partner? Find your soul mate on Hitad.lk, Sri Lanka's favourite marriage proposals page. With Hitad.lk matrimonial advertisements you have access to thousands of ads from potential suitors who are looking for someone just like you.