Returnee refugees start trickling to TN in search of food security
By S. Rubatheesan
View(s):
Northern based Sri Lankans numbering around 20 from four families who voluntarily returned from Tamil Nadu after decades of languishing in shelter camps in the south Indian state due to the northern insurgency are considering a return passage as they could not bear the skyrocketing cost of living coupled with surging inflation from the unprecedented economic crisis in the country.
Their arrival in Tamil Nadu is making waves in the Indian media and the state's Chief Minister is requesting the Indian External Affairs Minister to send food to Sri Lanka's northern peninsula. Among those who have gone by boat to Tamil Nadu are fishermen from Mannar who complain of a loss of livelihood.
On Friday, a young family of four including two children from Mannar reached Dhanuskodi, Tamil Nadu in the early hours via a fishing boat.
Nishantha Fernando, a fisherman from Mannar said he was forced to leave the country with his family since daily survival in the country has become a struggle with the loss of livelihood, and shortage of essential items in recent months.
"I don't see a future for my children in the country anymore, so I returned back for the sake of my children," he told reporters. In 2006, Kirushanthan left the country due to the wartime situation and returned back home in 2010 hoping to resettle and reconnect with family relatives.
Just a couple of weeks ago, R Kajendran's family also took up a similar passage via Mannar.
At the height of the northern insurgency in 2006, R. Kajendran, then in his teens left for India with his whole family in a fishing boat via Mannar. The family was placed at a special welfare camp setup by the Tamil Nadu state government in Arachalur, Erode.
After 15 years he returned home via the same route to marry his girlfriend, now his wife, Mary Clara in April last year. The couple got married here and started their family with high hopes.
As the sole breadwinner of the family, Rajendran was engaged in painting works to support his young family but he could not get a decent daily income for the past several months.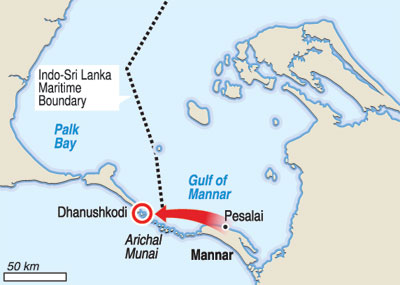 Unable to cope with the skyrocketing cost of living coupled with an acute shortage of essential items, the young family decided to leave their native place in search of a better life across the Palk Straits.
On March 21, six persons including Rajendran's family left Pesalai, Mannar in the dark hours after a local fishing boat was arranged for the journey. The family paid over Rs 100,000 per head to facilitate the journey.
The family was dropped off at a sand dune closer to Dhanushkodi by the local boat skipper in the early hours of 1 a.m. assuring them that another boat will come to pick them up to the mainland. But no boat came for them.
" By morning, we realised that we were in a sand dune, surrounded by seawater. We had to wait over eight hours amidst bad weather with our baby before Indian fishing vessels found us and informed the Indian Coast Guard which came later and took us to the mainland," Mary Clara told reporters in India.
On the following day, another group of ten individuals from two families left Thalai Mannar beach towards Dhanukodi with a handful of baggage. The families travelled some 80 kilometres from Vavuniya.
"We were forced to leave because there was no other option for us to survive. Prices of all products increased significantly in recent months to a point where we could not afford to or take care of the needs of our baby, so we decided to leave," said Mary Clara, explaining the circumstances that led to the decision to leave their home country.
Speaking to reporters in India, Gajendran reflected on how he came to Tamil Nadu as a refugee in 2006 to save his life but now had to do the same with his young family as economic refugees since living condition back home is deteriorating on a daily basis owing to shortage of essential items and fuel crisis.
The family maintained that they were forced to leave via the sea route since Gajendran experienced difficulties obtaining a passport on time in order to leave the country legally.
All the Sri Lankan economic refugees who reached Tamil Nadu shores are currently sheltered at Tamil Nadu State-run Mandapam Sri Lankan Tamil Refugee camp in Rameswaram.
Justin Zoysa, a fishermen leader from Pesalai, Mannar told the Sunday Times that among those who left via sea in recent weeks, a significant number of them have either family links or have friends to support them.
"It is true that current economic difficulties are tremendous and affecting families which depend on the daily income for survival badly but I don't think that people who have close roots here will leave in big numbers. The government should take urgent steps to resolve the situation immediately as the fishing industry is also faced with severe challenges," fishermen leader Zoysa said while pointing out that fuel shortage reduced the number of fishermen going to sea on a daily basis and hours-long daytime power outage threatened fisheries export sector as well.
As a diplomatic move, Rameswaram Fishermen Unions which are at loggerhead with their Sri Lankan counterparts, the northern fishermens federations came forward to provide relief items to the Sri Lankan refugees.
Last Thursday, Tamil Nadu (TN) Chief Minister M. K. Stalin announced that he had directed officials to discuss with the Union government how to legally handle the arrival of Sri Lankan Tamils in Tamil Nadu.
Meanwhile, a special advisory- TN Commissioner of Rehabilitation and Welfare of Non-Resident Tamils, Jacintha Lazarus, said Lankan nationals arriving in Tamil Nadu coastal areas will be lodged at Mandapam special camp where legal proceedings will be conducted.
"Sri Lankan Tamils have started entering India illegally via waterways. As many as 16 people entered India due to the economic crisis and food shortage back in their country. Reports suggest that many more people will be fleeing their country and arriving in Tamil Nadu. In such a situation, it is advised to carry out an inquiry as per the existing government norms and to accommodate them at Mandapam Camp," Jacintha Lazarus, the commissioner for Rehabilitation and Welfare of Nonresident Tamils," said a written directive issued by the Commissioner to local authorities on March 23 urging them to take early steps to ensure basic facilities and housing for the arriving refugees.
Following the directive, Rameswaram judicial Magistrate court cancelled the order to remand three Lankan refugees at Puzhal jail for 15 days. They were released on bail of Indian Rupees 10,000. Altogether, seven individuals have been booked under India's Passports and Foreigners Act for entering the country via sea without valid documents.
Back home, the Sri Lanka Navy said that it has identified some loopholes that allowed the outward illegal passage towards the Indian coast from the country and has taken adequate steps to address them.
"We have a mechanism in place with increased patrolling activities near coastal waters and setupped observation points on the ground in selected areas. In addition, we have also deployed additional vessels around the clock to prevent any inward or outward illegal passages," Navy Spokesperson Captain Indika De Silva said.
TN ready to send essentials; move to avert influx of refugees

Tamil Nadu Chief Minister M.K. Stalin on Thursday spoke to Union Minister for External Affairs S. Jaishankar over the phone, reiterating the Tamil Nadu government's proposal to lend a helping hand to Tamils in Sri Lanka.

During the conversation, Mr. Stalin said the Tamil Nadu government was prepared to supply essential commodities such as rice, cereals and life-saving drugs by ship from Thoothukudi to benefit Tamils in eastern and northern provinces of Sri Lanka, and in Colombo and Jaffna and hill-country Tamils, according to an official release.

The Chief Minister also requested for distribution of supplies through Indian diplomatic missions in Colombo and Jaffna.

The move came after, TN authorities indicated that if adequate steps are not been taken, more refugees would be heading towards the Tamil Nadu coast as the economic crisis further deteriorates in Sri Lanka.
The best way to say that you found the home of your dreams is by finding it on Hitad.lk. We have listings for apartments for sale or rent in Sri Lanka, no matter what locale you're looking for! Whether you live in Colombo, Galle, Kandy, Matara, Jaffna and more - we've got them all!