Overseas warnings intensify tourism agony in economic calamity
By Renishka Fernando
View(s):
Sri Lanka's tourism industry is facing a crisis yet again due to economic, political, and social issues that have gained wide attention overseas.
Countries have issued advisories requesting travellers to reconsider trips.
Australia, Canada, the USA, UK and New Zealand have issued advisories so far, while Singapore and China have urged citizens to exercise caution in Sri Lanka. The Chinese embassy warned earlier this month, that the economic situation is "increasingly critical with a significant rise of uncertainties in society" and that Chinese should be alert to the "security situation."
Various overseas advisories have highlighted violence, political and economic unrest and the shortage of basic items.
The US State Department revised its travel advisory on April 7 to Level 3, which said: "reconsider travel."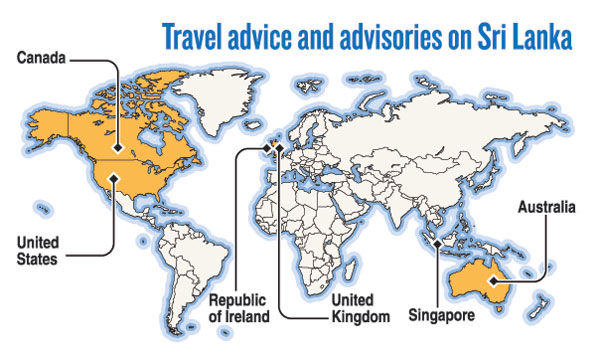 All stakeholders in the tourism industry held a peaceful protest outside the Sri Lanka Tourism Development Authority (SLTDA) on April 5.
The protest was organised by travel agencies calling for access to basic items – gas, fuel, and electricity – the removal of the state of emergency, protection of the livelihoods of people involved in tourism and the new Tourism Act No 38, to name a few.
They held slogans that said: 'Protect Tourism and Hospitality Industry for US dollar revenue', 'Protect the livelihoods of two million Sri Lankans', 'Appoint competent people to make economic decisions'.
"We have had to face continuous problems from Easter attacks, to Covid-19. and now, political and economic unrest," said Darshana Cabraal, executive committee member of the Sri Lanka Association of Inbound Tour Operators (SLAITO).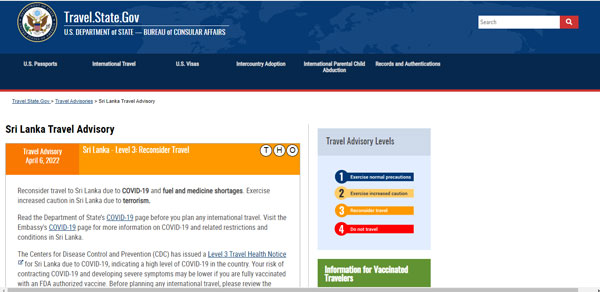 Meanwhile, the recent spate of events across Sri Lanka, ranging from protests, a state of emergency and the social media ban has led to many tourists cancelling and rethinking their decision to travel to Sri Lanka. Potential tourists have started inquiring whether it is safe to travel to Sri Lanka amid multiple crises.
"Travel advisories came about because of the state of emergency being declared," Mr Cabraal said. He explained that when an emergency is declared, insurance gets expensive. This deters travellers. He added that the unrest has generated negative publicity. New bookings have dropped drastically, while there are cancellations.
"Travellers are thinking twice before they travel now," emphasised Mr Cabraal.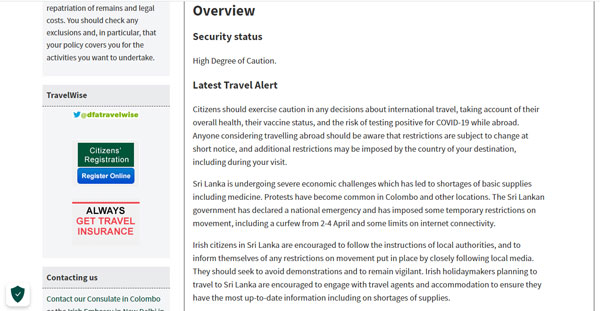 Meanwhile, he noted that countries such as Malaysia, Thailand, and Singapore have opened up to visitors since April 1. This gives tourists from Western countries more options and that remains a threat to the revival of Sri Lanka's tourism.
Meanwhile, the long queues for petrol/diesel and cooking gas, as well as power outages and medicine shortages have also had a severe negative impact.
Homestays and bed and breakfast establishments are struggling because they do not have power generators. The fuel shortage makes it impossible for stakeholders to provide uninterrupted services.
Mr. Cabraal highlighted that tourists who came to Sri Lanka through local operators and agents were able to find accommodation where generators are available.
"Budget travellers who visit Sri Lanka are the ones who are most affected by the crisis."
Despite the industry's problems, some tourists have shared their positive experiences in Sri Lanka. In a recently released video by Cinnamon Lifestyle, international tour guide, conservationist and wildlife photographer, Paul Goldstein called on the travellers to visit Sri Lanka to assist the growth of the economy.
In the video, Goldstein recalls his many visits to Sri Lanka saying that what draws him back is, "a combination of remarkable wildlife, a peerless and captivating coastline, magnificent cuisine, fascinating culture and its truly breath-taking interior''.
He further says that what underwrites all these components are Sri Lankan people who are hospitable, kind, and resilient.
Tourism remains one of the main sources of foreign exchange, but the economic and social problems are keeping tourists away. Tourism contributed US$4.38 billion in 2018, but this dropped to US$3.60 billion in 2019 after the Easter Sunday bomb attacks on churches and hotels. This was followed by travel restrictions due to the coronavirus disease pandemic in 2020.
Tourism earnings fell to US$682.5 million in 2020 and US$506.9 million 2021.
"They [SLTDA] are just counting tourist numbers, but to run our hotels and our businesses we must have the basic needs," Mr Cabraal noted.
The industry is also grappling with experienced staff migrating.
"How can we serve tourists when we do not have experienced staff?" he questioned.
Due to better opportunities and job security in countries including the UK, Australia, Dubai, Maldives and Qatar, trained employees are emigrating.
"The industry was just coming up," said Mr M Shanthikumar, president of The Hotels Association of Sri Lanka. He said it is an imperative to find sustainable solutions to protect one of Sri Lanka's main forex sources.
He wondered why tourists would come when businesses can't even provide the most basic needs. "No matter how hospitable we are, nobody wants to come to a country with 13-hour power cuts and fuel shortages."
Stakeholders have said that recovery will be difficult, but that they will attempt to provide uninterrupted services as much as possible.
"Our industry is totally neglected," remarked Mr Shanthikumar. Unity must be prioritised. The hotels in THASL have been helping each other when faced with shortages.''
Another matter that has angered the tourism stakeholders is the haste to pass the new tourism act. "We don't know why they are in such a mighty hurry to pass this act when the entire country is burning," he commented.
In addition, discussions in the private sector about the act are yet to take place.
According to Mr Shanthikumar, concerns had been raised with the then-minister of tourism, Prasanna Ranatunga, who had assured them that the draft would be passed on to the private sector. The draft is yet to be shared.
"It is the government that wants the new tourism act passed. If the government tells us not to pass the new act, then we won't," said Dhammika Wijesinghe, the director general of the SLTDA. She also confirmed that there had been many cancellations due to the emergency and the social media ban.
"We cannot do anything at the moment to provide these basic needs because they are unavailable," Ms Wijesinghe said.
The best way to say that you found the home of your dreams is by finding it on Hitad.lk. We have listings for apartments for sale or rent in Sri Lanka, no matter what locale you're looking for! Whether you live in Colombo, Galle, Kandy, Matara, Jaffna and more - we've got them all!