Global wheat price leaps higher, sugar rebounds
View(s):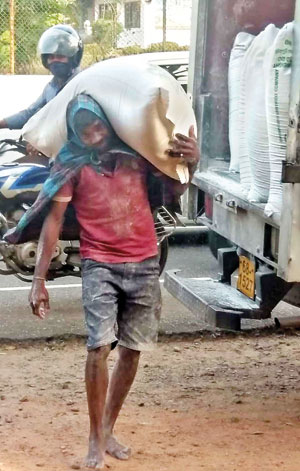 Wheat, an essential commodity for many Sri Lanka households, is galloping to new highs in global markets.
The latest Food Price Index of the World Food and Agriculture Organisation, shows that the price of wheat in world markets shot up sharply by 19.7% in March. The global index measures monthly change in international prices of a basket of food commodities.
In Sri Lanka, millions of families use wheat flour to make flatbread, or roti. This is common in the plantations. It is pricey and is also not widely available.
At state-owned, loss-making retail network Sathosa, which promotes its own wheat flour product, a kilo pack is priced Rs 98, but not available on the shelves.
At a high end supermarket, a kilogram pack of wheat sells at Rs 225, but not available at another big supermarket chain. At another supermarket chain, a kilo pack is priced at Rs 260 online.
Prices of commodities in Sri Lanka continue to rise every day in every city and town and keeping track is often futile.
The FAO index averaged 159.3 points in March 2022, up 17.9 points (12.6 percent) from February, making a giant leap to a new highest level since its inception in 1990. The latest increase reflects new all-time highs for vegetable oils, cereals and meat sub-indices, while those of sugar and dairy products also rose significantly.
The price of sugar has rebounded, the FAO said, citing a sharp increase in crude oil prices, "which raised expectations of a greater use of sugarcane for ethanol production in Brazil in the upcoming season''.
The FAO Sugar Price Index averaged 117.9 points in March, up 7.4 points (6.7%) from February, reversing most of the previous three months' decline. The prices are more than 20% above that of the year before.
On Friday in the Pettah market, white sugar was above Rs 230 a kilo, more expensive than a kilo of samba rice. On April 7, a year ago, a kilo was sold for Rs 115 in the Pettah, a 100% jump.
At a high end supermarket, white sugar was selling Saturday for Rs 19.50 per 100 grams.
Sathosa sells white sugar for Rs 130 a kilo, but many outlets do not stock. Brown sugar is Rs 158 a kilo.
The best way to say that you found the home of your dreams is by finding it on Hitad.lk. We have listings for apartments for sale or rent in Sri Lanka, no matter what locale you're looking for! Whether you live in Colombo, Galle, Kandy, Matara, Jaffna and more - we've got them all!