Life and death struggle for cooking gas and fuel
By Kasun Warakapitiya
View(s):
Heated arguments, fisticuffs, verbal abuse and clashes with police have become common at fuel stations and at gas dealers because of unprecedented shortages that have paralysed homelife, and hobbled economic activity.
People who have waited in queues for hours, even days, for gas, are angry. Despite daily assurances from Energy Minister Gamini Lokuge about a petrol or diesel ship arriving, waiting to unload or unloading, supplies are finished in hours. Some angry people damaged gas storage facilities, blocked public roads and grabbed gas cylinders off delivery trucks.
Kotahena resident, M P Thilakaratne who lined up at a fuel station at Grandpass to buy kerosene, said: "I was waiting for over 4 hours. So is everyone else here, even in this heat." People were fed up with the Government which was useless and must be chased out.
Colombo resident, Shanmugaraja Thambiraja, 77, told the Sunday Times that the poor, rich and sick are all waiting to buy fuel. Those who suffer for long periods are angry, so the deployment of soldiers at fuel stations was a good move as people behave better.
"If a person sneaks into the line, that is enough to trigger an angry reaction which could lead to violence," he pointed out. "Sending in the army is good."
Labourer Anthony Selvarajah, who lives near Jinthupitiya Road, said that he was at the Grandpass fuel station from 6 am to midnight. He was losing patience, yet he had no choice because there was no kerosene at home since last week. He had not reported to work and could not earn a wage.
"I live in a rented house," he lamented. "I am the sole provider for the family. I am also a heart patient, it's not good to strain myself like this. The Government has never helped us."
Motorists, three-wheel drivers, private buses, goods trucks, and dozens of tipper trucks, were waiting for diesel and petrol. Kiribathgoda resident M R Silva said that two fuel stations he went to had been closed during the day. When he learnt a petrol tanker was to arrive around midnight, he drove to the filling station at New Hunupitiya Road.
"There are vehicle queues at night," he said, furious. "This Government destroyed the country. We have money but we don't have fuel." He was frustrated that the three-wheel driver behind his vehicle was trying to sneak in. He hated the Government for creating such an unpleasant situation.
Filling stations around the country had winding queues and these reactions are only a representative fraction. Earlier this week, four people died in lines. They were elderly men who collapsed in the heat.
The first death was on Sunday: a 71-year-old Katugastota resident who was in a kerosene queue in Kandy. The second was on Monday at Kadawatha: another 70-year-old man at a fuel station who died on admission to the Ragama Teaching Hospital. A third person, also 70, died at a filling point in Mirigama. The police said he was leaving with several cans after buying fuel.
The restlessness and aggression in fuel lines grows by the hour. On Sunday, a 29-year-old motorcyclist was stabbed to death by a three-wheeler driver as he was leaving a filling station in Horagolla, Attanagalla. Nittambuwa Headquarters Inspector J O P Abeyratne said the motorcyclist Thuwan Dilshan Thajudeen was a Maligawatte resident. The suspect was Perumbulli Arachchige Nuwan Priyadharshana, 38. The incident occurred following an argument.
At a gas dealership in Slave Island, daily wage earner, Yusuf, said he collected a token days ago but didn't get gas until Thursday. He had not been able to earn a living either.
Following protests and violent incidents, the police and army have been deployed. Army Media Director Brigadier Nilantha Premaratne told the Sunday Times, soldiers are at fuel stations only to monitor and check that they do not hoard fuel. They are also being told to coordinate and inform the authorities when resupply is needed.
"Earlier, there were complaints that some fuel stations stock fuel and stop distributing," he elaborated. "So soldiers are told to monitor and see that every person is able to get fuel."
Police said patrols were increased to stop crowds from getting out of hand. Media Spokesman Senior Superintendent of Police Nihal Thalduwa said that even though they cannot cover all the fuel stations, they have begun more night patrols and sent out more officers.
"We take measures to avoid violent behaviour," he explained. "We also told them to be more humane as the people are inconvenienced. But if things get out of hand, they have been told to use force."
The chairman of Ceylon Petroleum Corporation Sumith Wijesinghe was not available
to comment.   Pix Akila Jayawardana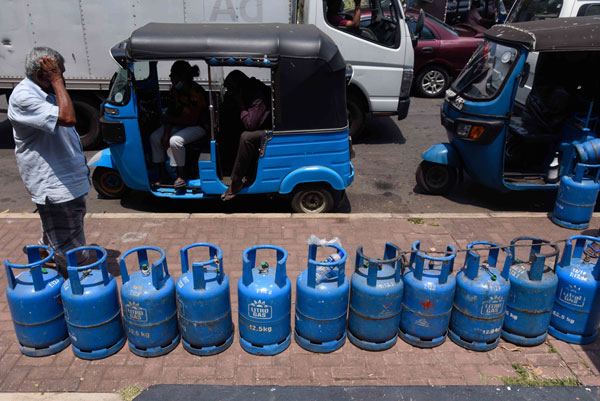 The best way to say that you found the home of your dreams is by finding it on Hitad.lk. We have listings for apartments for sale or rent in Sri Lanka, no matter what locale you're looking for! Whether you live in Colombo, Galle, Kandy, Matara, Jaffna and more - we've got them all!