Dealers, buyers feel hard pinch as gold prices soar
By Yoshitha Perera
Small time vendors at Colombo's Sea Street say business at a standstill, with customers postponing or cancelling orders
View(s):
Gold dealers say small-budget weddings are being postponed as families wait for the price of gold to cool off.
The prices are soaring, and dealers and buyers are feeling the hard pinch. Within the last ten days, the price of a sovereign or eight grammes of gold has increased by Rs. 35,000. This has caused people to cancel or postpone orders they made for the April-May wedding season, said vendors at Sea Street in Colombo where many such purchases are made.
"Business at Sea Street in Colombo, one of the largest gold hubs in the country, has come to a standstill as the price of a sovereign of gold has gone up steeply," said K. Murasoli Maran from Aruniya Jewellers (Pvt) Ltd. "People are not willing to purchase gold and some of them are cancelling orders they have placed with jewellery manufacturers and wholesalers."
The price of a sovereign of 24-carat gold was priced at Rs. 170,000 on the evening of March 25, while a sovereign of 22-carat gold was Rs. 159,500. The high prices have also led to a shortage, dealers said.
"Some people are saying the price of gold is sky-rocketing due to the Russia-Ukraine war but that is not the problem here," Thurairajan Vivekanandan from Karans Jewellery (Pvt) Limited said. "It is the appreciation of the US dollar against the Rupee. The world market price has also gone up."
Customers have dropped by 75 percent in the past few months due to this rapid hike. Marriage without gold is also becoming a common practice, said Anthony Morgan from City Centre Jewellery Shop.
K. Subramanian shifted his shop to the Colombo Gold Centre (CGC) in 2014. Within the past few months, he has seen a massive shortfall of customers. He has been a seller for more than 50 years and can remember a sovereign of gold selling for Rs 2,500. "In the past eight years, these past few months have been the lowest income generation period for us," he said.
By contrast, leading gold shops–the biggest in the local market–claim they have not been affected by the high prices. They said more customers have invested this month.
"We make 22-carat gold," said the manager of one such shop, who did not wish to be identified. "There is an increase in those making gold coins these days. That means people are investing in gold."
The situation differs depending on each gold-related business. Soaring prices are expected to benefit pawnbrokers as people turn towards a traditional borrowing method: Pledging gold for cash.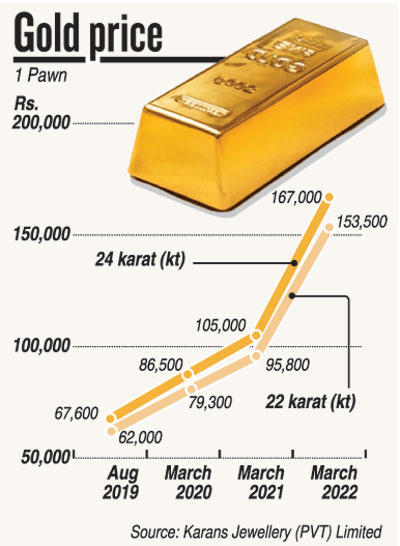 "More people are selling their old gold jewellery," said Sajeewa Gangodavilage from Manali Pawning Centre in Malabe. "But it is difficult for us to determine the mortgages for pawning in this situation because the prices change within 24 hours."
The number of new customers who want to mortgage their jewellery, however, is declining, he claimed. But many who have already pawned their valuables are extending the timeframe for repayment.
The best way to say that you found the home of your dreams is by finding it on Hitad.lk. We have listings for apartments for sale or rent in Sri Lanka, no matter what locale you're looking for! Whether you live in Colombo, Galle, Kandy, Matara, Jaffna and more - we've got them all!