COVID-19: Moving on with lessons learnt
By Kumudini Hettiarachchi and Ruqyyaha Deane
Dr. Ruwanthi Jayasekara, looks back and forward on how to face infectious disease
View(s):
With the COVID-19 pandemic swinging this way and that like a swift pendulum whenever a virus 'variant of concern' strikes, it was a look back and forward on pandemic issues with specific relevance to Sri Lanka and how we could move on with the lessons learnt.
"COVID-19 is an infectious disease and most of the pandemics or epidemics in recent times have been due to respiratory illnesses," says Acting Consultant Chest Physician of the National Hospital of Sri Lanka (NHSL), Dr. Ruwanthi Jayasekara, looking back over a 100 years ago to the Spanish flu and in more recent times to SARS-CoV-1 (which caused SARS – Severe Acute Respiratory Syndrome) and also MERS (Middle East Respiratory Syndrome).
When the recent pandemic – SARS-CoV-2 – caused by the new coronavirus began with very severe disease in 2019, she recalls how both she and her husband were in the United Kingdom in training. It hit Wuhan in China and countries started closing their borders, but with the world being a global village, the infection spread in a matter of days.
The initial knee-jerk reaction was to close borders against tourists from the affected country, but that did not help because this is an infectious disease, she says, stressing that preparedness at that time was literally "nil". Having gone from a developing country where healthcare workers wear masks when handling tuberculosis (TB) patients, the west was a different scenario altogether. Sri Lankans were used to wearing face masks, at least health workers treating infectious diseases, but some of the developed countries were not used to this, while another vital factor was that there was no proven treatment for COVID-19. It was only much later that clinical trials tried out different management methodologies for COVID-19 and vaccines effective in reducing severe disease and death were also produced.
Back when the pandemic began, she says that even though the virus rampaged in several countries, Sri Lanka got a little bit of leeway as it hit only around March 2020. However, because of its magnitude, Sri Lanka was "still taken by surprise" and had to scramble to set up isolation units, allocate beds and also healthcare staff attired in Personal Protective Equipment (PPE) to treat COVID-19 patients. This was not only for the health sector but also for essential services. Even with precautions, many frontline healthcare workers suffered severe illness and some tragically died.
"These bitter lessons along with the invaluable experience garnered over a variety of aspects in combating COVID-19, we need to fine-tune and use as the strong base when looking to the future," says Dr. Jayasekara.
Just a 'whiff' of any health emergency on the far horizon should set us on alert to activate a 'Pandemic Preparedness Contingency Plan' for essential services mandatorily including health not only at national, provincial and district levels but also at ground level – within the hospitals themselves, is Dr. Jayasekara's plea.
Such planning needs to take into account all aspects and even the minutest details, from basic to complex requirements, she says, focusing on images of 2021, "when hospitals were overflowing after the deadly Delta variant struck. People were dying, oxygen was running out….it eventually settled, but again the cases rose and we had to start all over again – we had to put in place the staff and arrange wards".
A body which comprises all high-level stakeholders should be ready to step in promptly and will be of immense value at national level percolating down to provincial and district levels and finally to hospital level. This body could meet regularly and make sure which hospital should function as COVID (or other infectious) units and whether these hospitals had adequate staff. Then when there is a surge in COVID, which wards and healthcare staff should be allocated can be decided by the relevant hospital. There is such a plan but it could be implemented better because when cases start rising, things can descend into confusion, she says.
Dr. Jayasekara explains that at hospital level there should be systematic coordinator meetings where policy decisions can be taken on the emerging situation. Once such decisions are taken, all staff whose representatives have been part of such decision-making, would follow them through without a glitch.
"Some countries have in their main hospitals a specific department designated to deal with an infectious disease – currently a COVID department, the staff of which will remain as the COVID team. This department would also identify which healthcare workers are at high risk," she says, pointing out that if a healthcare worker is on immuno-suppressant medication, he/she would not be assigned into a COVID High Dependency Unit where aerosol-generating procedures were being done. Such vulnerable staff would be assigned to a non-high-risk area.
She details some of the 'essentials' in a health emergency checklist that need to be ticked off:  
What and how many wards will be turned into isolation wards?
How many healthcare personnel would be allocated without disrupting the other services of the hospital?
What are the staff rosters that would be in place taking into account rest time for PPE-clad staff who would be treating the infectious patients; recuperating time for staff who may be affected by the infectious disease; an emergency pool from which staff could be mobilized quickly to fill any gaps in staffing, etc?
A key concern would be ensuring that all other patients with life-threatening illnesses are looked after.
Are there adequate stocks for hospitals to function without disruption? These stocks should range from simple but essential cannulae needed to administer intravenous fluids; to medicines, to wall oxygen to oxygen cylinders, to PPE, to mention a few.
Has the layout of the hospital been planned well to demarcate triaging areas away from crowded spaces; separate sections to accommodate suspected infectious patients until testing indicates otherwise; sections where healthcare staff on continuous duty could lay down their weary bodies for a little while; and isolation wards for staff who may fall ill?
What of food and water for staff and also other basic facilities such as toilets?
Dr. Jayasekara focuses on another aspect: "When donations flow in, given the generosity of Sri Lankans, there should be a priority list or even a kitty where funds can be collected and disbursed for actual needs in the health sector. Then whatever a hospital needs optimally can be purchased without getting 10 items that are of sub-optimal use."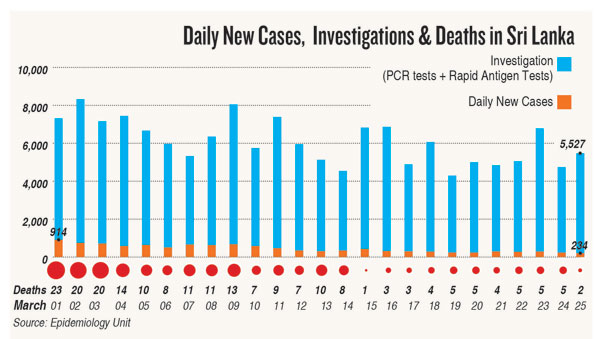 Sometimes people would donate infusion pumps which hospitals may have had aplenty but not an urgently needed power cord, she says, citing a simple example. Another more serious example could be getting non-invasive ventilation equipment (used usually for home ventilation) but sometimes not ventilators used in hospitals needed for the acute care of gasping patients.
A solid and transparent system set out by a dedicated team could help guide people who want to make donations about what is really needed and where such donations should be channelled to. Such a team could have a list of needs and what is coming in. Then not only the needs of popular hospitals but also the peripheral hospitals could be matched and met. This would ensure coordination and fine-tuning of such generous donations.   crisis
'Don't let misinformation and myths keep you from taking the jab

A fervent appeal goes out from Dr. Ruwanthi Jayasekara to anyone who has not taken the booster.
The booster helps people to keep severe disease and death at bay. Don't let misinformation and myths keep you from taking the jab, she says, urging people not to let the economic crisis they are facing to keep them from taking the vaccine. Times are tough with lots of queues but think of your health and also the health of people around you and take the vaccine.

With regard to pandemic preparedness, Dr. Jayasekara says that all health precautions still need to be practised but if this new normal goes on for more than five years, people will suffer pandemic-fatigue which is being seen even now, more than two years into this health crisis.

She adds: "While wearing face masks when going out of home, resorting to hand hygiene and also social distancing and avoiding enclosed and crowded places, on the side of prevention, it is important to get vaccinated. Scientists are studying the new variants and will probably modify the vaccines accordingly. It is crucial to make decisions on which vaccination is best and then make the community aware of it."

Dr. Ruwanthi Jayasekara extends a heartfelt tribute to all the healthcare staff who faced the onslaught of COVID-19.

They ranged from the doctors and nurses who worked to exhaustion, the minor staff who collected the infectious waste, the ambulance staff who brought very ill people to hospital, those who handled the bodies and those who had to dispose of the bodies amidst the heartbreak of the families of the deceased, she says.
The best way to say that you found the home of your dreams is by finding it on Hitad.lk. We have listings for apartments for sale or rent in Sri Lanka, no matter what locale you're looking for! Whether you live in Colombo, Galle, Kandy, Matara, Jaffna and more - we've got them all!