Seven days of Culinary Magic at Movenpick
View(s):

In its 5 years of inception, Movenpick Hotel, Colombo, has consistently endeavored to bring its guests brand-new culinary experiences – which the Swiss brand is famed for globally. In its latest offering, the Hotel warmly invites customers to embark on a magical, gastronomic journey. As travelling and experiencing global fare is greatly curtailed for most, Movenpick wishes to allow guests to continue to enjoy the pleasures of indulging in authentic global favourites. Movenpick's celebrated Chefs will astound diners with their culinary wizardry with a treasure trove of sublime dishes from across the seas, with carefully curated theme-based dinner buffets, every single day of the week at its Restaurant Ayu. From Mediterranean, ASEAN, Mexican, Italian, International, Sri Lankan and Seafood & Meat, themed buffets, visitors can encounter the world's cuisine like never before.

Guests can bask in a Mediterranean Summer with the exotic allure of Mediterranean cuisine at an exquisitely laid out buffet. Light and airy salads, succulently prepared meats, the freshest catches of the sea and all-time favourite Mediterranean delicacies await to tantalise tastebuds every Monday evening.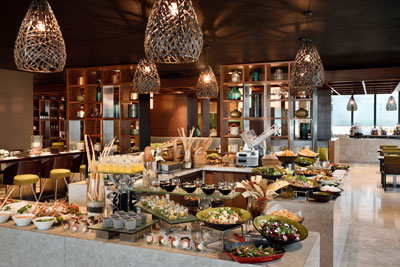 Fiesta Mexicana will liven up Tuesday evenings as diners dive into their favorite Mexican dishes at this celebration of Mexican cuisine. From fajitas to seafood, and burritos, the fare is prepared according to Mexican tradition. With a selection of chilies, beans, seasoning, and herbs, this exciting range of Mexican food offers an exhilarating and vibrant escapade. Guests can choose from an extensive selection of dishes which burst with that inimitable flavour of Mexico – piquant, colorful, and fresh.
An Italian Affair, is a vibrant flavoursome evening, every Wednesday and features a buffet with classic Italian gastronomy. Diners can relish the rich aromas, vivid colours and distinct flavours as they submit to a sensory experience that will satiate even the most discriminating food aficionado. Meals can be paired with the Hotel's exclusive selection of the finest Italian reds and whites.
Every Thursday evening, the Taste of Ceylon, will capture the senses of customers as they indulge in the rich, spice infused taste of Ceylonese Cuisine, prepared with rural authenticity. The expansive buffet with an array of dishes, reveals the Sri Lankan culinary splendour, enjoyed by the forefathers of this paradise island.
ASEAN Marvels are on offer every Friday night, where diners explore the spicy, sweet & sour flavours of Southeast Asian cuisine. These ASEAN delights are deftly prepared with fragrant aromas and are rich in herbs. Stir-fried, boiled and steamed favourites await to delight families and friends as Movenpick brings the wonders of Asia from one's imagination to the plate.
The Seafood & Meat Fete is a hearty invitation to the most indulgent, Seafood & Meat lovers' destination every Saturday evening at Ayu. An astoundingly rich and diverse dinner buffet, boasting the finest Seafood and most succulent meats, is flawlessly prepared for the dining pleasure of the Hotel's valued patrons.
Every Sunday, Wonders of the World presents the most-loved cuisine from all corners of the world, for a dining experience like no other. This will take diners on a magical journey across the seas as they taste a world of exotic and wholesome flavours. Prepared by the Hotel's skilled chefs, Movenpick promises customers and their loved ones an extraordinary dining experience.
Movenpick's selection of the finest and rarest beverages provide an exquisite pairing with the fare on offer. From the most loved brands to the most exclusive, the Hotel has an extensive reservoir of beverages, cocktails and brews to suit all palettes. This colourful Culinary journey across the world promises to be an exhilarating and memorable one indeed, which guests of Movenpick can enjoy right here in the heart
of Colombo.
Searching for that next furry family member but couldn't find one in your area? Hitad.lk has the solution with our extensive listings of dogs for sale in Sri Lanka!