Foreign Medical Education for the Lowest cost through REC Campus
View(s):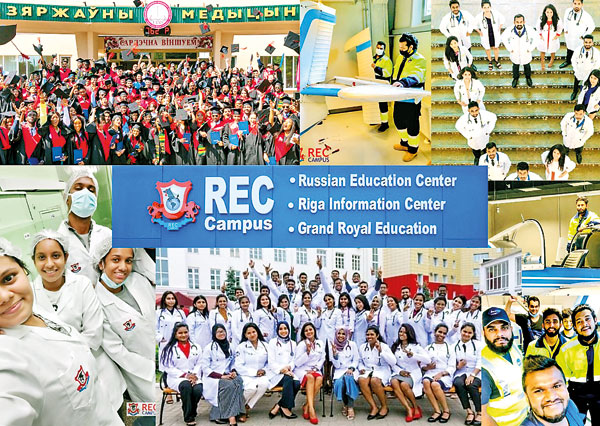 The Best Foreign Education Provider in Sri Lanka
The universities represented by REC Campus are recognized by Sri Lanka Medical Council (SLMC) and other medical bodies in the USA, UK, Australia and EU. The parents have the opportunity to select a university according to their affordability and there is no difference on recognition and the standardization of education. Apart from the major services given by REC Campus, ERPM guidance given to the students from the 3rd year onward, has created a successful ERPM passing rate among students and also the emergence of medical consultants and medical directors will ensure the richness of knowledge gained from these universities.
In addition, assistance is given to face the entrance exams such as USMLE, PLAB and AMC for the students who are willing to migrate to the USA, UK and Australia and currently there is a large number of graduates who pursued career opportunities in those countries and globally. An awareness online webinar has been organized by REC Campus on 26h of February at 10.30AM to acknowledge dear parents on your child's foreign medical education. Please call 0711-101010  / 0711-707070 / 0711-606060 for registrations and more information.
www.reccampus.com
First Moscow State Medical University
First Moscow State Medical University was crowned Russia's first state medical university. Also known as I.M.Sechenov University, it is composed of a panel of eminent professors and professors who are known for their innovations and hold the leading positions in many Russian medical universities. The existence of a separate international faculty for international students to share their knowledge of global medicine is unique in being able to complete a medical degree in full English medium. The quality of education at this university is well established by the fact that at present there are specialist doctors in Sri Lanka.
Tver State Medical University
Located about 160 km from Moscow, Russia. Tver State Medical university has been produce more than 3000 Sri Lankan graduates since 1970s'. More than 500 Sri Lankan medical students are currently studying medicine, and the university's unique ability to impart medical knowledge to students as well as quality standardised education is a testament to the fact that students studying here excel at the local ERPM exam, gaining opportunities to excellence. The total cost will be approximately Rs. 60 lakhs including accommodation / books / education to complete the medical degree in English medium during 6 years. It is also possible to pay in installments or at once.
Kursk State Medical University
Founded in 1935, the State Medical University is located in the capital city of Kursk. It has the second largest anatomy laboratory in Europe, with nearly 1,500 foreign students studying. The majority of them are Sri Lankans. The professor who discovered the first Russian Covid vaccine is also a past graduate from this university. The degree is recognised by medical councils in all the European countries, USA, UK, Singapore and Australia. The fee is $ 6200 per year with tuition, accommodation and books. That is about 1.2 million in Sri Lankan currency. The graduates of this university pass the ERPM exam at the first attempt and many others migrate to other countries as well. There are two intakes – February and September.
Gomel State Medical University
Founded in 1990, the Medical University conducts its academic semester twice a year. Since there is an opportunity to get an education in full English medium, students come here to get the education. Nearly 1000 foreign students, including Sri Lankan students, are currently studying. The university also offers a recognised internship programme for medical graduates, and will soon be available in countries such as the UK / US / Australia / Canada. This is a great help to medical graduates. You can study at another university and join the internship here. The annual tuition fee is $ 4370, which can be paid in two installments of six months at $ 2185 (Rs. 443,555).
Grodno State Medical University
This State Medical University is also the premier English Medium State University in Belarus. It is important to note that the September semester is over and it is not possible to enroll in this university without credit passes in Advanced Level for Biology and Chemistry. The annual tuition fee is USD 4600 (Rs. 933,800). This can be paid in two installments. The period is 6 years and about 900 Sri Lankan students are currently studying. It is worth mentioning that the REC Campus has received special recognition by the university for the service rendered by the REC Campus to the University students, sending the largest number of students from Sri Lanka.
Webinar for Foreign Medical Education is on 26th of February,2022 at 10.30AM
Email     – info@reccampus.com
Web        – www.reccampus.com
Visit       –REC Campus, No:181,
High Level Road, Nugegoda
HitAd.lk is the best and biggest mobile phone market in Sri Lanka, and we guarantee you will find what you need here from our extensive listing of mobile phones for sale in Sri Lanka. Whether it's a budget-priced smartphone for communication, or higher end features with advanced connectivity, there are many different options from which to choose from on our site!