Develop Your Potential as Global Business Leader with the Global MBA offered by UK's Solent University and BCAS Campus
View(s):

Global MBA is one of the programmes awarded by Solent University. It's a premium Master's being offered. The global MBA is structured in accordance with the emerging demands in the corporate world.  It is globally aimed at enhancing skills and knowledge at higher level for fast career development. The MBA is suitable for those who are interested in a range of corporate management areas such as Strategic Management, Operations Management, Human Resources Management and etc.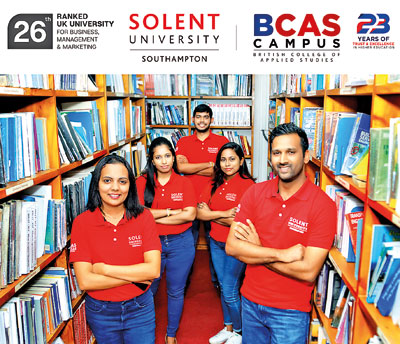 Earning a Global MBA guarantees you fast career progress and adds extra value to your organisation, too.  The programme is of one-year duration, delivered through convenient lecture schedules. The Global MBA is designed to offer students the opportunity of acquiring thorough knowledge in all key areas of business and management with emphasis on strategy and analysis. It also helps the student gain practical experience in a multitude of real time business issues through collective and participatory learning process.
Further, completion of Global MBA guarantees gaining of advanced learning and analytical skills necessary to take up senior management level positions in corporate or public sector organisations/ institutions. By enrolling for Global MBA, you become an internal student of the Solent University, UK.  The programme is 12 months long  including a research project Students will also have limited access to the Solent e Library, Upon successful completion, the MBA Degree will be awarded directly by the university as an internal degree which is recognised by the UGC, Sri Lanka and WES. It provides the pathway to a PhD and is highly reputed for migration.
BCAS, as the exclusive local partner of Solent University, UK in Sri Lanka provides excellent teaching, learning and other facilities to students along with friendly environment. Established in 1999, BCAS Campus is currently one of the top ranked private higher education institutions in the country offering more than 30 academic and vocational courses in a wide range of market related streams such as Civil Engineering, Quantity Surveying, Computing, Management, Law, Bio Medical Science, Hotel Management etc. These courses are offered at four different levels: Degree Foundation, BTEC HNDs, Top Up Degrees (undergraduate) and Masters.
Besides it's key campuses in Colombo and Mount Lavinia, BCAS operates three regional campuses in Kandy, Jaffna and Kalmunai. In testimony of its excellent academic standards and teaching excellence, BCAS has won more than 18 local and international awards, choosing to enroll for Solent University's Global MBA at BCAS is a godsend to climb the ladder of success in the business and reach the pinnacle of your career.
For more information, please contact on 0778 444 555
HitAd.lk is the best and biggest mobile phone market in Sri Lanka, and we guarantee you will find what you need here from our extensive listing of mobile phones for sale in Sri Lanka. Whether it's a budget-priced smartphone for communication, or higher end features with advanced connectivity, there are many different options from which to choose from on our site!