"We have got our Visa to USA! You can too!"
View(s):

Start your USA Degree at NCHS, and get your Visa without delay

Induwara Adeesha Bandara Rekogama, Dakshina Sathsara Jayalak Perera, Dimagi Harshala Gajanayake Mudalige, Sara Arjuman Abeysinghe, Moveen Dinal Eleperuma, Chathura Jayasanka Samarakoon Mudiyanselage and Malindu Minuwara Jayasekara are the proud recipients of their USA visa's and are ready to embark on their journey at selected universities in USA.

The students enrolled at NCHS and completed part of their degrees in Business Management, IT and Engineering, and are ready to transition to California State Universities in Sacramento, Fresno and Northridge.

Through the NCHS pathway, they were able to realise their dreams with minimum hassle and maximum convenience. In addition, the opportunity also presented them with a cost effective plan!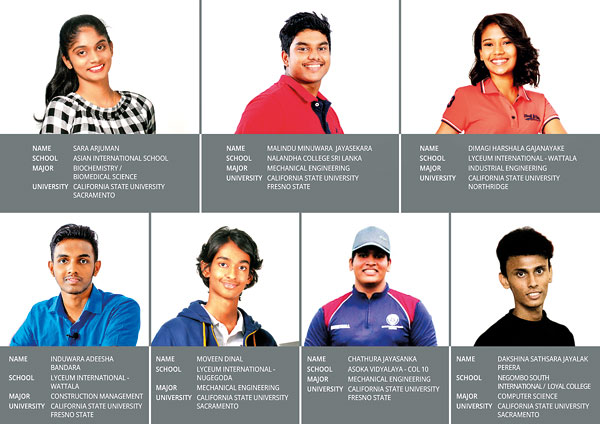 Start 2022 with NCHS
Nawaloka College of Higher studies (NCHS) is a provider of globally recognised higher education qualifications. Located in the heart of Colombo, the NCHS campus consists of modern facilities, providing students with an international learning environment.  With a strong commitment to provide high quality education, NCHS offers distinctive benefits that are tailor made to suit the needs of each individual student.
Global Pathway Programmes
NCHS is a guaranteed pathway to numerous universities which are established leaders in education. The pathway programmes are specially designed to prepare students for success in their further studies. On completion of a pathway programme at NCHS, students can select the degree that they wish to embark on in a university of their choice
NCHS has partnered with the global leaders in education, the California State University Monterey Bay, California State University San Marcos, California State University Bakersfield, California State University Sacramento, California State University Northridge, California State University Fresno, California State University Humboldt and the State University of New York at Albany. Furthermore, through the affiliation with the Swinburne University of Technology, students can select to study at the Swinburne campuses in Hawthorne, Australia or Malaysia. University of Ulster, UK is also an option for students interested in studying Law.
The numerous partnerships enable NCHS to offer a plethora of subjects to the students. The partnerships will eradicate most of the impediments that deter students from studying abroad, such as cost, safety, and visa challenges.
100% Visa Success
A part of NCHS, Edulink is a dedicated operation, guiding students to get their visa and visa requirements with ease. With a 100% success rate, Edulink gives students and parents one on one counselling on meeting the visa requirements. Advise on financial procedures and other elements is also provided. "We help the students through the entire process. From getting the visa, to the transition to Australia, Malaysia or America, Edulink is with you always" a representative from Edulink stated.
Setting a Foundation for Success
Located in the heart of Colombo 03, NCHS offers the best facilities which include purpose-built engineering and computer laboratories, a resource-oriented library, study areas and ample parking space and reputed academics to administer the programmes. The same syllabus, methods of delivery and evaluation as the partner universities are followed, ensuring that the pathway programmes conducted at NCHS are of the same standards and quality.
The students have the further advantage of being able to access the best of Swinburne from the comfort of their own homes. Access to the library and the blackboard system give students the advantage of listening in and contacting the Swinburne lectures directly if they wish to.
Support to Make your Dream Come True
Student loan facilities at special interest rates are also on offer to help students pursue their higher education at NCHS from reputed banking partners.
To learn on how you too can plan your future together with a prestigious degree at NCHS, call 0777 899 998/0115 899 998 or email info@nchs.edu.lk
HitAd.lk is the best and biggest mobile phone market in Sri Lanka, and we guarantee you will find what you need here from our extensive listing of mobile phones for sale in Sri Lanka. Whether it's a budget-priced smartphone for communication, or higher end features with advanced connectivity, there are many different options from which to choose from on our site!