Visual Communication for our post pandemic world: AOD presents one of its most cutting edge & in demand design programmes – VCD 2022
View(s):

With a job market that's on a wait list for its graduates of visuals communication design, AOD is soon making this its flagship design degree for Innovation of a different kind.

Visual communication goes as far back as the first drawing ever made. Interestingly enough, it is also among the most adaptive of fields -having evolved through history and entered into our current digitally-driven realm; predicted also to manoeuvre its way into the future, for as long as we hold the need to connect.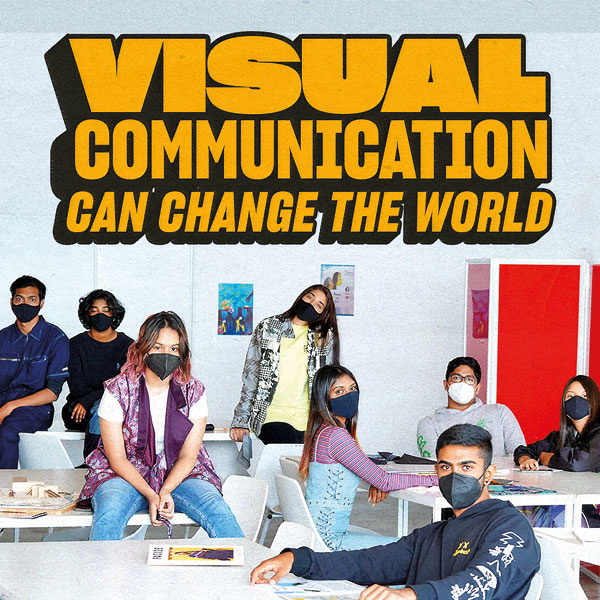 Graphic design in particular, can make its presence felt across a large spectrum of sectors (from healthcare to advertising, events to publishing) and so, offers a multidirectional and many-layered realm of possibilities, with an audience that can be equally broad and diverse. As a result, this creative workforce of digital engineers, thinkers, entrepreneurs, and strategists, can allow themselves plenty of room for productivity, collaboration, professional growth, and even conscientious activism.
When COVID-19 first took the world by surprise, economies were crippled, with far too many jobs lost. However, while some sectors (travel and tourism) took a deep dive, others (tech and health/public service) thrived. Graphic designers –armed with the flexibility of overcoming remote working challenges- were able to hold onto their source(s) of income, with renewed opportunities to up-skill and transition into other industries. Eventually, as corporates moved towards design-led messaging, visual communications was given an even bigger seat at the table –a marked shift from being just communicators to problem-solvers.
Traditionally, designers were made to focus their attention solely on improving the look and functionality of products. However we –as a people- have evolved historically and politically, with several conversations now taking centre stage: the climate emergency, social change movements, global health, sustainability, economic justice, etc. As those responsible for the effective communication of ideas, graphic designers have been called on to help provide and relay conscious and effective solutions; to impact, persuade, and inform. In fact, some of the world's largest policy making organisations are heavily dependent on the skills that graphic designers bring to the table.
The Academy of Design (AOD) -with its address now at the distinctive Colombo Innovation Tower (CIT) – has made its mark as Sri Lanka's pioneering and most-trusted design institution, with a consistently high rate of successful design graduates. Learning in the constant presence of inspiration and creative stimulation, AOD's student body has access to world-class design facilities and infrastructure, and also the support and guidance of a globally–qualified and experienced faculty.
While the pandemic, at its onset, triggered the closure of many academic institutions, AOD was among the few who seamlessly transitioned into online pedagogy –equipped already with the tools and techniques to face a digital future. Uncertain times call for resolve and flexibility, and students stand to benefit greatly not just from their curriculum, but also from responses to challenges from an increasingly evolving environment.
AOD's 3-year BA (Hons) Visual Communications Design degree is affiliated with the UK's Northumbria University; its syllabus set and overseen by the prestigious and globally-recognised educational institution. Through this programme in particular, students will first be introduced to the role of a professional designer as a visual thinker, versatile problem solver, and change maker. It encourages the development of concepts, research, experimentation, analysis, and critical awareness in aspiring designers; providing a holistic experience in graphic design, while also allowing specialisation in the areas of branding, publishing or image-making.
The Visual Communications programme features an informative and instructive combination of tutorial guidance, project 'crits', lectures, workshops, local and international competitions, live industrial projects, and placements. Subjects cover a range of graphic design fields, also providing a look into theoretical, historical, and cultural contexts.
AOD, with its vast portfolio of respected industry partners, also helps its students get a firm footing in the professional sphere, arming them also with the confidence to establish themselves as highly sought-after designers. Additionally, exposure to national and global showcases provides both a taste of industry experience prior to graduation, and the opportunity to work with peers from around the world.
In essence, AOD's Visual Communications degree is every designer's tool-kit; providing young creatives-to-be with the knowledge and know-how to pave their way –and also make their mark! – In every industry. A strong core skillset together with application, creativity, versatility, and an individual's deep sense of social responsibility, is all it takes to shape the world.
Each designer from the university's close-knit community of alumna have gone on to carve out a success story of their own, while also significantly contributing to cultures and their development, social structures, economies and even environments worldwide.
Design reflects society and the inverse is also true. The impact of graphic design can be felt in society, politics, and culture through the effective communication of concepts, issues, events, and even people.
Only the most resilient and adaptable can weather crises. Passion, backed with a career prospect that is equally durable, for a young and aspiring graphic designer, the world is his/her to conquer.
AOD invites Sri Lanka's young design aspirants and change-makers to learn more about its BA (Hons) Visual Communications Design degree, and the wealth of opportunity it can bring. For more information reach AOD Colombo on 0775727772, email info@aod.lk or walk in between 9am and 5pm Monday to Friday - Colombo Innovation Tower (CIT) 477, R A De Mel Mawatha, Colombo 04. 
HitAd.lk is the best and biggest mobile phone market in Sri Lanka, and we guarantee you will find what you need here from our extensive listing of mobile phones for sale in Sri Lanka. Whether it's a budget-priced smartphone for communication, or higher end features with advanced connectivity, there are many different options from which to choose from on our site!