Project to develop English skills of Royal College hostellers resumed
View(s):

The project to improve the English skills of grade six students at Royal College Colombo hostel has resumed after nearly one and half years of adhering to strict health guidelines.  The project is fully funded by the Queensland Old Royalists Association (QORA) and is delivered by the Wendy Whatmore Academy (WWA).

At the moment 90 students from 15 Districts and 61 Divisional Secretariats are benefiting from the project. They are the highest achievers at the 2020 grade five scholarship exam. The mission of the promoters is to provide them with the only skill they clearly lack – competence in English language – and thereby empower them to stand equal to class-mates from English speaking backgrounds and become global professionals one day.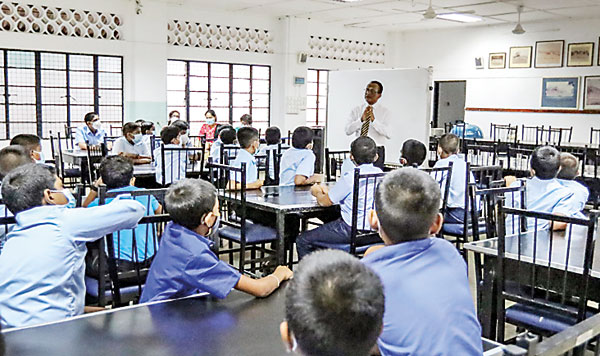 While speaking to the students, Emeritus Professor Hemantha Senanayake recalled his days at the hostel almost six decades ago. He said the reason why the students' parents chose Royal College over many excellent provincial schools was to give them access to better English education and improve their communication skills. He also said one of the unique advantages that Royal College would offer them is interaction with children of other religions and ethnicities. English, as a link language, would be a great help in achieving those, Prof. Senanayake added.
He said the QORA was investing around Rs. 15,000/ on each student. He urged them to make the maximum use of it. The dream of the organisers was to see them speaking as fluently and confidently as their class-mates who come from English speaking households.
HitAd.lk is the best and biggest mobile phone market in Sri Lanka, and we guarantee you will find what you need here from our extensive listing of mobile phones for sale in Sri Lanka. Whether it's a budget-priced smartphone for communication, or higher end features with advanced connectivity, there are many different options from which to choose from on our site!