A bright future in IT for Sri Lankan students
View(s):

Begin an IT degree pathway at UTS Sri Lanka and graduate in Australia

Students in Sri Lanka who are considering a career in Information Communications Technology (ICT) can look forward to a bright future. Advances in artificial intelligence (AI), quantum computing and digital technologies are already changing the world and there is more on the way. With its increasingly connected population, Sri Lanka is continually innovating and opportunities in the sector are growing. Also, being close to India and its dynamic ITC industry, Sri Lanka is in a high growth region for the technology sector.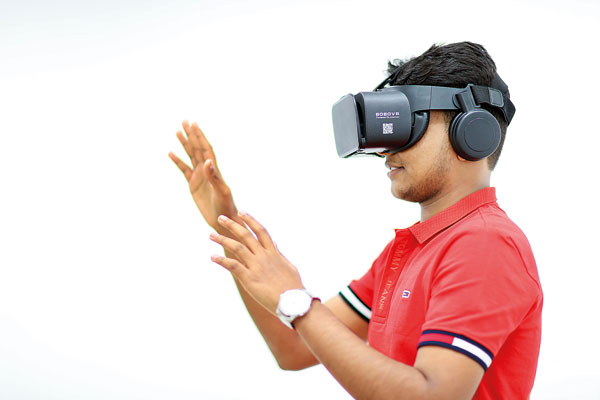 The pathway to a successful career can begin right here in Colombo. Students who successfully complete a Diploma of IT at UTS Sri Lanka develop the skills, knowledge, and confidence to thrive at university. They may also be eligible for direct entry to the second year of a related degree at the University of Technology Sydney (UTS)*, Australia's leading young university.
Preparing the next generation of leaders
Graduates of UTS Faculty of Engineering and Information Technology (FEIT) are the next generation's leaders, with real-world entrepreneurial and digital transformation skills in new and emerging fields. For example, students who enter the Bachelor of Computing Science (Hons), could choose majors in high demand areas such as Artificial Intelligence and Data Analytics, Cybersecurity and Privacy, Networking, Business Information Systems Management, Enterprise Systems Development, and much more.
UTS is a global leader in practice-based, industry connected teaching and learning, supported by the best in real-world research. It enjoys strong partnerships with more than 1000 companies ensuring teaching and research remain industry relevant. This gives students a strong edge when it comes to industry experience and engagement. In fact, UTS has been ranked 29th in the world for Computer Science in the prestigious Academic Ranking of World Universities (ARWU) .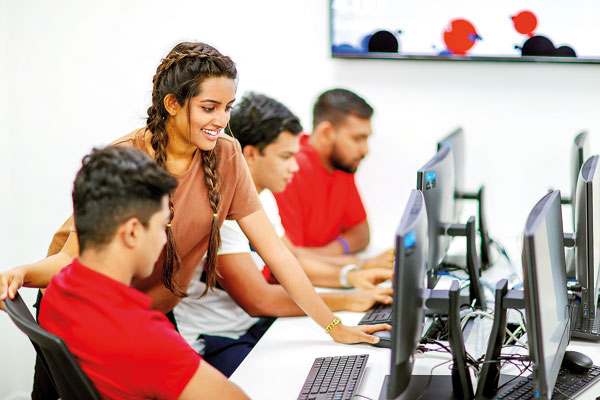 Sparking creativity and collaboration
UTS is well-known for its lively, modern campus, and its FEIT facilities are no exception. They are purpose-built to spark creativity and collaboration, essential qualities for a 21st Century career. The UTS Data Arena, for example, brings data to life with 3D visualisation using the latest in immersive technology.
The colourful Hive Superlab is another inspiring space; a world-class, collaborative teaching lab with cutting-edge audio-visual facilities. Students with a start-up idea also have access to UTS Start-ups, a program that gives them the entrepreneurial skills and business resources to bring their idea to life.
It also helps that the campus is in the centre of Sydney's growing innovation precinct. In fact, forty percent of Sydney's tech start-ups are nearby, which means students have a world of opportunities at their doorstep.
An IT degree from UTS is a sound preparation for the fast-paced digital future in such roles as ICT business analyst, computer animator, games developer, IT consultant, programmer, software engineer, systems analyst, web developer, network specialist, information systems manager and many more.
A gateway to study in Australia
Nuvin Chamathka Perera, who is currently following the 2nd year of Bachelor of Computing science (Hons) at UTS says, "I chose IT because it's the future. I want to eventually run my own company specialising in cybersecurity and data science as they are currently in high demand in the IT sector."
He is enthusiastic about his experience at UTS College Sri lanka.
"To anyone considering coming to UTS College, I'd say they provide quality education. They care about students and help them build their skills. They also provide a gateway to study in Australia."
Enrolments now open
UTS Sri Lanka has already opened enrolments for the March intake, (students can apply with pending A-levels) and there are advantages for those who make an early start. Students who enrol before 28 February are entitled to a guaranteed 25 percent scholarship and a registration fee waiver. UTS Sri Lanka also offers academic merit scholarships up to 100 percent.
To find out more about the Diploma or IT, the range of courses available at UTS Sri Lanka, and how to take advantage of scholarship opportunities, visit utscollege.edu.lk/experience or call 0774 775 774
About UTS
UTS is a dynamic and innovative university, ranked as Australia's top young university, and 133rd in the world in the QS World University Rankings 2021, reflecting its strength in employability, research, teaching, and internationalisation.
UTS Sri Lanka prepares students for entry to all UTS undergraduate courses though the UTS Foundation Studies Programme and offers a Diploma of Business, a Diploma of Engineering and a Diploma of IT. When students complete their first year at UTS Sri Lanka, they are ready to complete their UTS degree in Sydney.
HitAd.lk is the best and biggest mobile phone market in Sri Lanka, and we guarantee you will find what you need here from our extensive listing of mobile phones for sale in Sri Lanka. Whether it's a budget-priced smartphone for communication, or higher end features with advanced connectivity, there are many different options from which to choose from on our site!