Making his IT dreams become a reality in Australia
View(s):

Data and analytics IT consultant and tech entrepreneur Dilan Jayasekara is a Sri Lankan on a mission.

Having migrated to Australia with a dream, he has risen rapidly in his industry; last October he was nominated at the Australian Computer Society's Digital Disruptor Awards as one of four finalists in the 'Emerging ICT Professional of the Year' category.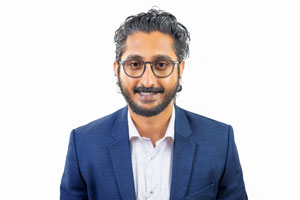 The Australian Computer Society (ACS) celebrates outstanding talent in tech within the Australian industry recognising emerging professionals, innovators, disruptors, leaders and tech savants who are the movers and shakers, the potential game changers of the ITC stratosphere.
Dilan is the first international student who migrated to Australia to be nominated as a finalist for any of the categories or awards at the ACS awards and the first Sri Lankan to be nominated as a finalist in this category.
Dilan started his career as a Junior Software Developer, while studying for his Bachelor's in Sri Lanka and made a steady transition to web development. He worked as an ICT professional in Sri Lanka before migrating to Australia with his wife Tara and starting his Masters in IT at Charles Stuart University. He took a leap to become a data analyst by securing an internship at Family Life, which led to a full-time job at Pitch Partners Australia.
In an entirely new country with English as his second language, Dilan nevertheless pushed himself to become a competent public speaker and worked diligently to build a rapport with others in and outside his field of expertise.
 "When I arrived in Australia, everyone I met tried to convince me to just get a casual job at McDonalds and do UberEATS delivery to earn money, to have a comfortable life instead of striving for more. But I chose a different path. I want to be able to tell students especially those who have migrated that if they are willing to take a step outside of their comfort zone and start chasing their dreams, with hard work, strategy and disciplined focus that their dreams will eventually come true," he says.
Winners will be revealed at the awards gala dinner following the ACS Reimagination Thought Leaders' Summit 2022 at Hilton Sydney on February 23.
Searching for that next furry family member but couldn't find one in your area? Hitad.lk has the solution with our extensive listings of dogs for sale in Sri Lanka!