Foreign assistance to cope with severe shortages of essentials and foreign reserves
View(s):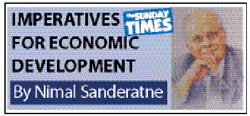 The severe crisis in the availability of food, gas, fuel and other essentials is expected to be resolved by foreign assistance from China and India. However, the country's foreign debt is increasing and remains a serious concern.
Foreign assistance
Currency swaps, lines of credit, and the Chinese gift of one million metric tons of rice are expected to resolve the severe crisis facing the country. However, the country's foreign debt is increasing and the repayment of more than US$ six billion this year is a serious concern.
Proud record
Meanwhile, the Governor of the Central Bank of Sri Lanka is proud that it has paid the International Sovereign Bond (ISB) of US$ 500 million on schedule on Tuesday (January 18) and maintained the country's record of not defaulting on debt repayment.
Imprudent
However, the use of our inadequate reserves to repay this debt rather than restructure it was not a prudent measure. As business leaders and eminent economists pointed out to no avail, this was not a prudent measure. Instead, we should have restructured the repayment of the debt so as to not weaken the external reserves that were inadequate to meet our essential import needs.
Foreign reserves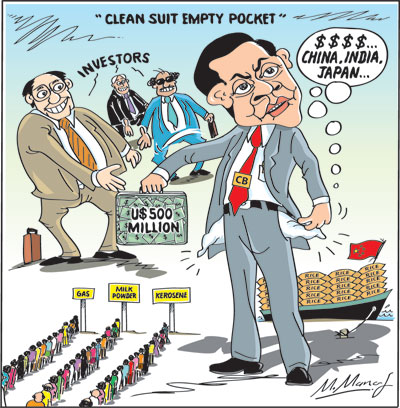 Consequently, the country's foreign reserves are declining. Scarcities of essential import items and soaring prices of food are making livelihoods onerous and unbearable. There are severe shortages of gas and kerosene for cooking. Electricity cuts are expected to be longer. Petrol and diesel shortages are likely.
Foreign help
These dire conditions may be alleviated by foreign assistance from India and China. There are also expectations of assistance from Japan and efforts to obtain concessional loans and debt restructuring from friendly countries and multilateral organisations.
Currency swaps and credit lines
The silver lining in this gloomy scenario is the currency swaps and lines of credit from China and India. China has agreed to a currency swap of Yuan equivalent to US$ 1500 million and a credit line of US$ 500 million for the import of goods from China.
Gift of rice
Furthermore, China has gifted one million metric tons of rice to celebrate the 70th anniversary of the Sino-Ceylon Rice-Rubber Trade Pact. This consignment of rice that is expected in March is a significant contribution to overcoming the impending fall in rice production due to the fertiliser fiasco.
Indian assistance
There is a similar arrangement with India. This too includes a currency swap and two lines of credit each of US$ 500 million. One line of credit is to import food and pharmaceuticals and the other to import fuel from India.
Vital importance
These two credit lines are of vital importance in the precarious situation of the currency reserves that are inadequate to meet the country's immediate needs of food, pharmaceuticals and fuel. The Indian credit lines could be used to meet the immediate needs of these essentials. The Chinese credit is useful for the import of raw materials for industry from China.
Credit lines
These credit facilities are vitally important to tide over the current shortages of foreign reserves to meet the essential needs of the country. However, they increase the country's debt and repayment liabilities. The country has to find foreign exchange resources to repay these credit lines, sooner or later.
The currency swaps are somewhat different. They boost the reserves, but when unutilised they could be repaid. It is a sort of window dressing of the country's external assets.
Requests
The President has asked the Chinese for a postponement of our debt repayment. A fresh line of Japanese credit on concessional terms has also been requested. These would give the country the needed breathing space to meet the country's essential import needs and reduce the strain on the balance of payments.
Increase production
It is vitally important to use these credit lines to develop the country's production of goods and services that either earn foreign currency or save import expenditure. It should not be used in high-cost infrastructure that does not produce tradable goods or services.
In fact, it is well recognised that one of the reasons for the current debt trap was the large bilateral borrowing that was used for either projects with a long gestation period or no returns at all that increased foreign debt as  the investments did not increase the production of tradable goods or services.
Summary
The immediate critical needs of essential food, pharmaceuticals and fuel may be met by the credit lines from China and India. The rice from China will meet the shortfall in rice production this year owing to the unscientific agricultural policies of the government. Hopefully, these would be adequate to resolve the severe scarcities faced by people.
Concessional finance from Japan and the rescheduling of Chinese debt repayments would be useful relief with the country having to repay about US$ 6.5 billion during the course of this year.
However, these are only immediate relief measures. They do not reduce the country's foreign debt obligations. In fact, the foreign debt is increasing. What are required are economic measures that would improve the balance of payments.
Conclusion
We have to resolve our severe crisis in foreign reserves by restructuring our debt and obtaining foreign assistance. A realistic or market-determined exchange rate would increase foreign remittances.
The way forward is by increasing the domestic production of goods and services that is of crucial importance to resolving the balance of payments problem in the long run.
Buying or selling electronics has never been easier with the help of Hitad.lk! We, at Hitad.lk, hear your needs and endeavour to provide you with the perfect listings of electronics; because we have listings for nearly anything! Search for your favourite electronic items for sale on Hitad.lk today!