Career path of a tennis player
2022 global events
View(s):
Playing efficiency of a player is transient. Meaning, it varies match to match and according to the challenges of the opponent. Even at the peak of player's physical, stroke making skills and mental abilities, match play efficiency could fluctuate within a game, a set, a match and in an event. The reasons are many and they are specific to a player, regardless of the sport.
In tennis, the most effective method known to control fluctuation of playing efficiency is to be 'tactical'. An open secret yet very elusive. A player's orientation and command of 'tactics' is the reference they have to get back the game whenever they lose the grip on the match. Whenever skill/physical ability loses impact in a match, players refresh their tactical approach to be efficient again. This needs training like all other match play aspects.
WTA and ATP
At global level of events, tennis is WTA and ATP sanctioned events and their ranking system. They are conducting events and player ranking mechanism successfully. For a player it is the showcase to exhibit and perform efficiently to win. In return, WTA and ATP provides fame and wealth to efficient players. This simple approach is making WTA and ATP so attractive.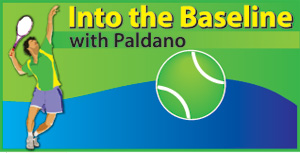 The question
This leaves us with a question. What are the local rankings of countries are all about? Answer is they are mere preparatory platforms for players to enter WTA and ATP rankings. Players in the local rankings must acquire high-end tactical abilities to enter ATP/WTA rankings. Without this ambition early development time, money and effort of players and nation's investment in facilities and administration are a waste. Money replacement is possible, but replacing time, not possible.
Missed opportunities
True all who take up to tennis will not make it the top 200 of the professional ranks. It is also true many who could easily make it do not get there because they never ventured into professional ranking highway. Players do not try enough nor do the right thing, these are the reasons why many countries, do not have top end world ranked players. Tennis promotion must implant the phrase 'WTA/ATP highway' into thinking into their mid-teenage aspirants. A good four to six years of preparation is a pre requisite to get into professional ranking. In countries like ours, many reach the top five position of the local ranking and stay there for decade or more. None of them ever appeared in the top 500 of the world rankings. They will not gain anything through tennis. A reputation can be a good asset in the post career life. Top 200 of the WTA and ATP rankings count, for decades.
Automatic coaching status
A tennis player who entered the top 100 of the professional ranking in both gender automatically become a professionally recognised tennis coach, without any further trainings or studies. Many countries seek their services for development and national team management. In professional tennis, no pain is no gain.
January in Australia
Virus threat and restrictions are not over yet. Prudently, both the professional bodies have jointly selected just a few cities in Australia to be their events venues for January 2022 to circumvent restrictions and to enhance precautions.
Adelaide, Sydney and Melbourne will be in focus for professional tennis in January. Compared to pre-virus years, sense of restrictions this year, will be severe. Testing, travel restrictions, quarantine to players and scaled down entries and spectator restrictions for events are on the card for 2022. The world is having a tough time coping with the virus. Accommodation of sporting events cannot have priority in nations.
2022 calendar
The 2022 professional calendar of WTA and ATP came out in December. Restriction in the singles entries was very visible. Most of the singles events will have only 28 singles entries and 24 doubles entries. The long haul from home to Australia bound to keep good many players at home. However, I do not know how a player can skip a Grand Slam event. The Australian Open is a compulsory event for player ranking eligibility. This will affect players in the top 130 positions of the ranking.
ATP Cup
The professional inter nation's championships of men is the ATP Cup. The event is for 28 countries having strongest representation in the annual world ranking. This mode team qualification for the event is new. Considering the event is for championships of nations, it is very logical. The link it has to the annual ranking provides good evenly matched tennis matches. This year ATP Cup will have only 16 teams. Event began in Sydney on January 1. ATP Cup congregates players just once a year. It is another convenient feature of this new format.  Rafael Nadal is returning to play and will be selective in participation. Roger Federer's return is still doubtful. Speculations are he may come after French Open. The Russians are the force in men's tennis right now. Slowly but steadily they have made their training bases in Western Europe and found the formula to be a force. Their representation is very strong in the top 20 of the men's ranking. Many Russian women players have taken foreign residency. Elina Rybakina of Kazakhstan is one of them. She is 22 years old and ranked 14 in the world.
All the very best for 2022.
 –George Paldano, European and Asian  competition player; Accredited Coach
of German Tennis Federation;
National coach Brunei and Sri Lanka; Davis Cup, Federation Cup;
coached top 200 ATP,WTA and ITF top 50. 0775448880–