Appreciations
View(s):

A visionary scholar, he contributed greatly to St. Servatius' College

G.L.Galappaththi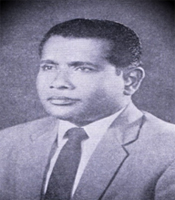 The great educationist, G.L. Galappaththi, who was born on January 9, 1925, dedicated his entire life to education and produced thousands of worthy and disciplined citizens to the country. For this strict disciplinarian and intellectual visionary, teaching was not merely a profession, but also a vocation.
His passing away on April 16, 2007, removed from our midst an eminent educationist, disciplinarian and scholar of high repute. He was considered not only an intellectual giant, but also as a catalyst for exceptional progressive change of St. Servatius' College. His demise was an irreplaceable loss not only to the residents of Matara but also to the Southern province in particular.
St. Servatius' College Matara completes its 125 years of service to the nation this year, having been established on November 2, 1897.  The college was founded as an English medium school, by the Belgian Jesuits' Rev. Father Augustus Standaert, with generous funds received from the then St. Servatius Jesuit school of Liege, Belgium.
Until the Government took over the management of the college in 1965 under the nationalization programme, the college was striding ahead in both education and sports but after the acquisition, the educational standards of the school witnessed a visible downfall in all aspects, marking a dark era in the annals of its history. The Government was compelled to close down the school, as discipline had deteriorated so badly.
Coincidentally, B. Y. Tudawe, who represented the Matara electorate became the Deputy Minister of Education in the new government formed in 1970 and decided to appoint a government trained teacher who was then serving in the army volunteer force, as the Principal in January 1971.
The new captain who steered St. Servatius' ship through a period of turbulence was G.L.Galappaththi, commonly known as "Galappaththi Sir" who held the position of Principal for over 14 years until his retirement in 1985.
His honest hard work and respect for the traditions of the college inherited by the former (religious) Fathers soon saw results.
The challenge of organising the Diamond Jubilee of the college was a daunting task in his second year and he recruited duty conscious academic staff and showed the exit door to irresponsible teachers (including his relatives and friends) who did not toe the line.
He organised a 'Pirith Pinkama' and also restored various societies and provided the guidance to run them in such a way as to develop the internal harmony among different student factions.
When he took over the college, there were only two buildings and a small piece of land released by the Church to the college.  Mr. Galappaththi realized that the energetic young boys needed more space to release their extra energies and decided to take over the adjacent two lands. Facing even threats to his life, he was successful in acquiring these two lands through the Government and even the control of the then Kotuegoda playground, now Sanath Jayasuriya Playground, for the benefit of the college.
He was also instrumental in introducing grade one and grade two classes as well as Advanced Level commerce and science sections to the college raising the standards of the education in all sections.  In no time, the demand for the college was rising and he managed to construct two double storey classroom buildings one from government funds and one from donors' grants.
He also paid attention to sports.  The school regained its proud history in sports established by international level sportsmen like Thilakwantha Kasige, H. S. Ariyadasa, Karunadasa Kurukulasuriya by winning many all-island sports trophies again and producing renowned sports stars of the calibre of Sanath Jayasuriya and Ruchira Palliyaguru.
He was able to guide the students to develop their inherent abilities either in academia, sports or business fields.  Even though he was externally seen as very tough, he was very kind and soft to both students and staff members at their time of need.
He started his work at 6.30 a.m. and left the college around 5 p.m. every day.  It was a common sight to see the college principal ride a simple bicycle proudly until his last day in office – a hallmark of his honesty and simplicity.
Galappaththi Sir was the key person who should be credited and honoured for all my academic and professional achievements including my M.Sc from University of Melbourne, Australia and my PhD from University of Science, Malaysia. I made it a habit to visit this great teacher, who moulded my life, quite often even after his retirement and his valued counsel helped me to cement my professional career.
Even though, he was a strict disciplinarian, all the students and the teachers admired him and his unforgettable service forever. This is reflected by the formation of a scholarship foundation in his name by a group of grateful students and inviting him as the chief guest at the inaugural scholarship awarding ceremony along with a teacher felicitation programme eight years after his retirement.
His beloved widow donated his savings to establish another scholarship programme for the benefit of the University undergraduates from St. Servatius' until her death. Representing the grateful old boys' community, a morning "dana" for a disabled children's home has been given annually on January 9 each year since his second death anniversary.  A bana programme is also telecast by Sri Lanka Broadcasting Corporation each poya day of January in gratitude to the couple. Their children too are old boys of St Servatius'.
 Dr. Susantha Siriwardana
---
The non-conformist with a passion for life 
Jude Ratnayeke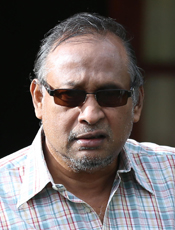 Jude Ratnayeke passed away recently after a brief illness. He was a non-conformist to the last—a hallmark of his character.
He was born to a conservative Catholic family from Ja-ela. The tradition of the Ratnayeke family was to groom one of the siblings into the priesthood, and his entering the seminary was envisaged by his family. However, his reading of the scripture and quotes from the Bible by memory were at times considered unholy to the layman. Thus he took to a more rugged profession as a tea planter in the Finlays Group during the latter period of colonial ownership of plantations. He broke tradition by getting married to Rani Rajapakse who was from a Sinhalese Buddhist family. His primary education was at St. Benedict's College where he excelled as an athlete.
I had the privilege of working with Jude during the latter part of his career, as Executive Director in the Management Team of Richard Peiris Plantations, where his twin brother Paul Ratnayake was the Deputy Chairman.
His passion for the fast life included Formula 1 racing and he would never miss watching a race during the season. A few days before he passed away, he was most disappointed when Louis Hamilton did not win the Formula 1 World Championship.
As a planter, he was recognized for his excellent knowledge and integrity.
Dr. Rohan Fernando who was a contemporary of his has this to say:
"I came to know Jude in the mid 1990s when he was Superintendent of  Mohamedi Estate in the Kalutara district. Jude was a colourful  personality, who added a lot of fun and laughter to our group of planters in Kalutara at that time. He was fun loving, well read and had a wealth of knowledge in different fields.  His command of the English language was impeccable. He could quote from different people at will, putting many of us to shame.
Many of us used to gather at the Tebuwana Club in Kalutara most of the time seated around the bar and our conversations went on to the wee hours of the morning. Most often, Jude was the centre of many of the conversations as he loved to challenge your thinking and argue on any matter.
Jude was most importantly a loyal and steadfast friend who would stand by you mostly when the chips were down. I know how he and a few other planter colleagues used to band together during the dark days of the JVP insurrection. Those who worked with him on his estate learnt more than ABCs of planting due to his multi-faceted character.'
After retirement, he mostly lived with his beloved sister Nimal and brother-in-law S.L. Gunasekera.
Jude's daughters Avanti and Dilini and his wife Joanne were at his bedside when he passed away peacefully. His four-year-old grandnephew Eran, who received a telescope as a Christmas gift says he spotted Jude as a "shining star" through his telescope.
Goodbye my friend.
 Ravi Kumararatne
---
His kindness and generosity touched many
Kingsley Wijenarayana
It is with a sense of sadness that I write about my brother-in-law who passed away after a brief illness on October 14, 2021 at Karapitiya Hospital. The funeral was at Dadalla on the 15th.
Kingsley was a sincere friend and his memory will live on in the lives of those who were touched by his kindness and generosity.
He was the youngest son of a well known planter of the South, D.F. Wijenarayana. He was educated at Mahinda College and played for the cricket team.
Three distinguished political leaders visited his residence: Sir Oliver Goonetilleke, Governor General, Sir John Kotelawala  and Prime Minister Dudley Senanayake when he was invited to open the new chemistry lab donated by Kingsley's father. Dudley visited Kingsley's home for a tea party on an invitation from Kingsley's father after declaring open the lab.
In 1969, Kingsley married a graduate teacher Swarna. They had one son.
May the blessings of the Triple Gem be upon him on his next journey in Sansara.
U.A.P. de Silva
---
It's five years since your passing, but vivid are the memories
Rienzie Benedict
I set six places at the table for our traditional breakfast on January 1, just like I have done every year. It's only when we all sit down that realisation dawns… I have set a place for you, again. It's been five years since you left us Dada, sometimes it feels like it's been forever, but at times like this it feels like only yesterday that you were sitting at the Christmas or New Year table with us, telling us we've got too much food but then insisting on trying one of each item and maybe a couple of extra kokis too.
Losing you is the hardest thing I've ever had to deal with. You are in my thoughts every day, and I still unconsciously pick up the phone to call you when I've got good news to share or when I need help with solving an issue. You'd think it gets easier each year or that memories fade away, but that's not really what happens.  It feels like every year that goes by makes the memories of the happy moments all the more vivid. Life isn't all rosy and no one knew that better than you, but the memories of how you faced every challenge that life cast your way with positivity, grit and determination to make things better will never fade.  You had a way with words, but your actions always spoke louder than words, and the countless number of people whose lives you impacted by helping them with education opportunities, employment and just simply showing concern for their well-being will testify to this.
The last five years have seen the sadness and grief turn to sheer gratefulness for the fact that we had you in our lives for as long we did, and thankfulness for the motivation you gave us to live our lives to the fullest no matter what obstacles came our way and to focus on helping others as much as we possibly could.  I'm not one for sending my thoughts out into the public domain, but I felt I needed to do this for you.  I know you're watching over us from heaven and I hope you know how grateful and blessed we feel to have been a part of your inspirational journey here.
Love you always.
 Natasha Benedict
---
Searching for an ideal partner? Find your soul mate on Hitad.lk, Sri Lanka's favourite marriage proposals page. With Hitad.lk matrimonial advertisements you have access to thousands of ads from potential suitors who are looking for someone just like you.