'Happy Birthday Jesus'
By Sanath Weerasuriya
View(s):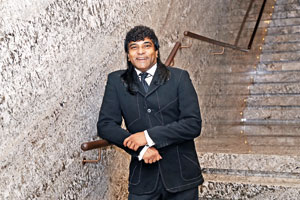 The celebrations and festivity for Christmas have slowly coming to an end now. But for some folks, the spirit of the Christmas is still alive and they believe it will continue to be in the hearts throughout the year.
Veteran musician Melantha Perera of Mirage fame is one of them. His latest Christmas creation 'Happy Birthday Jesus' hit the sky through digital platforms just after Chrismas 2021.
'Happy Birthday Jesus' is the brainchild of Mela, who penned the lyrics and created music for the song.
'It was a tradition for me to compose a Christmas song for the students of 'Riversheen School of Music' every year, where this year I only had students online where I teach many them from various parts of the world.  I shared my new creation through my WhatsApp group. I really wanted to do this year's song with all other stars but nobody was keen to go to studio and work on new projects. So I thought this could be a turning point for new norm digital production and started to work on it' Melantha said.
'Actually Noeline Honter took the initiative to get the musicians to send their part of work online' he added.
Melantha started to write more line for the song as he is keen to accommodate all the musicians on line for this new song.
'I continued working 24/7 and I wanted to complete the mixing and get the final product before Christmas. But even after the day of Christmas I was at the studio working on this new project. Finally I was able to release the new song 'Happy Birthday Jesus' to the digital skies through mainly on YouTube and FB' he said.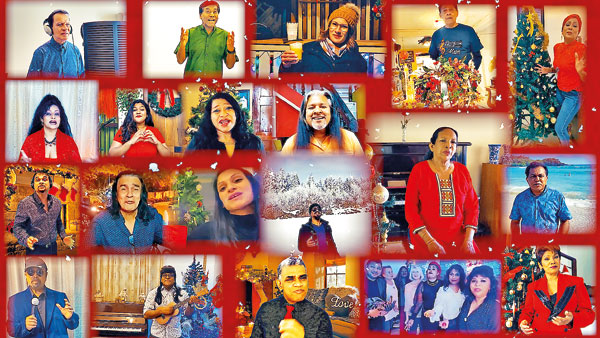 This time apart from the musicians who took part in 2019 production, there were more Choristers, music teaches and choir masters who joined me in singing this new song.
I have to thank Sanjeev Jayarathnam, award winning Transformational Coach and Corporate Trainer, Choral Conductor, Actor, Author for his unblemished support on this project.  Also Ramani a music and choral conductor of the Princess of Wales College, Moratuwa and all other fellow musicians who was whole heartedly support me on this digitalised project' Melantha said.
'Happy birthday Jesus' reached 3k views within three days.
'I am happy to see it reached the great heights in very short time. Thanks to Janaka Palapawithane, who is sharing with most of his influential group all around the world. I'm truly blessed to have my musicians friends around me and happy to see new great voices coming in. Kirthi Abeywickrama bringing his MJ Dance Troupe to beef up the video has been very beneficial' Melantha said.
'Happy birthday Jesus' features many top faces in the Sri Lankan Western Music field including Melantha Perera, Noeline Honter, Kanthi and Judy de Silva, Anton Goonethilake, Corrine Almeida, Desmond de Silva, Sohan Weerasinghe, Sherwin Jaya, Marlon Amerasekera, Arith Rathnavibushana, Piyal Perera, Rozanne Fernando, Mariazelle Gunathilake, Kay Jay, Rukshan Perera, Sanjeev Jayarathnam, Sureshni Wanigasuriya, Kevin Almeida, Sonali  Lindsay, Geoffrey Fernando, Ashok Jayasinghe, Janaka Palapawithane, Suresh de Silva, Kirthi Abeywickrama, Curtis, Ramanie, Aanjanee,  Anjuli, Roshi, Iresh, Adams, Suzett and Stephanie Fonseka of Riversheen.
Searching for that next furry family member but couldn't find one in your area? Hitad.lk has the solution with our extensive listings of dogs for sale in Sri Lanka!