Study at BCAS Campus the leader in Private Higher Education Become a Successful Professional with a UK Degrees/Masters!
View(s):

BCAS Campus is a highly ranked private higher education institution in Sri Lanka established in 1999 with several international and local awards for its excellence and quality.
 An ISO-certified institution it is, BCAS offers over 30 academic programmes including vocational courses from Biomedical Science to IT and Tourism Management from foundation to masters. If your intention is to elevate yourself professionally equipped with internationally recognised British degrees in IT, Management, Law, Health Science, Engineering or Quantity Surveying, studying at BCAS is the best and intelligent choice.
BCAS' Affiliations and Collaborative Partners
BCAS still remains one of the early pioneers in Sri Lanka to provide Pearson's (Formerly Edexcel) BTEC HND programmes in various disciplines even introducing most sought-after courses like Quantity Surveying (2005) and Law (2008). It is now working exclusively with three highly reputed British universities as collaborative partners – Oxford Brookes University, University of East London and Solent University.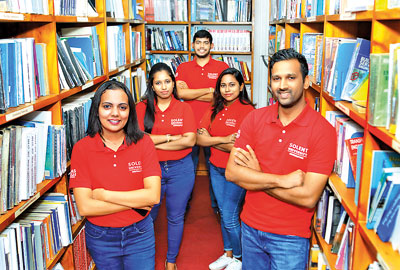 The degrees of these universities are UGC-recognised in Sri Lanka and readily accepted for employment anywhere in the world.  Talking about Oxford Brookes University, it has a history of 150 years and considered one of the top modern universities in the UK.
Considered for innovative teaching and research methods, it is ranked 46th in the UK.  BCAS delivers OBU's courses in LLB (Hons) Law, BSc (Hons) in Quantity Surveying, BSc (Hons) in Biomedical Sciences and BSc (Hons) Nursing.
 Solent University with its 160-years of existence in higher education offers prestigious top-up degree programmes in Software Engineering, Cyber Security, Computer Systems & Networks, Business Information Technology and Business & Accountancy. And postgraduate degrees Global MBA & MSc project management in collaboration with BCAS in Kandy and Colombo.
 University of East London as UK's one of the popular public universities in London (120 years old) and is ranked third for Civil Engineering there. BCAS is proud to deliver their Civil Engineering Degree (BEng) in Sri Lanka.
Through these healthy and solid partnerships with UK's high-calibre universities like Oxford Brookes University, University of East London and Solent University, Sri Lankan students are now able to study with BCAS a range of degree programmes right in their home country.  Upon successful completion of their respective choice of the degree, the students can receive the awards directly by the universities themselves as an internal degree of the universities referred to.  This feature potentially ensures and enhances the employment opportunity both locally and internationally!
SCHOOLS FOR MAJOR
SUBJECT STREAMS
At BCAS we develop creative talent for the next generation. Keeping this high ideal in mind we offer a wide range of courses from Foundation to Diplomas, BTEC HNDs plus BA (Hons), BSc (Hons) and MSc, MBA (general as well as specific) etc.  They are taught at exclusive schools, namely School of Computing, School of Management, School of Health Science, School of Building Studies and School of Legal Studies.
BCAS is thus a one-of-a-kind institution whose focus is on giving its students a combination of distinctive character and academic vision to pursue a career of their choice of trade either in Sri Lanka or in the international arena.
Why it is BCAS for your Higher Education
BCAS has won more than 18 local and international awards which stand testimony to its outstanding academic standards.  Overall, we have been able to produce 15,000+ graduates whose degrees were awarded by British Universities.
Joining BCAS is the most intelligent decision that you can take for your future!  With a student-friendly environment, flexible learning schedule and modern learning facilities, BCAS has established itself in Sri Lanka with key campuses in Colombo and Mount Lavinia, along with three regional campuses in Kandy (Central Province), Jaffna (Northern Province) and Kalmunai (Ampara District in Eastern Province). Highly qualified panels of well-experienced lecturers teaching at foreign degree course guarantee 100% excellent results.  All these makes BCAS the No.1 choice to enhance your career prospects.
Build your career with BCAS and fulfil your life's ambitions!
At BCAS we Build Career and Transform Lives!!
 For more info www.bcas.lk or call
0778 444 555 email info@bcas.lk
SCHOOL OF BUILDING STUDIES
The school provides the opportunity for aspirants to become qualified professionals in the eternal Construction Industry.  Courses are there from the basic level of foundation, Pearson's BTEC HND leading to Top-up programmes – BEng. (Hons) in Civil Engineering with Structural Design and BSc (Hons) in Quantity Surveying and Construction Economics Degrees in Sri Lanka.
The awarding body of BEng Civil Engineering is University of East London while the BSc (Hons) in Quantity Surveying and Construction Economics degree is from Oxford Brooks University.  Both programmes enable the learners an exceptional career preparation and help develop the knowledge to work as a Civil Engineer and Quantity Surveyors anywhere in the world.
Eng. Soruban Kanagaratnam
Head of School
BSc Eng. (Hons), AMIE(SL), GMICE(UK), GREENSL®
SCHOOL OF MANAGEMENT
Here a wide spectrum of programmes can be studied by anyone striving to achieve big dreams in their professional career.
Available are courses like international foundation, Pearson UK's BTEC Higher National Diplomas in Business, Human Resources, Marketing and Accounting & Finance including BTEC Level 7 Post Graduate Diploma.  BSc (Hons) Business Administration; Accountancy & Finance, Global MBA and MSc Project Management of Solent University are also delivered from this school.
All of these programmes have been designed to uplift the student confidence to face the challenges in today's fluctuating business environment in addition to the typical knowledge enhancement.
Thafani Rasheed
Head of School
MBA Finance (Colombo), BBA Finance (Gold Medalist) – SEUSL, Certificate in Accounting & Business Level – II (CA Sri Lanka).
SCHOOL OF LEGAL STUDIES
You can now realise the dream of becoming a practicing lawyer in Sri Lanka with LLB (Hons) Qualifying Law Degree awarded by the prestigious Oxford Brookes University, UK.  BCAS can take pride of producing 500+ Law professionals in the country who are now well employed in Sri Lanka and abroad while practising law on their own after getting qualified at the Sri Lanka Law College in Attorney-at-law examination.
Lalani Paranawithana
Head of School
LL.B. (London), LL.M.(Colombo), Attorney-at-Law
SCHOOL OF COMPUTING
Without Information Technology in place the world today will come to a standstill. It is why   BCAS ensures all aspects of IT are covered within their programmes offered. Students are thereby made eligible for any type of IT related career path they wish to pursue. IT degrees offered by Solent University, UK includes BSc (Hons) programmes in Computer Systems & Networks, Cyber Security Management, Software Engineering & Business Information Technology. The degrees cover an in-depth curriculum for those seeking to further their skills.
Nethmi Deshani
Head of School
BSc. Special Hons in IT, MSC in CS
SCHOOL OF HEALTH SCIENCE
The school offers 2-degree programmes – (1) Biomedical Sciences from the basic level of foundation course upgraded with Pearson's HND leading to the top-up degree awarded by the prestigious Oxford Brooks University.
Students earning BSc (Hons) in Biomedical Science will have the opportunity to develop subject specific knowledge, professional skills and personal qualities and can aspire jobs in the health care industry with lucrative salaries.
Further (2) BSc (Hons) Nursing is yet another great opportunity for   government registered nurses to upgrade their career in nursing. Upon the completion of the degree, they can easily migrate to wealthy countries like Australia, UK, Canada, America, etc. This programme enables participants to reflect upon Health Care practice and delivery in its widest sense and develop their own area of clinical/professional practice.
Ruwini Gamage
Head of School
BSc (Hons), MSc, CTHE
HitAd.lk is the best and biggest mobile phone market in Sri Lanka, and we guarantee you will find what you need here from our extensive listing of mobile phones for sale in Sri Lanka. Whether it's a budget-priced smartphone for communication, or higher end features with advanced connectivity, there are many different options from which to choose from on our site!