Slippery Thoughts in a Muddy Mind field
View(s):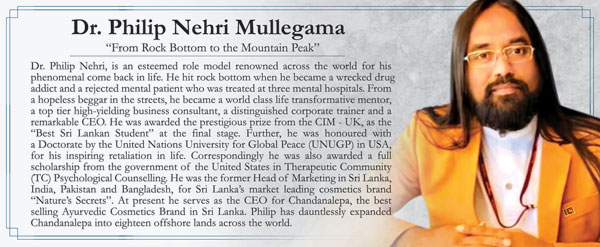 Most of my youth was spent at drug rehabilitation centers. It is not at all an easy task to be at a rehabilitation center, it is a lot of hard work. One must toil labour for endless hours, sometimes from 4.30am in the morning until late at night. I was once at a particular rehabilitation center for over six months, we did not even have proper meals, there were days we had to live with dry fish bones and rice. On the day that we cook sprats, we make sure to preserve the sprats heads, so that it could be dried and powdered to be used as a taste enhancer for the dhal curry because the dhal curry was made using only water as coconut milk was unaffordable for the rehabilitation center.
However, the worst scenario is that despite this terrible state at the rehabs, many of us go back into the same old habit the very moment we step out of the rehabilitation center. I also know of a person who was strictly advised by the doctors not to consume alcohol as it would cause him to die if he did so. I also know of another individual, a young businessman who continued borrowing money from people to gamble even though he had already lost a lot of money by gambling. Then there are so many people who do not give up consuming junk food even though their cholesterol levels are way too high. More than 75% of social media users know that there is nothing in it for them. Yet, they keep scrolling up and down on Facebook and Instagram for many hours a day knowing that there is nothing fruitful in it for them. This is indeed a very dangerous state of mind, as you have begun to value death over life, just for the sake of obtaining a momentary pleasure.
That has happened as all of us are hunting for joy. The untrained and impatient minds of many people have pushed them to embrace the nearest pleasure over the happiness found at a distance. This is the moment that blinds a person to the long-term disasters resulting from the damages made by the momentary pleasure, they tend to think that the momentary pleasure is less harmful because it is simply delicious at that moment.
Comparison is one of the key issues that hinders people from walking gleefully in life. We are at complete bliss with the new phone we possess until we see a friend carrying a better phone. Furthermore, assuming that you are better than others is ego, in simple terms it is what makes our lives miserable. If you permit ego to take control over you, it becomes an uncontrollable emotion and absorbs the peace you have in life.
This is why it is essential to bury egoistic thoughts the moment you discover them. Feeding an egg to a snake daily might even cause the snake to bite your child to death one day. Just like a snake, ego knows nothing but destruction. Recently we did a TV commercial in Anuradhapura, whilst it was going on, we fed biscuits to a few monkeys, in no time they stole the box of biscuits that was provided for the advertising crew.
Some thoughts are so persuasive, they come after us until we fall prey to them. Once they harm us, they leave us in condemnation for a couple of days and attack us once again the moment we attempt to move forward in our journey. Therefore, it is essential to be vigilant of the nature of thoughts that roam around us. What is ego capable of doing? What does comparison do? What can jealousy do? What has isolation and loneliness gifted you over the years?
We are extremely keen on knowing the ingredients that are included in the food we consume and their repercussions, yet, we tend to neglect evaluating the thoughts that wander about us. We inherit many notions from our parental DNA and sometimes we transform them into another level than how it was operated amongst our parents. Wise people decrease or even destroy the negative thoughts they inherit from their parents through managing their thoughts attentively.
However much you try to release a frog to a different location far away from your house, it would find its way back to your garden the next morning. This is exactly what happens when thoughts are entertained for a long period of time, they take control of your mind and become you. Then, your brain identifies them as default responses and all other responses that are against it are considered alien and your mind spontaneously rejects them. Many people tend to consider that fights are affixed to the physical body. It is completely a wrong assumption. Your actual fight is with your thoughts.
If you have firm control over your thoughts, then your enemies would have no authority over you because your thoughts will deal with the situation effectively. That is why it is said that 'You are your Thoughts'
Depression is basically your mind being taken into captivity by three major types of thoughts. Namely; rejection, fear and condemnation. If you allow rejection, fear and condemnation to freely set foot in your mind, those thoughts will slowly and steadily take your mind space into captivity, until you become a slave of the three slave monsters. One day when I returned home after work, I saw my wife washing the pots and pans whilst our maid was sound asleep.This is what exactly happens in your mind field also. You must be certain in your mind of who the master is and who the servant is. If you allow the servant to behave like the master then the servant will throw a fit the day you attempt to master over the servant.
Anger, on the same note is the default response of many when they are rejected, ill-treated or neglected. But there are plenty of people who walk calmly even when they are rejected, ill-treated or neglected. They possess the ability to be calm and avoid responding with anger. Your response depends on how you have trained your mind over a period of time to respond towards such situations. If you train your mind to engage in something or to go to a place without any expectation, then you will certainly not feel rejected as you have not sought acceptance or demanded to be treated well or seeked priority. None of these have been in your mind at all.
The beauty of living with less expectations is amazing. I do agree that it is challenging to live a life without expectations, as expectations are our motivators to step forward. Yet, if you could consider loving one another as a responsibility rather than a transaction with an expectation of a return, life would become much easier for you. Well, to be honest even I have not reached this state as yet, but I am definitely striving hard to endeavour loving people without expecting anything in return. Even if I lend money to someone, I make it a point towipe it out from my mind, considering giving it away as an act of unconditional love. It is muchbeneficial to think in that manner as many do not return debts.
Life will surely be peaceful if you train your mind to respond from the perspective of giving rather than the perspective of receiving. Receiving is selfish and collection oriented whereas, giving is selfless and release oriented. The more you attempt to collect the more you are prone to be disappointed. The more you try to be released the more you will become less expectant.
For comments: e-mail –
philipnehri@chandanalepa.lk /
voice – 0779526496
HitAd.lk is the best and biggest mobile phone market in Sri Lanka, and we guarantee you will find what you need here from our extensive listing of mobile phones for sale in Sri Lanka. Whether it's a budget-priced smartphone for communication, or higher end features with advanced connectivity, there are many different options from which to choose from on our site!