Join BCAS Campus and Earn The Prestigious LL.B (Hons) Degree Awarded by Oxford Brookes University, UK!
View(s):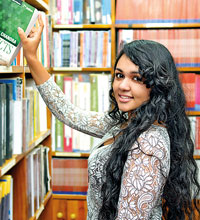 Achieve your ambitions of becoming a successful lawyer!
Achieve Your Life Ambition of becoming a UK Qualified lawyer!
You can now realize your dream of becoming a practicing lawyer in Sri Lanka with LLB(Hons) awarded by the prestigious Oxford Brookes University in collaboration with BCAS Campus. Currently, the award winning BCAS, with over 20 years of educational excellence and experience in the private tertiary education sector, is a home for a vibrant community of 3,500+ students in Sri Lanka and offers a wide spectrum of programmes to choose from such as Law, Civil Engineering, Biomedical Sciences, Computing, Quantity Surveying, Business Management, Cyber Security, Software Engineering, Accounting & Finance. Tourism & Hotel Management.
Study for an Internationally Reputed British LLB (Hons) degree here in Sri Lanka
The Law Programme at Oxford Brookes University has a number of distinctive features and aims to provide the highest levels of student experience, whilst at the same time ensuring that students who graduate from the Programme are able to do so with a degree incorporating the seven foundations of legal knowledge modules, as specified by the Bar Standards Board of England and Wales, which exempts them from the academic stage of training should they decide to pursue careers as barristers in England and Wales.
This qualification of LLB Law from Oxford Brookes University, subject to any other requirements stipulated by Sri Lanka Law College in the future, also meets the admission requirements of the Sri Lanka Law College for entry onto the Attorney-at-Law professional qualification. The degree will also provide students with the foundational academic legal knowledge that will assist entry to other legal careers.
A Syllabus That Focuses on
Key Legal Aspects
This British LLB degree qualification aims to foster intellectual, professional and ethical development of students while also contributing to the development of characteristics that are essential for a rewarding career as a legal professional. This is achieved by offering experience in co-curricular activities that includes moot court practices, debate competitions and court visits.
The syllabus provides students with knowledge and understanding of both the Sri Lankan and Common Law of England and Wales, thus, enabling students to develop a range of personal and professional skills and has both a strong academic and vocational emphasis.
Why Choose BCAS for your British
LLB Degree Programme?
BCAS, as a leading higher educational institute in Sri Lanka since 1999, provides the opportunity for students to pursue higher education at its best and offers a high-calibre, competent, and an experienced panel of lecturers who are equipped with vast Industrial and corporate experience.
BCAS lecturers have been well trained in latest teaching techniques and multiple assessment methodologies thus providing a wholesome study experience for students. This British LLB (Hons) degree with practical skills  will provide the foundation for learners to gradually become  Legal professionals in Sri Lanka.
BCAS Collaboration with Oxford Brookes University, UK
Oxford Brookes University has over 150 years of history and is located in the historic, world renowned student city of Oxford in the UK. Oxford Brookes is one of the UK's leading modern universities and enjoys an international reputation for teaching excellence and innovation.
Oxford Brookes University is ranked among the top universities in the world in 13 subject areas, and is the only British University under 50 years old to be featured in the QS World University Top 50 under 50 2021 rankings for the fourth year in a row. Its graduates are highly employable, with adequate, thorough academic grounding for business and enterprise.
BCAS – Affordability, Trust and Educational Excellence
With a student-friendly environment, online classes, flexible learning schedule and modern learning facilities, BCAS has established itself in Sri Lanka with key campuses in Colombo and Mount Lavinia, along with three regional campuses in Kandy, Jaffna and Kalmunai.
Offering an affordable higher education for students in Sri Lanka with an impressive pass rate and a well-established panel of lecturers makes BCAS the No.1 choice to build your career and transform your life!
FEBRUARY 2022 INTAKE -BCAS OFFERS AN INTERNATIONALLY RECOGNISED BRITISH LAW DEGREE FOR SRI LANKAN STUDENTS
BCAS Law School is currently accepting applications for the February 2022 intake for students interested in studying for the 3 year UK LLB (Hons) Law degree programme which is both UGC and globally recognised. The internal British degree is identical to a study programme in the UK and develops specific skills required for the legal profession.
Students have the opportunity of submitting research papers to the Annual Research symposium. With an expert panel of lecturers at BCAS who are committed to academic excellence, new law students can learn from the very best in the field as legal practitioners regularly visit the campus. BCAS provides an interactive environment, providing students with the opportunity to engage in debating, mooting practices and competitions. BCAS also organises visits to the Sri Lankan courts during high profile cases and students can also observe parliament during ongoing sessions. With exposure to informative guest lectures by visiting legal luminaries, BCAS students have the potential to achieve their dreams and life goals in the legal profession.
Enroll now and earn British LLB degree and look forward to a successful career in law.
 For more details call
0778 444 555,
Visit www.bcas.lk,
email: info@bcas.lk
HitAd.lk is the best and biggest mobile phone market in Sri Lanka, and we guarantee you will find what you need here from our extensive listing of mobile phones for sale in Sri Lanka. Whether it's a budget-priced smartphone for communication, or higher end features with advanced connectivity, there are many different options from which to choose from on our site!