A message from Dr. Michelle Kleiss, Head of School – The Overseas School of Colombo
View(s):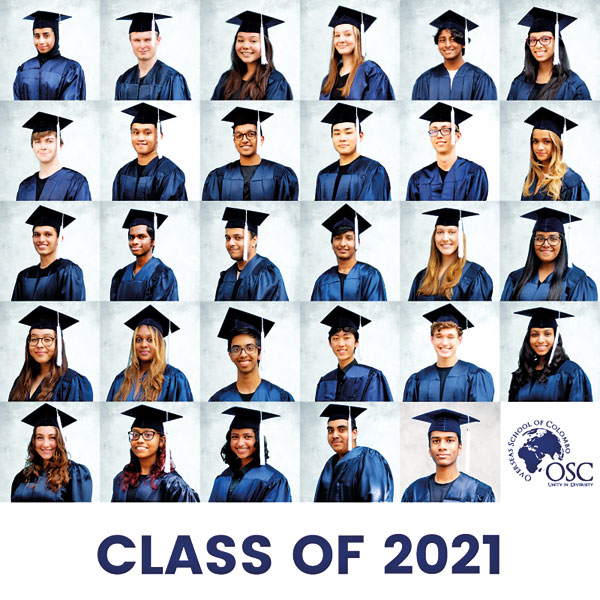 "There's nothing quite like a good challenge to bring out the best in us all.
It was a difficult year – one which required us to espouse an educational model that looked beyond parochial boundaries to seek answers to the challenge of keeping curricula and school activity flowing with minimum disruption.
Our "A" team – our "superhero" group of students, parents and faculty worked as one, ensuring the School adapted well to the new road ahead. Simply stated, the success we've tasted this year is testament to the exemplary cooperation shared amongst us all."
As a community, we grew tremendously during the 2020/21 academic year as we became more resilient, innovative and resourceful. We shifted between learning models and transformed challenges into opportunities.
During the pandemic, we took measures to ensure the physical and mental well-being of our community while continuing to provide a solid education complemented by co-curricular activities. The success achieved was due to the support we received from our phenomenal staff and parents.
We are grateful for the adversity we had to face as a result of the COVID-19 pandemic. It taught us the importance of thinking "out of the box". For example, we tapped into one of our most valuable resources, our Primary Teacher Assistants. Having such a well-qualified group of dedicated and creative assistants allowed us to put our students into small groups and build better online engagement with younger learners.
Another fantastic resource that we relied heavily on was our counselling team. With three full time counsellors in our school, we were able to provide significant support and guidance to our families, students, and staff. Our counsellors were pillars of stability while the COVID-19 storm raged. The opportunity of having three full-time counsellors in such a small school was also an inspiration for all other schools to realise the importance of social-emotional care for all learners.
Since we had to move to online teaching for the better half of the year, we also learnt new technologies to stay connected with each other, to become even more creative, and to strengthen those important executive functioning skills in our students.
Our students polished their media literacy, research, and organisational skills throughout the year making the experiences worthwhile.
Since most of the year was spent on the Distance Learning Plan (DLP), we also took the opportunity to renovate many physical areas of our school.
We refurbished all our secondary science labs, installed a state of the art and Federation-approved basketball court, landscaped the gardens, created additional outdoor seating for our community, and renovated the staff room and community coffee shop area. We also renewed several secondary classrooms and opened new design spaces.
Moreover, we understood that substantial attention had to be paid to the physical and mental health of our community. When returning to school we took all recommended measures to minimise exposure to the virus, installing ventilation systems in every classroom, air filters, and adhering to all protocols.
To OSC, emotional health is as important as academic achievements, and in fact, is a precursor to deep learning. Therefore, we developed all aspects of a student, and did our best to build their strengths, passions, and interests throughout each stage of the lockdown.
We continue to celebrate diversity, and work towards inclusion, and international-mindedness in all aspects of our school. These aspects cultivate a sense of belonging and nurture the physical and mental well-being of a school community.
The Class of 2021 was very successful in the IB Diploma and had a 100% pass rate.
Achievements were made throughout the entire school too, especially with the formal MYP Personal Project and the PYP Exhibition processes. These projects encouraged independent and deep thinking and helped achieve academic excellence while spurring personal growth as students were allowed to explore areas of individual interest.
While sporting activities took a back seat, we explored ways of continuing co-curricular activities through virtual platforms.
For example, we organised a drama workshop with the French American International School in San Francisco, planned musical ensembles, and virtual art exhibitions. We also continued our service initiatives – we supported the education of students from impoverished backgrounds and continued to help parents whose children are receiving treatment at the Maharagama Cancer Hospital.
Throughout the year It was a joy to see our teaching staff adopt innovative teaching methods. The leadership team encouraged staff to share best practice through internal professional development programmes.
These practices equipped our teachers with knowledge on new technology to engage students and management software that allowed them to communicate instruction and provided evidence of learning. It is exciting, and at times exhilarating, to know that we are using cutting-edge technology to deliver our programmes.
Much like our teachers, our parents too have been superheroes. We maintained a strong relationship with our parents throughout the year.
As a result, we were able to adjust our programmes, our delivery, and our services to meet the needs of the children. I believe this is one of the most important take-aways of the year – our parents must be genuine partners in the education we offer.
I would like to thank everyone who is part of our community for contributing their time and effort towards manifesting our vision of providing a holistic education. The success we have achieved despite the multiple challenges reminds us of the importance of teamwork.
As I look ahead, I see a very positive future for OSC supported by its strong community. Our ethos of teamwork and continuous improvement is palpable and our desire to be better than before is strong. We are research-based in all we do, caring and student-centred, and will continue to work exceptionally hard to instil the importance of diversity, equity, inclusion, and justice for all.
Michelle Kleiss, EdD
Head of School
HitAd.lk is the best and biggest mobile phone market in Sri Lanka, and we guarantee you will find what you need here from our extensive listing of mobile phones for sale in Sri Lanka. Whether it's a budget-priced smartphone for communication, or higher end features with advanced connectivity, there are many different options from which to choose from on our site!