'Hooting' politicians and what Sri Lanka's court said, once upon a time
View(s):

Even as President Gotabaya Rajapaksa is reported to have cited a decision by the Sri Lanka Supreme Court (per the late Justice MDH Fernando) regarding collective responsibility of the Cabinet to justify sacking a state minister on the grounds that he criticised the Government, he may apprise himself of a plethora of other decisions by this same Justice. These rulings constitute a clear and present warning to the Government which he heads.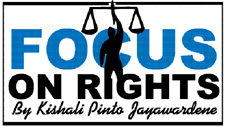 The bitter comedy of cracking down on protests
That is not to say that suddenly voluble state ministers just waking up to the fact that the Government is straying from much vaunted paths of 'prosperity and splendour' should not be sacked. In fact, criticisms or no criticisms, it would be good if the entire caboodle of Sri Lanka's disreputable if not ruffianly Cabinet and State Ministers are sacked intoto. The ejection of Cabinet and state Ministers for Trade and Consumer Affairs who gobble lies at each turn before cameras as the citizenry go without cooking gas and basic essentials, must head that list.
Even so, I am on a different matter here. If the Head of State quotes decisions of the apex court of the land, his advisors cannot indulge in cherry picking or in other words, select some decisions seen as favourable with the discarding of others. That is even more important when those less liked decisions concern protected speech. For, not even at the height of conflict in this country, North or South as the case may be, have Sri Lanka's law enforcement officers acted with such enormous impunity in cracking down on protestors as they seem to be doing now.
Indeed, this suppression has become more a thing of bitterly raucous comedy than the stern exercise of the authority of the State. When the might of state power is translated into the everyday butt of mockery by all and sundry, that is not good 'marketing' as the Government's pundits (or those who are left amidst the ruins of Viyathmaga) might surely warn. Witness the recent questioning by the police of a social media activist on the ground that she had 'insulted' the President by 'sharing' posts relating to a 'hooting' incident in a Colombo suburb by citizens queuing up for milk powder.
Right to criticise, even insult politicians
Taken by itself, this reported incident may have died a natural death if it had not been magnified further by the actions of the police. Apparently, the police spokesman had refuted his earlier reported injunction to the effect that the police will take legal action against those insulting or criticising the President. But the legal question remains as to how this questioning of activists sharing 'hooting' stories or for that matter, 'hooting' themselves, takes place in the first instance? It is a weak excuse to say that this is for the 'purpose of investigations.'
Investigations into what, we may well ask? What was the crime committed? From where did the police derive its legal authority to 'investigate'? These same questions arise in respect of the even more astounding reports in Sinhala media that the Ududumbara Police had proceeded to record statements from residents of Meemure regarding criticisms of the inaction of state officials over directives issued by the President following a visit to the area. These are violations of the very basic fundamental right to free speech secured in Article 14 (1)(a) of the Constitution.
And to be clear, this is not even to drag the abolition of criminal defamation (2002) into the picture. All that is quite irrelevant, constitutionally speaking that is. Even at the time that criminal defamation existed in our statute books, what constituted protected speech had been definitively laid out by the Supreme Court. One ruling in particular by the late Justice Fernando is pivotal to this discussion as referred to earlier, where the Court had brought the right to make 'loud noises' within constitutional protections in the 'Jana Ghosha' case close to three decades ago.
It is not as if the police are unaware of these standards
In fact, this point was emphasised just last year in these newspaper columns ('On the honking of horns in protest and absurdities of a state gone berserk,' the Sunday Times, May 2nd 2021). This was in response to the equally idiotic arrest of a citizen 'honking' his horn in protest at being held up when a cavalcade of a visiting dignitary swept by. The 'Jana Ghosha' case (Amaratunga v Sirimal and others, 1993) invoved the assault and tear gassing of then opposition parliamentarian Mahinda Rajapaksa and his fellow activists who were protesting against the regime in power which was ruled to be unconstitutional. This is of course, one of those historically delicious ironies that cannot be brushed aside.
But we are on the legal principles here which are twofold. First, as the Court said, 'the right to support or to criticise Governments and political parties, policies and programmes is fundamental to the democratic way of life.'  As such, this is a permissible exercise of the freedom of speech and expression under Article 14(1)(a). Secondly, the warning issued by the judges is still eminently pertinent for the Government's ears. 'Stifling the peaceful expression of legitimate dissent today can only result, inexorably, in the catastrophic explosion of violence some other day' the Bench said.
These are not unfamiliar pronouncements but constitute the pith and substance of a long line of decisions handed down by the Supreme Court at a time when judges took their constitutional role seriously. Again, it is not as if our police do not know these standards, it is just that they choose to ignore them. And that very few call them to account.  In fact, as we may recall, the protection of protest did not just stop at 'honking' horns or 'hooting' politicians.
State of democracy worse off than during conflict
On more than one occasion, the Court had ruled that a call to 'topple' the President or the Government and even exaggerated or plainly wrong criticism aimed against a regime in power was protected speech. In a well known precedent reflecting that caution (Channa Peiris et al v the Attorney General et al, 1994), it was observed that 'vehement, caustic and unpleasantly sharp attacks on the government, the President, Ministers, elected representatives or public officers are not per se unlawful…' The late ARB Amerasinghe J, writing for the Court, emphasized that these freedoms existed even under emergency law.
So is the state of democracy in Sri Lanka today in such a precarious state that the citizenry is now far worse off then when emergency regulations were in place in the context of ongoing conflict? Should these familiar judicial cautions be repeatedly reminded, like a broken record as it were? Cocooned by the false illusions of their own fairy tales, ruling politicians who instruct law enforcement to hound citizens exercising their right to expression and protest must stop forthwith. It is through these actions that a Government signs its own (electoral) death warrant. The greater the suppression, the greater has been the reactionary forces rising in opposition.
We seem destined to repeat this pattern, akin to the rat going frantically around on its proverbially doomed wheel.
Buying or selling electronics has never been easier with the help of Hitad.lk! We, at Hitad.lk, hear your needs and endeavour to provide you with the perfect listings of electronics; because we have listings for nearly anything! Search for your favourite electronic items for sale on Hitad.lk today!