Critics pour cold water on Pinnawala elephant twins 'bathing' circus
View(s):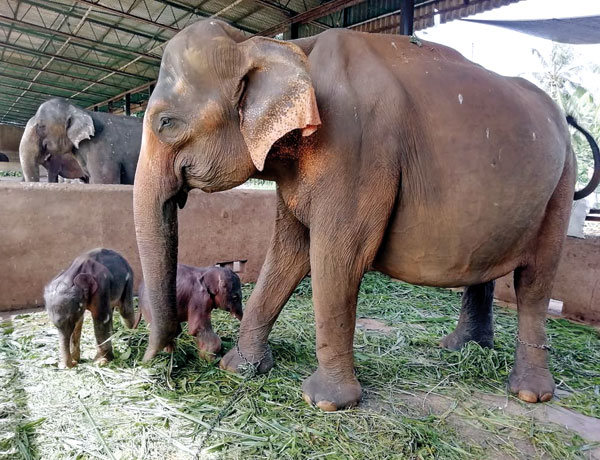 The male twins were born to a captive elephant named Surangi 
Pop goddess Cher, aka Cherilyn Sarkisian, now in her mid-70s, has condemned the bathing stunt last week at the Pinnawala Elephant Orphanage live-streamed by Zoological Gardens Director Sharmila Rajapaksa, using captive born elephant 'twins'. The male twins were born to 25-year-old Surangi last September.
In a Twitter post, she decries the inhumane activity: "Does this look right, humane to anyone? These babies look terrified, they want their mother. Why do PPL sell their souls for dollars."
She says the zoo folks were "only interested in making money for the zoo, and would exploit the elephant calves until their premature deaths.
The Elephants would make the zoo a fortune and then the mother nanny will be heartbroken and traumatised. Ask the zoo if the mom and twins will live together.''
Rally for Animal Rights and Environment has also protested online, in a Tweet.
Voice for Asian Elephants Society @vfaes_org added its condemnation:
"Truly appalling! Look at that pointed spear he is using to poke that poor stressed out elephant! How can someone educated and informed allow this to happen? Stop the circus! Wake up Sri Lanka!"
In an earlier campaign, Cher rallied worldwide condemnation over a 36-year-old Sri Lankan bull elephant, named 'Kaavan,' suffering in the Murghazar Zoo at Islamabad in Pakistan and rallied support for the 'world's loneliest elephant' held captive in a zoo there to be moved to a lush sanctuary in Cambodia.
The depressed elephant had been held in a small enclosure in a Pakistani Zoo inside a tiny shed. Cher's campaign to free the animal lasted for four years. In May 2020, the Islamabad High Court ordered that the elephant be freed.
Kaavan was a gift to former Pakistan President General Zia-ul-Haq by the Colombo Government for his support in squashing the armed conflict in Northern Sri Lanka.
---
MP stranded on the road after journalist files RTI request
An Eastern province Member of Parliament who extended his fullest support to the government with the recent budget and the vote on the 20th Amendment had to return a vehicle given to him after a local journalist filed a Right to Information (RTI) request to the relevant department seeking details of the official vehicle given to him.
The Parliamentarian got the vehicle to oversee the work now underway to develop about 100,000 kilometres of road development projects in his district using his political influence, but when he came to know about the RTI request, he discreetly returned the vehicle and informed the local authorities.  The one-time journalist turned politician was complaining within his closed circles these days that there had been mudslinging campaigns underway by some journalists to damage his "reputation" with false reports.
---
An elephant calf named after Wildlife State Minister
Dehiwala Zoological Gardens officials have  decided to name one of three elephant calves born at the  zoo recently after Wildlife State Minister Wimalaweera Dissanayake.
The calf is to be named "Disa".
The two other elephant calves are to be named "Sadjana" and "Weeraman." The names  were proposed by the state minister.   Several other animals received by the National Zoological Gardens recently were named by schoolchildren.
---
Arjuna takes flying shot at current  government over Palaly airport
Former Minister Arjuna Ranatunga was in Jaffna this week to attend a private event. He was engaged in re-opening the Jaffna International Airport at Palaly.
This was built by the former Yahapalanaya Government with Indian assistance.
Soon after the new government took over and the pandemic spread, the airport was closed until further notice with much of the staff being relocated to the head office in Colombo or elsewhere.
When asked about the closure of the airport, former Minister Ranatunga said that it was sad to see that the present Government was not interested in re-opening the airport for civilian use.
He said the airport was opened for the benefit of Northern people to shorten their flying time and money by travelling directly to India without having to come to Katunayake and take a flight.
"But this government is not interested in restoring that," Mr Ranatunga said while stressing that he was no longer involved in active politics, but expressed hope to work together with Opposition parties in future.
"Maybe they do not want to re-open the airport considering the potential loss of revenue if Northerners started to fly to India from here," one journalist who was present at the meeting was heard saying to his colleague.
---
You may have to loaf  to buy bread
As if current shortages of essential items are not enough, bakery owners are now warning of bread shortages in the coming days owing to a shortage of wheat flour.
All Ceylon Bakery Owners' Association President N. K. Jayawardena told the media that bakery owners were only receiving 50% of the wheat flour they normally receive. Many were working just three or four days a week.    The shortage had arisen due to the difficulty encountered by flour importers in getting dollars to release their wheat flour stocks, according to Mr Jayawardena. "The importers can give us as much flour as we want, but they do not have the dollars to release their stocks," he said.    If authorities did not take immediate steps to address the issue, the people may not be able to buy bread even after standing in line for hours.
---
Basil's visit to India put  off due to double trouble over COVID
Finance Minister Basil Rajapaksa was scheduled to attend the vibrant Gujarat summit from January 10-12 and possibly even more importantly, have a meeting on the sidelines of the summit with Indian Premier Narendra Modi. Gujarat is premier Modi's hometown, where he was Chief Minister at one time.
The Gujarat state government on Thursday decided to postpone its flagship event due to COVID-19 concerns.
The whole of India is facing yet another wave of the virus, this time not only of the Delta variant but also of the new Omicron variant.
This is not the first time Minister Rajapaksa sought a meeting with the Indian premier but where it has failed to materialise.
In December last year, Mr Rajapaksa sought a meeting with the Indian premier as the Sri Lankan Parliament was debating the 2022 Budget he had presented, but it was cancelled due to the tight schedule of the premier.    Shortly after the Gujarat government cancelled the event, officials and spinners from the office of the Finance Minister leaked the news that Mr Rajapaksa would not be visiting India due to COVID-19 concerns as the number of positive cases increased sharply.
Meanwhile, India's External Affairs Minister S. Jaishankar on Thursday held separate telephone talks with his counterparts from regional countries including Sri Lanka's globe-trotting Foreign Minister G. L. Peiris and told him that India would support Sri Lanka in "these difficult times."    "Greeted FM G L Peiris of Sri Lanka in the New Year. A reliable friend, India will support Sri Lanka in these difficult times. Agreed to remain in close touch," Mr. Jaishankar tweeted.    India's support for Sri Lanka did not come with noble intentions, it seems.
Talks lasting 16 months had been finalised with the inking of a joint collaboration partnership to manage the Trincomalee oil tanks and the deal had to be done before the US$ 1.9 billion worth of economic assistance from India was to be released.
Buying or selling electronics has never been easier with the help of Hitad.lk! We, at Hitad.lk, hear your needs and endeavour to provide you with the perfect listings of electronics; because we have listings for nearly anything! Search for your favourite electronic items for sale on Hitad.lk today!