Wishing for queue-free New Year: A wishful thinking?
By our Parliamentary Correspondent
View(s):
Food crisis looms; gas companies continue to hold people to ransom, while a hapless Government looks on
More expected from main opposition SJB over burning issues
Public confidence in the administration fast eroding; CB Governor and Treasury Secretary to attend crucial Cabinet meeting tomorrow
A new year where people do not have to stand in queues anymore; that was the new year's wish of one man who spoke to television crews while standing in a long queue for LP Gas cylinders this week. No doubt others in line with him and those waiting in lines for other essentials throughout the country on a daily basis wish the same. With Sri Lanka limping into 2022 with an unprecedented economic crisis, however, this could be just wishful thinking.
A severe shortage in essential items, coupled with sharp price increases in others, has sent the cost of living to unbearable levels over the past year, with no relief in sight in 2022 either. Some experts have indeed warned that the situation could worsen this year, with a looming food shortage by April due to a plunging harvest; a result of the Government's sudden and ill-conceived ban on agro-chemicals. The self-inflicted crisis threatens to ruin the livelihood of farmers, with a crippling fertiliser crisis yet to be resolved even though the country is well into the 'Maha' cultivation season.
The Government's reaction to such dire warnings has been to dismiss them outright, while insisting that it is well capable of ensuring that no one starves owing to lack of food. It has reacted angrily to even the mention of the words "food shortage." Former Agriculture Ministry Secretary Prof. Udith K. Jayasinghe was unceremoniously sacked last week by a WhatsApp message from the Presidential Secretariat because he dared to contradict the Government line and speak publicly about a food shortage. And that came with a letter appointing his successor being copied to him.
Government Ministers, too, have been making confusing statements regarding a food shortage. While stressing that there will be no food shortage, Lands Minister S.M. Chandrasena said during an event in Gampaha on Thursday that the Government, however, acknowledged that this season's harvest would be lower than usual due to the fertiliser fiasco. Nevertheless, he insisted that the Government would not allow anyone to go hungry and would "bring down food for the people from somewhere," (kohenhari genath janathawata kanna denawa). There were eerie reminders to an older generation of promises; handen wath haal genawa (we will bring rice even from the moon).
The Government has already been forced into importing 20,000 metric tonnes of rice from Myanmar at USD 460 a metric tonne to try and stabilise the price of rice in the local market. The decision is controversial, given that Myanmar is currently ruled by a military junta, which has engaged in a vicious and bloody crackdown on the country's own citizens. Such is Sri Lanka's desperation to worry about another country's human rights.
Gas shortage, blasts and crisis continue
Shortages of essential items continue at home. Many households and businesses have been hit hard by the shortage in LP Gas. With the two gas companies, Litro and Laugfs, now being forced to only issue LP gas cylinders that conform to the standards of the Sri Lanka Standards Institution and the Consumer Affairs Authority, only a limited number of cylinders are issued to the market each day. This has resulted in lengthy queues outside many gas dealerships. The people have not been informed about the source of this gas imports and everything is being blamed on the composition of the gas mix for the explosions.
| | |
| --- | --- |
| | |
| | |
| | The main opposition Samagi Jana Balawegaya and trade unions affiliated to it stage demonstrations, calling on the Government to bring down the cost of living, but the party has come under criticism for not being effective in delivering its message. Pix by Indika Handuwala |
The President seems to have dismissed the issue by asking if such explosions did not occur in the past as well.
At times, fights have broken out in the crowd as people jostled with each other to buy the limited number of gas cylinders issued to each dealer. The acute shortage has also led some to take even more desperate measures. On Wednesday (29), a group of men in a three-wheeler waylaid a lorry carrying LP gas cylinders in broad daylight along Sir Ernest de Silva Mawatha (formerly Flower Road) in Colombo 07 and right across the well-guarded Prime Minister's office, making off with three new gas cylinders. The 'thieves' also made a point to return two empty gas cylinders they had with them to the occupants of the lorry before escaping. On Friday, Kollupitiya Police announced that three suspects had been arrested in connection with the incident.
Litro Gas Chairman Theshara Jayasinghe told the media that it will take at least three weeks for gas supplies to return to normal. As such, the LP Gas shortage is set to persist at least for most of January. People found it difficult to boil milk or make milk-rice for the dawn of a new year.
Meanwhile, explosions related to LP Gas cylinders are still being reported, though the frequency of the incidents has markedly reduced. The public's anxiety over the possibility of explosions and fires related to gas cylinders remains, with many turning to firewood and kerosene as alternatives. Such has been the increased need for these alternatives that long queues are forming since early morning outside filling stations for kerosene, while supermarkets are now selling firewood in bundles. For those who can't use such items due to practical difficulties, there is no other choice but to join the gas queues and wait in hope for a new cylinder. If they finally get lucky to find one, they must use it while being mindful that it could still be extremely hazardous to their safety. Such is the conundrum facing the people today.
It is also noteworthy that despite the sheer scale of the gas cylinder fiasco, which by the police's own admission has cost seven lives so far, and left several others seriously injured causing significant property damage, no one has been held to account. Mr Jayasinghe continues to remain Litro Chairman, while other senior Litro officials also remain at their posts. The Laugfs Gas folks are laughing all the way to the bank. There have been no mass resignations. Consumer Protection State Minister Lasantha Alagiyawanna, whose very responsibility is "consumer protection," a responsibility at which he has failed miserably, also continues to function in his post. It's almost as if it's the public who are at fault.
The shortage of gas cylinders has decimated the businesses of small restaurants and roadside eateries. Mindful of the shortage, places that do have gas are closing early to save gas while those who haven't been able to find gas remain closed, Canteen Owners' Association Convenor Asela Sampath told the Sunday Times. He said the situation had improved over the past week following the issue being highlighted extensively in the media, with the authorities taking steps to reserve some gas cylinders for restaurants and eateries. "But the numbers are not enough. More than 5,000 eateries continue to remain shut owing to the gas shortage. This is without counting the roadside petti kades (mobile carts) and small household businesses that supply various foods such as string hoppers and pittu to eateries. Those small shops and businesses are all closed."
The Canteen Owners' Association also announced this week that they will stop serving milk tea owing to the sharp increase in prices. This was after milk powder importers raised the prices yet again. According to the latest price increase, a 1 kilogram packet of milk powder has gone up to Rs. 1,345, an increase of Rs. 150, while a 400 gram packet has increased by Rs. 60 to Rs. 540. "We can't sell milk tea anymore without suffering terrible losses," Mr Sampath stressed. He claimed that operators of some canteens, such as hospital canteens, where food is heavily subsidized, were finding it extremely tough to serve milk tea.
The price of many other essential ingredients used in many of their foods has also gone up heavily. The price of an egg which used to be about Rs. 12 a year ago, is now Rs. 32 at egg centres and 40 in supermarkets while a kilogram of chicken has gone up from about Rs. 360 to Rs. 750. The recent fuel price hike has only added to their woes. Mr. Sampath blamed the Government for not being able to keep the prices stable, and said that as a result, many restaurants and eateries had been forced to reduce their staff or close altogether.
SJB campaign
The main Opposition Samagi Jana Balawegaya (SJB) has been holding a series of small scale protests over food shortages, fuel price increase and the rising cost of living. Some like Mr Sampath though, have criticised the SJB for not doing enough and leaving civil society to bring pressure on the Government to act. The SJB's Ratnapura District Parliamentarian Hesha Withanage, however, said his party was not prepared to work as a "traditional opposition" and simply engage in street protests. "Yes, we are also holding street protests and raising these matters in Parliament, but we have to go beyond that," he emphasised. Mr Withanage pointed to social service programmes such as "Vipakshayen Husmak" which supports the health sector's efforts to battle COVID-19.
Opposition Leader Sajith Premadasa, meanwhile, launched this week a new programme titled "Sakwala", which the SJB says is aimed at providing tools to set up smart classrooms in schools. However, he was at the receiving end of barbs for receiving donations from the Chinese embassy and accused of being silenced as a result on the rotten fertiliser issue with a Chinese importer for which the Government ended paying compensation for a shipload of rubbish.
Mr Withanage and some other SJB backbenchers have criticised the SJB leadership in the past for simply being reactive to Government failures and not taking steps to win the public's confidence by presenting a vision for the country's future. He now believes the party is doing better in this regard. "This Government is tainted by corruption and it is a label it has been unable to shake off," he said. The Government had been desperately trying to cut off avenues of dissent and accountability in the face of growing public backlash, the MP said, pointing to the way COVID pandemic measures were used to try and disrupt the SJB's protest in Colombo last November and the recent proclamation issued proroguing Parliament.
With indications that the Government also intends to postpone Local Government elections due this year, the people should be well aware as to the way their rights are being trampled upon, Mr Withanage noted. He also dismissed arguments that though the support for the Government has plummeted, it has not resulted in a corresponding increase in support for the SJB.
"People trusted President Gotabaya Rajapaksa to deliver, but given that he has failed in every department, it is natural that some would feel apathetic about voting for anyone again. We, however, believe that the majority of discerning voters in the country know that when it comes to having the power to topple this Government, the SJB is their best option. The floating vote will be critical, but those voters generally make their choices during the final days of the campaign. We have to work hard to earn their trust by putting in the work before and during the campaign," he remarked.
Erosion of public trust on Govt.
Speaking of trust, the Government has precious little of it among the public, an issue that is exacerbated by bizarre actions from within its own ranks. On Thursday, Police Headquarters issued a media statement to clarify a "false report" circulating on the social media that police had sealed a milk powder outlet belonging to a private milk powder manufacturer at Jubilee Post in the Greater Colombo area of Mirihana. The statement said that President Gotabaya Rajapaksa had instructed Senior Deputy Inspector General (SDIG) of Police Deshabandu Tennakoon to check why so many people were standing in line at the outlet. The police statement said that upon inquiries, it had been revealed that there was a delay as milk powder was only being issued from one counter in the outlet, resulting in long queues forming outside. After discussion between the SDIG and chairman of the private company, it had been decided to increase the number of outlets in the area from which milk powder is sold with effect from December 31 and token cards issued to ensure that people don't have to stand in congested and lengthy queues, it claimed. Thereafter, Livestock Development State Minister D.B. Herath also showed up at the outlet on Thursday to look into the issue.
The whole episode has taken a life of its own, however, owing to claims made by some of those in line at the outlet to the media that police intervened after those in line had hooted at the presidential motorcade as it passed by on Wednesday. There is no video of the alleged incident and even State Minister Herath denied such an incident had taken place when asked by the media, but the rumour mill persists, with denials issued by police only adding fuel to the fire.
Several questions arise over the entire episode. Why would the police get involved in dealing with lengthy queues outside a privately owned milk powder outlet? What then about all the other queues outside at other milk powder outlets of the company and outlets of other companies, or of the many lengthy queues outside other outlets selling essential items such as gas? If they intervened at Mirihana after the President instructed them to see what's happening, does that mean he is unaware that people are suffering in long lines in many parts of the country?
In his discussion with newspaper editors this week, President Rajapaksa alluded to the recent removal of Agriculture Ministry Secretary, Udith K Jayasinghe-Mudalige who was Vice Chancellor of the Wayamba University and also Senior Professor and Chair of the Department Agribusiness Management in the Faculty of Agriculture and Plantation Management. He was handpicked for the job after Rohana Pushpakumara resigned from the position. Prof Jayasinghe was the fourth Agriculture Ministry Secretary in President Rajapaksa's administration and was replaced by D M L D Banaranayake, who is now the fifth.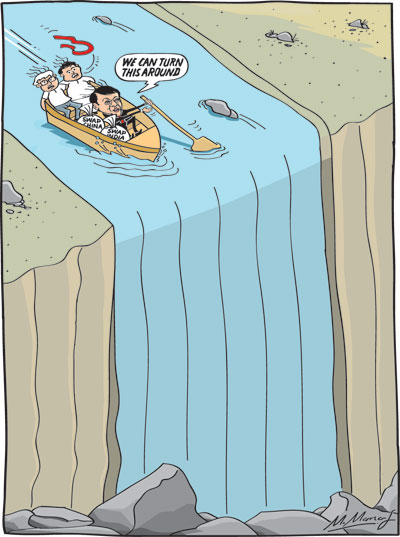 There were some university professors he appointed, the President said, who hadn't been in tune with the masses. While he did not use the word "Viyathmaga", the President's team of professionals who were to be inducted to run part of his administration if elected to high office, this and other remarks he has made at various recent meetings have ruffled feathers. The heightened criticism of professionals appointed to high positions, as they perceive it, appears to have made the Viyathmaga network defensive.
As one highly-placed member observed, "Not every professional appointed to high posts by HE (His Excellency) was a Viyathmaga activist. This is the point people miss. People think all appointees are Viyathmaga and that's totally wrong. Many were connected due to different sources, mainly those who had linked with Pohottuwa (lotus bud – the ruling party symbol) and some from other professional association who helped the (Presidential) campaign. Some were totally new applicants with no prior political links."
Besides, not all Viyathmaga members appointed to high posts could be treated as "below par". Some just found impediments in their way they could not overcome. For instance, Urban Development State Minister Nalaka Godahewa, when contacted this week for background information on why the Government unilaterally cancelled the Japan International Cooperation Agency-funded Light Rail Transit (LRT) project said he had not even known it would be abrogated. He personally supported the initiative but had not had any say in what happened.
"I think the country needs an LRT solution in the long run," he told the Sunday Times. "I was in favour of the four-lane solution that had been conceptualised by the Urban Development Authority some time back. When the LRT project was cancelled, our ministry was not consulted. We only received a copy of the letter sent by the President's Secretary informing that the JICA project had been cancelled."
"It was supposed to be based on a long-term loan," he said. "At that time, the project had been transferred to the Transport Ministry. But after the decision to cancel the project was taken, our State Ministry was once again asked to get involved and to wind up the project office as it was originally set up under this ministry. We tried several times to discuss this matter and at least get a direction on the other three lanes which were supposed to be public-private partnership projects. But we never got a proper opportunity to discuss this."
"Once we got a forum with the President but due to some reason it had to be cut short," Dr Godahewa related. "So we couldn't go into details. The President asked Rohan Seneviratne who had experience in handling World Bank projects to study this initiative and come back to him. But repeated attempts to have a detailed discussion even by him did not work as the Presidential Secretariat postponed the meetings. So we do not know the exact position–I mean the official position–of the President on this matter yet."
Others confessed behind the scenes that the outgoing President's Secretary often blocked opportunities for direct discussion with the President on various matters. Often, appointments would simply not be granted. And even on subjects handled by them, they were not consulted.
The enormity of the economic challenge the country faces this year is truly staggering. In late December, the Sunday Times pointed out that Sri Lanka's total debt burden will be over $7 billion in 2022 while the country has to repay $947 million in January alone in view of debts obtained from donor countries.
With the situation being so critical, Central Bank Governor Ajith Nivard Cabraal and Treasury Secretary S.R. Attygalle are due to brief the Cabinet tomorrow on the country's financial situation and plans to increase Government revenue and bolster dwindling foreign reserves. The meeting will also see the attendance of Finance Minister Basil Rajapaksa, who returned to the island yesterday from a private visit to the US. The Central Bank announced this week that the country's foreign reserves had increased to USD 3.1 billion. The increase came after a USD 1.5 billion currency swap with the People's Bank of China was finalised.
Buying or selling electronics has never been easier with the help of Hitad.lk! We, at Hitad.lk, hear your needs and endeavour to provide you with the perfect listings of electronics; because we have listings for nearly anything! Search for your favourite electronic items for sale on Hitad.lk today!