View(s):

Mystery over PB — What's his afterlife as President's Secretary

The secrecy surrounding the "resignation" of Presidential Secretary P. B. Jayasundera, has reached ridiculous heights with even the President's Media Unit claiming it cannot confirm or deny anything–not the date of resignation, the reason for it nor whether or not it is happening.

They would have us believe that, apart from the key actors of this drama, nobody else has information, which might well be true. PB is known to hold his cards close to his chest, even for someone who is a public official paid by the public coffer.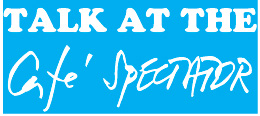 While his official position is that of Presidential Secretary, he is known to be a key framer of economic and administrative policy, still remote-controlling the Finance Ministry, where he was formerly in charge. He is also the gatekeeper to the President, and many Ministers complain he blocked access rather than facilitated discussion. It is, therefore, doubly critical that the people are kept informed of important changes at the Presidential Secretariat.
For now, informed sources say PB will stay in his post till January 31, and that his likely replacement is Gamini Senarath, who is currently Secretary to Prime Minister Mahinda Rajapaksa. Meanwhile, rumours abound about what is next for PB. One says he will be Adviser to Finance Minister Basil Rajapaksa. Another refers to a diplomatic posting. But a third says that he has no plans of taking up any position and will spend his time writing a book.
---
TNA bluntly tells China to keep out of North and East
Chinese embassy delegation's recent visit to the North caused many concerns in various quarters, particularly in New Delhi. The Chinese made it clear they are interested in collaboration and infrastructure development in the Northern and Eastern provinces as a development partner along with India.
When asked what stand the Tamil National Alliance (TNA) was taking on the matter, the party spokesperson M. A. Sumanthiran put it bluntly: "We do not want any Chinese presence in both provinces."
According to the spokesperson, the TNA demands accountability and justice which are alien subjects to the Chinese one-party rule and of course India's security concerns since it is a regional power, is also a matter to be taken into account.
"What we have to understand is that Sri Lanka is an island located in the Indian Ocean, not in the South China sea," Mr Sumanthiran said, in a recent public meeting in Jaffna. He was referring to China's aggressive behaviour of establishing its dominance over the disputed sea territories in that part of the world.
Meanwhile, the TNA informed New Delhi through its channels that China can be kept out of the two provinces only if India intervened or exerted pressure on the Government to ensure an adequate power-sharing mechanism in place with land and Police powers to both provinces in the future. Indeed, the country has become the playground for geopolitical games while ordinary citizens have little say or are mere spectators. The TNA is now using the Chinese visit to get India to get Sri Lanka to implement Constitutional Amendment 13 plus. What a merry-go-round.
---
New Year kiribath and sweetmeats latest victim of gas shortage
The traditional meal of milk rice and sweet meats that state and private sector offices lay out for staff on their first working day of the New Year was not seen this year after becoming yet another casualty of the countrywide gas shortage.
It is the usual practice of such offices to place orders for the New Year meal with hotels and restaurants in the towns they are located in or are closest to. This year however, such hotels and restaurants have been forced to refuse such orders due to the prevailing gas shortage, Canteen Owners' Association Convener Asela Sampath said.
Hundreds of hotels, restaurants and roadside eateries continue to remain closed owing to the gas shortage, while those that have been lucky enough to find cylinders are also operating at reduced working hours to save gas, he said.
---
Seized Indian trawler to carry people instead of fish
Northern fishermen have been causing a storm in recent years against the arbitrary illegal bottom trawling of Indian fishermen in Lankan waters–but they did not expect one of those massive trawlers to be used for civilian transport.
This week, Fisheries Minister Douglas Devananda visited Myliddy in Point Pedro where recently seized Indian trawlers are anchored at the fisheries jetty, under Navy custody. He informed the fishermen that one of the trawlers will be converted as a passenger boat for civilian use between the Iranithivu islet and the mainland of Kilinochchi.
Despite pressures coming from India to return the trawlers, Minister Devanada said the seized boats will not be returned and only the arrested Indian fishermen will be sent back after being subjected to legal action.
He said some Sri Lankan fishermen were still languishing in Indian jails even though the government continues to release arrested Indian fishermen from time to time on a humanitarian basis.
As India cites legal provisions for the delay in securing the release of Sri Lankan fishermen on its side of the Palk Strait, Indian trawlers also can be seized and declared as state property under relevant Sri Lankan laws, Minister Devananda said. Tit-for-tat diplomacy at its best, it seems.
---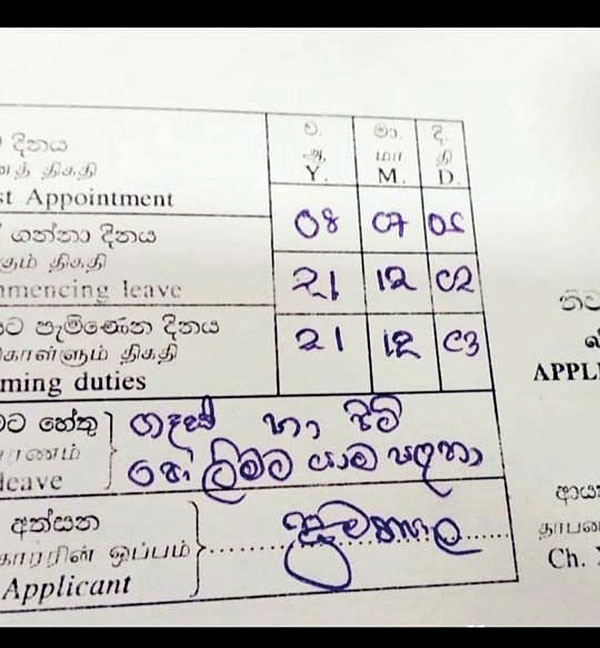 Public official takes a day's leave to stand in queues to buy essentials
In Colombo these days, common everyday scenes are the long queues in front of supermarkets, fuel stations and stores to buy powdered milk, cylinders of gas, kerosene and other items.
No wonder, even some people had to come to stores at the crack of dawn to secure their spot and spend hours standing with the only hope of securing supplies before the stocks ran out.
For state employees, securing supplies has become a major issue since they need to report to work and cannot spend hours standing in queues. Therefore, one such official had to take a day off.
In the leave form where it is required to mention the reason–he indicated that he needed to go and stand in queues to buy powdered milk and gas. Not only that, he shared the form on his social media platform, which went viral this week.
When a broadcast journalist approached an individual who was in the queue for powdered milk,the man had responded saying while he is in the queue for powdered milk, his wife was in another queue for a cylinder of gas and one of his children was in another queue to buy wheat flour. The whole family was standing in queues.
---
Questions over President's New Year message received via SMS
As the New Year dawned yesterday with less colourful activities and little enthusiasm owing to the current situation the country is facing, most Sri Lankans with access to mobile phones received a 'New Year wish' Short Message Service (SMS) text from President Gotabaya Rajapaksa.
One concerned citizen asked how come mobile telecom operators share contacts with state regulators to send random messages from government leaders and wondered whether taxpayers funds were used. They had done so with the former Presidents as well.
Apart from that, what caught the attention of many is the New Year message issued by the President and posted on the official website. As the Government is obviously becoming more unpopular every day due to the skyrocketing cost of living and economic hardships, the self-assuring message was clear. Here are some excerpts from the message:
"The Government's action in the face of the destructive effects of the COVID pandemic on the lives of Sri Lankans has been hailed globally. I am pleased to say that the freedom you enjoy today, even in the midst of pandemic restrictions, is the result of the immense sacrifice that all people of this country have made."
"The rejection by the great number of patriots of baseless political tussles that have led to harassment of the people is an affirmation of the people's trust in government. I invite everyone to make the New Year a transformational year dedicated to realising the "Vistas of Prosperity and Splendour" for the people."
Buying or selling electronics has never been easier with the help of Hitad.lk! We, at Hitad.lk, hear your needs and endeavour to provide you with the perfect listings of electronics; because we have listings for nearly anything! Search for your favourite electronic items for sale on Hitad.lk today!