Discipline, teamwork and motivation
View(s):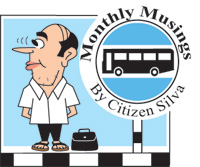 During this Christmas weekend, I have been musing about the speech made last week by our president at the Military Academy in Diyatalawa where he was chief guest at the passing out parade of the army's newly commissioned officers.
The president – a former army officer himself – felt it important to remind the newly graduated officers that having a very high degree of discipline is one of the most important aspects of a military officer's life. He also pointed out that for an officer to succeed, no matter how capable or skilled they are as individuals, they will not be able to succeed without the support of others.
After all, those under one's command are ordinary people – and it is the responsibility of a good military leader to mould the members of his or her team to get these ordinary people to do extraordinary things. Great leaders work to get outstanding results from subordinates who would never have believed that they could accomplish such tasks in the first place.
If I were to summarise the advice that our president gave these future military leaders, it was simply this: Discipline yourself, mould a great team and inspire your subordinates.
Once you have mastered these tenets, people will naturally follow you.
And this is what we expected from our president when he was elected into office in November 2019. Here was a disciplined military officer who would assemble a capable and disciplined team — and then inspire them (and us) to achieve great things for our country.
It is sad, therefore, for me, two years down the track, to see that (if I can borrow a few phrases from Chinua Achebe) we are now at a time when Things Fall Apart, when the Man of the People is seen to be No Longer at Ease.
We are living through a time petrol prices have just gone up – keeping abreast, no doubt, with the rising prices of vegetables and staples. We have workers striking – from postal employees to government doctors – and other workers in the Electricity Board posturing and shadow boxing while making loud noises about of striking.
With all this talk of Discipline and Teamwork, we have a situation where members of the president's own cabinet – Ministers Wimal Weerawansa, Udaya Gammanpila and Vasudeva Nanayakkara – are seen making representations to the Supreme Court in a fundamental rights petition in which they themselves as members of the cabinet have been named as respondents. The three ministers not only allege that their Cabinet colleague, the Finance Minister, did not submit a cabinet memorandum before the Yugadanavi power plant agreement was signed; they also allege that the agreement was signed in violation of the standard tender process. This is the first time in my own long lifetime that I can recall an instance of members of the Cabinet moving court against a Cabinet decision.
While the cabinet appointed remains a cabinet divided, we have a different situation with mass resignations of members who were appointed to statutory bodies like the Board of Investment (BOI) and the Consumer Affairs Authority as well as committees of technocrats like the Health Ministry's Covid Prevention Technical Committee. These are members with some level of knowledge and expertise in the subjects they handle (unlike cabinet ministers who in many instances are given to handle subjects for which they have neither the expertise nor the training).  It is the responsibility of a good leader to carefully select competent and experienced members for his or her teams – and then inspire them to deliver the goods.
On another note, appointing a trade union leader (even though he may be well ordained and has accomplished great things as head of the nurses' union) as Chancellor of a University — and appointing a chartered accountant as Governor of the Central Bank — are not the selections that give the people confidence that their leader is going to accomplish great things.
The often quoted management concept known as the Peter Principle postulates that functionaries are promoted to higher positions based on their success in previous jobs — until they reach a level at which they are no longer competent because the skills at which they excelled in their previous job do not necessarily translate to the new post.
In simple terms, in any organisation – whether it is a government department, a private company or even a political party – every functionary tends to rise to his or her level of incompetence. This consequently leads to the Corollary of the Peter Principle: In time, every post to which people are promoted tends to be occupied by a functionary who is incompetent to carry out its duties.
Sadly, this is what I can see happening around me as I survey my country on this austere Christmas weekend.