Get jabs and follow preventive measures, urge experts
Three more cases of Omicron detected
By Kumudini Hettiarachchi and Ruqyyaha Deane
View(s):
A multi-pronged approach is the only answer to any SARS-CoV-2 variant which could assail the world including Sri Lanka.
Vaccination, not only with two doses but also a booster, along with strict adherence to the health measures of wearing face masks the proper way; hand hygiene, social distancing and avoiding gatherings, is the way to arm against Omicron.
This was the plea from experts, as people went into the season, some paying scant attention to health guidelines.
Three more samples infected by the Omicron 'variant of concern' was detected, this time by the Medical Research Institute (MRI) in Colombo.
The samples from December 16 and 20 were of three arrivals (aged 33, 35 and 47) from Tanzania and Sudan, said Consultant Virologist Dr. Jude Jayamaha of the MRI, explaining that in this sequencing run, 16 samples were infected by the Delta variant. The MRI had begun sequencing in November this year, under Dr. Janaki Abeynayake, Head and Consultant Virologist at the Department of Virology.
So far, the World Health Organization (WHO) has declared five variants of concern – Alpha, Beta, Gamma, Delta and Omicron.
When asked by the Sunday Times at the Health Promotion Bureau (HPB) media briefing held on Wednesday whether these patients had brought in RT-PCR tests that should have been taken within 72 hours before boarding the flight, the explanation was that even though there is no mandatory RT-PCR testing at the airport, some are selected for such testing.
Dr. Jayamaha said that he did not know those details as they were beyond his purview but that they had tested positive after they arrived.
Citing the case of the Omicron-positive Indian traveller who had allegedly not been positive on arrival and whose reports did not indicate that he was positive, the Sunday Times then queried whether experts should not advise the Health Ministry to impose more stringent guidelines at the airport.
"Those policy decisions are taken considering several factors. As virologists, we do give certain insights or suggestions. But the ultimate decision is taken after the consideration of several factors," said Dr. Jayamaha, pointing out that the MRI gives the sequencing results to the Epidemiology Unit and Health Ministry.
When asked where these Omicron positive patients are kept, Dr. Jayamaha said he did not know as they handle only laboratory work but he assumes that they are kept in an isolation centre.
He went on to say that four weeks after Omicron was detected, the world is at a critical juncture. It has surpassed Delta and become the dominant variant in the United States of America (USA), the United Kingdom (UK), Denmark and Portugal.
"We need to look at Omicron's transmission when compared with other variants, especially Delta and whether Omicron causes more severe disease than other variants," he said.
There is rapid spread by Omicron – a study, not published yet in journals, by the Hong Kong University shows that its spread is 50-70 times faster than Delta.
Several reports from hospitals also confirm this. Around 1,033 cases of hospitalizations have been reported in South Africa, with several of these patients being diagnosed with pneumonia. There has also been a spike in the number of cases who need ventilators and ICU beds in countries such as the USA and Spain.
This is why we need to be vigilant, said Dr, Jayamaha, stressing, however, that there isn't sufficient information with regard to COVID pneumonia and deaths linked to Omicron. Reports from Johannesburg (South Africa) indicate more youth being hospitalized than those in other age groups. But in the USA, the situation is different. We need to look at the ratio rather than the actual numbers.
"Some reports from South Africa reveal that people who contracted Delta and those who got both doses of the vaccine were also infected with Omicron. Laboratory investigations reveal the tendency for a reduction in disease severity by vaccine antibodies if both doses are taken. But these investigations are still at a preliminary stage and we cannot arrive at a conclusion from limited samples," he said.
Dr. Jayamaha added that there is a race against time. The positive news, however, is that a study has revealed that the booster reduces the chances of getting infected by Omicron by 86%.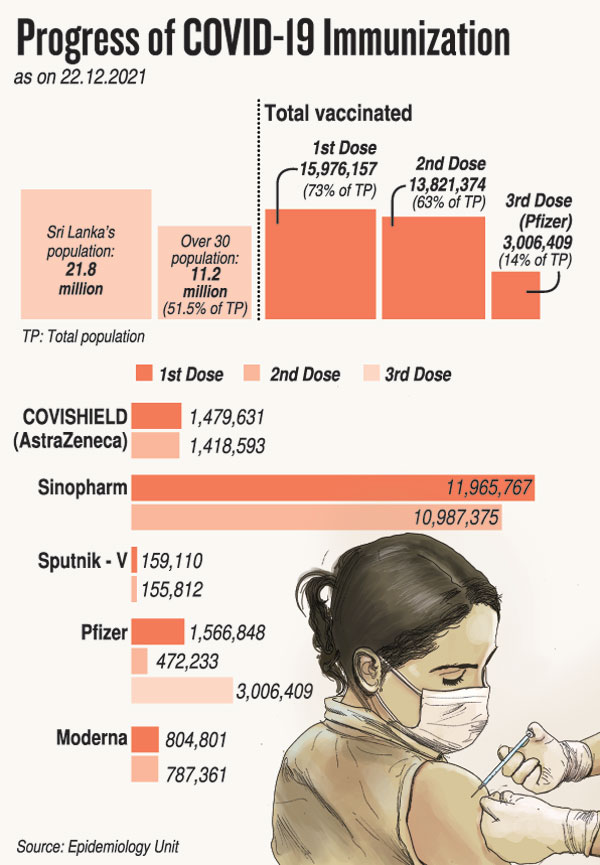 The best way to say that you found the home of your dreams is by finding it on Hitad.lk. We have listings for apartments for sale or rent in Sri Lanka, no matter what locale you're looking for! Whether you live in Colombo, Galle, Kandy, Matara, Jaffna and more - we've got them all!