'Lankan Cinema audience needs to be increased- Benette
View(s):

Having directed internationally awarded films, Benette Rathnayake strongly believes that to promote Sri Lankan cinema the audience should be widened and increased both locally and abroad.

Speaking to media after releasing his newest film 'Nobody Knows' Benette said that there is an urgent need to increase the audience of Sri Lankan cinema. "If you look at developed cinemas in the region like India we see there are billions of patrons both in India and worldwide. Though not billions we too must work hard to increase our audience both in Sri Lanka and abroad,".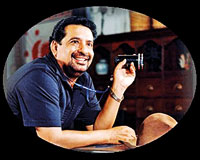 For me cinema is the most artistic art form. However its viewing platforms is now being changed from traditional widescreen theatres to TV screen in the living room. Though the technology changes, the popularity of cinema as a medium will be increased," Benette said.
Speaking about his latest film, Benette said the film talks about bitter realities of present political system. "This bitter reality I depicted in 'Nobody knows' is a known fact but most of the people in the society has accepted and keep silence without opposing it. How a county needs to be ruled is presented in this film. That could be my political view as well,".
'Nobody knows' is a comepletely different  from  his earlier films. Even though the film was completed by March 2020, the release had to be postponed due to Covid 19  pandemic.
Analyzing dire issues in Sri Lankan cinema, Benette says number of cinema from over 300 have been now reduced to around 120 but even among them there are only about 60 theatres with proper technology that suit for a good film. "I also believe the film distribution also needs some monitoring system. From 1972 to 2001 film distribution was under the National Film Corporation and from 2001 it was handed over to the private sector. Even though some guidelines were followed at the beginning this was changed and certain filmmakers found it hard to release their films under the present system," said Benette insisting the need for a monitoring mechanism for film releasing.
Starting in 2001 with his maiden film Aswesuma, the film won the Sarasaviya award for Best Director and it went on to won many awards at several international film festivals including Platinum Award for the Best First Feature at the 34th Houston International Film Festival.  The film was critically acclaimed and won the FIPRESCI Prize at the Bombay International Film Festival. In 2001, director won the critics award organised by the Federation of International Cinema Critics Association at the Mumbai International film festival. It was also selected for the Montreal and Quebec City International Film Festivals as well as Moscow IFF, Singapore IFF, and Kerala IFF. In 2002, director won Golden Reel award for the Best Director at Tiburon International Film Festival held at the Tiburon Playhouse Theatre in USA from 22–28 March.
Searching for that next furry family member but couldn't find one in your area? Hitad.lk has the solution with our extensive listings of dogs for sale in Sri Lanka!