Helping others build their brands
By Joshua Surendraraj
Solopreneur, Himali De Silva talks about her recently launched start-up Obé – Magén Obata
View(s):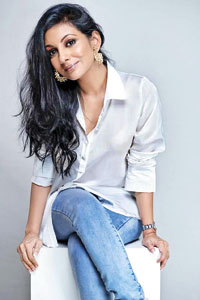 As a solopreneur, Himali De Silva compares creating, building and growing a brand to building a house. "If you plan, strategize and build the foundation solidly, then the whole process becomes a much smoother one," she says over an email interview.
Himali's recently launched second start-up Obé – Magén Obata  ('Yours– From Me to You')  aims at sharing her reservoir of diverse experiences, knowledge and insights to help other business owners build their businesses and personal brands. This is done through consulting, mentoring, group workshops and booklets etc, whilst also utilising traditional and newer forms of technology platforms.
Himali's first start-up Apé  received global recognition and was also able to normalise circular consumption as a concept in Colombo.
Following the launch of Apé several entrepreneurs reached out to Himali seeking her help to build their own brands. This led her to realize that there was a gap in the market, which in turn led to the launch of Obé – Magén Obata.
Himali has always been an achiever. After reading for her Bachelor's in Business and Commerce (Monash University), she won the country prize for Marketing Communications (CIM).
In addition, Himali holds a Masters of Science (Msc) in Finance & Financial Law (S.O.A.S. University), an MBA Essentials, from the London School of Economics & Political Science (LSE), U.K. and a Diploma in Strategy from Miami Ad School. She is also a part of the world renowned Creative Chris Do's Futur Pro Group.
As well as holding professional qualifications of a certified Prince2 Practitioner, Chartered Institute for Securities & Investment (CISI, UK) Level 2 and British Computer Society (BCS) – Business Analysis & Systems Development, Himali also has 15+ years of experience as a management consultant and project manager for large global brands such as Deloitte Consulting (UK & USA) KPMG Consulting (Singapore), Lloyds TSB and Brandix to name a few.
Working for such global brand names equipped Himali with a deep awareness and a 360 degree view of all the components that go to create and maintain them. In addition to this, she also gained awareness of the importance and numerous positive effects of building and growing a brand name.
Today, she hopes to use her knowledge and experience to help other businesses and personal brands build their brands via Obé – Magén Obata
She gives us a little insight into her plans for Obé .
As an entrepreneur, Himali utilizes her deep understanding of diverse social media platforms to their fullest potential, which she believes is part of the road to success. The 'Metaverse' is becoming extremely important for business owners and everyone to to be aware, see the trends unfolding and adapt quickly to ensure we survive in this 'new normal' world, she says. Not to proactively embrace change is akin to taking steps backwards.
Himali feels that though back then an individual's curriculum vitae would have spoken for them via the brand names they worked for, times are rapidly changing. "The rise of remote working, technology advancements and social media has flattened the world even more. I can work from my motherland Sri Lanka and continue to work for large brand names in different countries," she says.
This enables an individual to spend more time with one's  loved ones, whilst still getting their work done and earning from the comfort of their own home.
Thus, when perspective is applied, these changes have brought benefits by cutting out unnecessary commuting times and such. These benefits are felt more by parents, since it enables more family time, "which is something we all yearn for."
Along these changing times and the emerging trends, comes the necessity and a real need to build one's own personal brand, she opines.
If you want to increase your visibility as an individual and also expand your scope of opportunities – "then growing your personal brand, alongside that of your company is essential."
"People trust and believe in people. Alongside the increasingly remote world we feel more connected when there is a face, name and human being we can feel 'connected to' as a company and its leadership," she said.
Through Obé, Himali will be consulting mainly on a retainer basis. She offers consulting Business Awareness Deep Dive sessions via her website www.himalidesilva.com and has also created a free Fun Starter – TikTok booklet to help others. Aside from this, Himali also uses her social media channels such as Instagram, Clubhouse and TikTok to share her knowledge.
On a personal note Himali firmly believes in strategizing and planning ahead when it comes to her brands and the brands she helps others create and grow. She also believes in being extremely adaptable, "to quickly pivot and change when and if required."
Himali has trademarked Apé, Obé, Magé and the é that is used as the common logomark. "I believe in having the foresight to plan for the future, as who knows where it can take me, such as the launch of Obé. Plus the logo-mark of the é has now been used in cross collaborations with other brands for T-shirts, candles etc," she explains.
She believes that as she learns, grows and evolves, her content, messaging and creations will do so too.
"I believe every experience and everyone has something to teach us, if we are paying close attention. So I share whatever grabs my attention and I feel would be useful to bring to others awareness. It can range from technology advancements, social media advancements to  teachings / words of wisdom via people who inspire me," Himali says.
Searching for that next furry family member but couldn't find one in your area? Hitad.lk has the solution with our extensive listings of dogs for sale in Sri Lanka!