Colombo International Women's Film Festival for 3rd time
Awards first woman music director Sujatha Attanayake
View(s):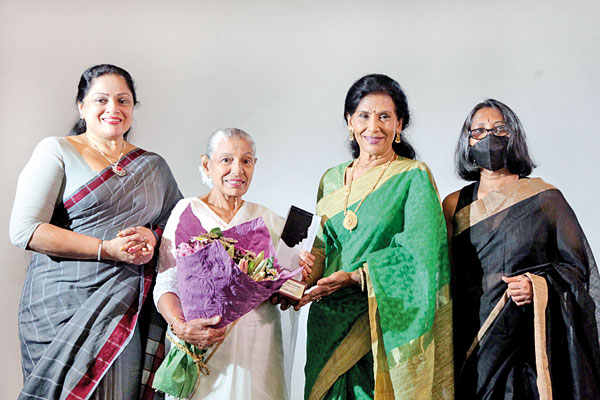 For the successful third year Colombo International Women's Film Festival was held from November 26 to December 6 at Goethe-Institut, Colombo.
Festival was opened with streaming of the Malayalam film 'Stand up' by Vidhu Vincent and the festival was concluded with the screening of 'Papicha' by Mounia Meddour (France-Algeria). This year's Country Retrospective focused on films by German female filmmakers from 1967-1998. Feature films, documentaries and short films by female filmmakers from Sri Lanka, India, Bangladesh, France, Germany, Algeria, Armenia, Australia, Portugal, Italy and UK were screened in the competition sections and non-competitive sections at the festival. Lux -The International Arts Agency collaborated with British Council to present an online event 'We are here: Radical Intimacies'.
The Best Short Film (International) was won by Indian filmmaker Surbhi Dewan for her direction 'An Open sky'. While 'Imaginary Homes' by Priya Naresh (India) received a Special Jury Mention, other nominations were  ,  'I am sad' by LilithAltunyan (Armania-France) and 'Faltu Lok' (The Duffer) by Antara Banerjee (India).
In the category of Best Short Film – National Navayuga Kugarajah won the award for her 'Pottu'  while Special Jury Mention was received by IrushiTennekoon for her
'Animate Her: Thaji Dias on Traditional Dance'.  The other nomination was 'Thawa masa dekayi' (Two months) by Nilmini Perera.
Outstanding Performances
n Samridhi Dewan for performance as Jeevika in An Open Sky (India)
n Sushma for performance as Ela in Imaginary Homes (India)
n Bimsara Premaratna for her performance as the mother in 'Two Months' (Sri Lanka)
n Sharon Pracy for her performance as the daughter in 'Pottu' (Sri Lanka)
"Three years ago, with the active participation of a group of prominent female producers, actors and few other industry professionals, we launched Colombo International Women's Film Festival in Sri Lanka.  Our aim was to create a platform for female filmmakers and other female industry professionals in the country and beyond.    During the last two years, festival provided an opportunity to recognize the work of female filmmakers and focus on some of the key issues in relation to women and girls in the region and beyond," Anomaa Rajakaruna, Artistic Director of ColomboIWFF said.
"Due to the challenges presented the by the Covid-19 pandemic, during the last 11 days we presented the third edition of the festival in a hybrid format with online and physical screenings as well as workshops and masterclasses.
Globally, women in film were running a campaign during the last few years, asking for equal opportunities. It's known as 50/50 by 2020 campaign. Today, almost at the end of 2021, we are still debating the women's position in the film industry, underrepresentation of female directors at many major festivals, and the lack of gender equality in terms of access to the industry, training, funding for film production and working conditions," Ms. Rajakaruna said. Awards were presented to the winners on the closing day. Representing the partners of the festival, Director Goethe-Institut, Colombo Stefan Winkler and Director, British Council Maarya Rehman attended the awards ceremony. Other partners of the festival are Embassy of France, Alliance Française, Embassy of Italy, Women's Political Academya and Sarasavi Cineru.
International Relief Fund for Organizations in Culture and Education 2021 of the German Federal Foreign Office, the Goethe-Institut and other partners supported the training programmes for women and girls during the festival.
The first female Music Director in Sri Lankan Cinema Visharad Dr. Sujatha Aththanayaka was awarded the  Lifetime Achievement Award.
In 1976 she composed music for the film " Hariyata Hari". She is the only Sri Lankan vocalist to perform in eight languages in South Asian Cinema such as Hindi, Tamil, Urdu, Telugu,Malayalam, Marathi, English and Nepali. She has over 6000 songs to her credit as a vocalist and in over 400 films as a playback singer for 3 generations of Sri Lankan actors. She completed her master's degree and Visharad Exam at Lucknow College of Music in India aswas awarded with Doctor and Philosophy for Fine Arts from the University of Visual and Performing Arts in 2019. Citation for the lifetime award was read by composer and Music Director Gayathri Khemadasa and award was presented to Dr. Aththanayaka by veteran actor Veena Jayakody. This year the International Jury for the National and International Short Film Competitions included  Melanie Iredale (UK) (President of the Jury), Renee LK Eastbrooks (USA) and Farzana Haniffa (Sri Lanka).
Searching for that next furry family member but couldn't find one in your area? Hitad.lk has the solution with our extensive listings of dogs for sale in Sri Lanka!