Modern era of power generation
View(s):
It's always pleasant to meet a friend for a meal; but this invite for dinner at Pradeep's residence was a special one for me. Dr. Pradeep Perera is an Energy and Environmental Economist, working for the Asian Development Bank (ADB). His location of work has always been outside Sri Lanka. Since the outbreak of the COVID-19 pandemic, however, he has been confined to his residence in Colombo, while his work has shifted to 'online' mode.
Pradeep's invite for the dinner was special to me, because it was a valuable opportunity for me to learn more about global developments with respect to electricity generation. As we all know, in the past few weeks Sri Lanka's electricity generation became a hot issue that has been discussed and debated at every corner of the country from the parliament to the small 'tea boutique' in the village. Particularly with the Framework Agreement that the Sri Lankan government is said to have entered with the New Fortress Energy Inc. in the US, the electricity sector issues got multiplied.
However, my focus was not on local issues of electricity generation, although they inspired me to draw the parallels for Sri Lanka. Rather, I was interested in knowing its global developments through which, of course, we would be able to look at the local issues ourselves. Global developments in the electricity sector are important, because many countries in the world have been constantly reforming the sector in order to improve its competition and efficiency as well as to transfer the benefits of such developments to the electricity users – consumers, industries and businesses.
Reforms in the electricity sector are widespread around the world and continuous without stopping. Both India and China, where both government and private companies play a major role in the electricity sector, are two of the developing countries that have resorted to far-reaching reforms. The countries, which have ignored the reforms to be on par with rapidly changing global developments, increasingly suffer from higher tariffs, industry inefficiencies, higher costs and accumulating losses. The problem is that all these issues are impacting on not just the size of your electricity bill, but also the international competitiveness of your economy –the cost of everything else that a country can produce.
An industry and a service
From an economic point of view, the electricity sector is different from other industries, in many ways. Although it is categorised as an "industry", this particular sector can't 'store' what it produces. In that sense, it is similar to a "service" of which the output has to be consumed only when it is produced!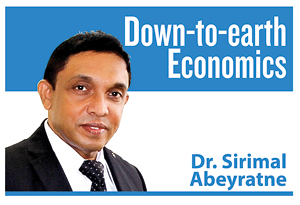 Secondly, it requires large investment capital of a few hundred million dollars, naturally limiting its ability to be a competitive industry. That's why quite often the industry has been traditionally under the government and, of course, making it a worst form of state monopoly. When it becomes a state monopoly, it has often been a loss-making and inefficient public enterprise in many countries, burdening the taxpayers and indebted with government guarantees.
Thirdly, the sector requires a long-term time span for construction which may be running over five to 10 years. This would exclude many investors, naturally limiting its competitive market structure. By implication, the long-term construction time is important because the countries need to plan in advance, looking beyond 10 years ahead.
Small island economies
The problem is, however, it doesn't justify the preparation of long-term generation plans for many decades because of the rapidly changing economic and industry dynamics. When we plan for 10-20 years, the development needs get changed, technologies get changed, international protocols get changed, and circumstances get changed so that the long-term plans naturally become outdated. Therefore, "centralised planning" practices have been replaced with medium-term electricity generating plans with adequate scope to introduce "flexibility" in line with the changing requirements.
Finally, "smaller countries" and "island economies" have a particular problem – that is the economies of scale. In that sense, Sri Lanka has both issues because it is a "small island". Some of the cheaper options with large-scale electricity generating plants cannot be installed in Sri Lanka. In addition, Sri Lanka has also been a country which produces electricity in "isolation".
The fact that Sri Lanka is an island is, however, not a barrier to the country's electricity supply. Sri Lanka has the ability to decide purchasing electricity from India, just like the UK purchases electricity from Europe (France). While India already sells power to Bangladesh, it has also invested in Nepal in the hydropower generating sector. In fact, such an electricity purchasing arrangement with India is beneficial to Sri Lanka; electricity from India will be cheaper rather than generating it locally and the supply will be stable too. It is a better alternative to promote economic, environment and energy security.
Generation, transmission
and distribution
Market strategies to improve competition and efficiency are concerned with the nature of the electricity sector, which can be separated into three components; generation, transmission, and distribution. Among these three aspects, competition can be introduced to the "generation" of electricity by opening the market for private investors – both large and small power generating companies.
A related problem is that, when the government decides the "price" to purchase electricity from various producers, it apparently eliminates competition and promotes even corruption. In order to arrest this issue, many countries have adopted a new regulatory system of procurement in which "price" is determined through "auctions" and, not through "tenders". In this way, the electricity generation can be open for competition with the participation of private investors.
The second component is the transmission of electricity from the power station to the distributing points, in which it is difficult to introduce competition. As a result, naturally transmission remains a monopoly. However, it is still better than keeping the entire electricity sector under monopoly.
The third component is electricity distribution to the consumers – households and businesses. Distribution requires the "connectivity" which is the infrastructure for the distribution network and the "supply" which is the stream of electricity power. Under the new mode of distribution, many countries have separated the two components, connectivity and supply. By implication, the supply can be made competitive, while the connectivity remains a monopoly. In other words, physical network of distribution may be under one company, while the electricity supply may be carried out by many different companies. In fact, through this way, even the consumers have a choice in order to decide from which supplier they want to purchase electricity.
Sri Lanka's challenge
It is important to recognise the "long way" that Sri Lanka has to march towards a modern electricity sector with reforms on par with its global developments. The road towards a modern electricity sector is a real challenge not because Sri Lanka has to generate electricity to meet the rising demand, but because it has to be on par with international developments. A significant setback is the continuous delay of reforms in the sector, which has become an outdated entity by international standards.
The newest addition to the challenge is the setting of renewable energy targets. While Sri Lanka declared to be generating 70 per cent of electricity through renewable energy sources by 2030, India made a commitment to reach 50 per cent. While India's renewable energy target was based on research studies, Sri Lanka's target was based on a political decision. While achieving the target itself is a challenge, without reforms in the existing regulatory mechanism, a political push for an energy mix as such is likely to be costly too. Ultimately, the costs would be borne by either the taxpayers or the electricity consumers.
(The writer is a Professor of Economics at the University of Colombo and can be reached at sirimal@econ.cmb.ac.lk and follow on Twitter @SirimalAshoka).
Hitad.lk has you covered with quality used or brand new cars for sale that are budget friendly yet reliable! Now is the time to sell your old ride for something more attractive to today's modern automotive market demands. Browse through our selection of affordable options now on Hitad.lk before deciding on what will work best for you!