Yasitha, Chathurya, Anjalika, Janali reach Singles finals
By M. Shamil Amit
TENNIS
View(s):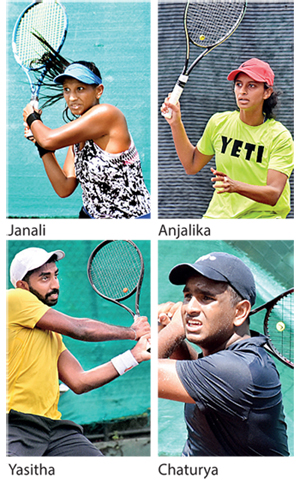 Defending champion and seventh seeded Yasitha de Silva and eighth seeded Chathurya Nilaweera will clash in the Men's Open Singles, while unseeded Janali Manamperi will meet second seeded Anjalika Kurera in the Women's Open Singles of the 106th National Tennis Championship which is in progress at the SLTA Tennis courts in Greenpath, Colombo.
The two finalists outclassed the top and bottom seeded players Luca Knese and Thehan Wijemanne respectively while the Kurera, the schoolgirls from Ave Maria Convent, clinched three titles in the recently concluded 106th Colombo Open Championship. Manamperi got the better of Neyara Weerawansa and Hasali Gajaba on her way to the top.
Meanwhile in the Women's Open Doubles pre-quarter-finals event which was played concurrently, the pairs of Hasali Gajaba and Sareshi Willoraarachchi, Nishka Vivekanandan and Dewmini Warnasuriya and Oneli Perera and Anjalika Kurera won their matches to book the berths to the quarter-finals.
The championship will continue today and the two singles finals will to be played tomorrow.
Results
Semi-finals:
Singles
Women's Open: Anjalika Kurera beat Neyara Weerawansa 2-0 (6/2, 6/0), Janali Manamperi beat Hasali Gajaba 2-1 (2/6, 6/0, 3/0rtd)
Men's Open: Chathurya Nilaweera beat Thehan Wijemanne 2-0 (7/6(4), 6/4), Yasitha de Silva beat Luca Knese 2-0 (7/5, 6/2)
Doubles:
Pre-quarter-finals:
Women's Open: Hasali Gajaba/Sareshi Willoraarachchi beat Inuki Jayaweera/Melasha Randini 2-0 (6/1, 7/6(1), Nishka Vivekanandan/Dewmini Warnasuriya beat Dahamna Methsandi/Nelini Jayasuriya 2-0 (6/4, 4/2rtd), Oneli Perera/Anjalika Kurera beat Vonara de Alwis/Ariela de Zoysa 2-0 (6/0, 6/0)