A reputation too easy to risk
By Naushad Amit
Avishka Gunawardene returns as coach with two Youth ODI series wins
View(s):
While the rest of the world battled against the pandemic since 2019, Avishka Gunawardene, the former Sri Lanka opener turned coach, was countering a different sort of skirmish for over two years. It was a matter of saving his honour and the reputation Gunawardene had built through sheer dedication to become a cricket coach.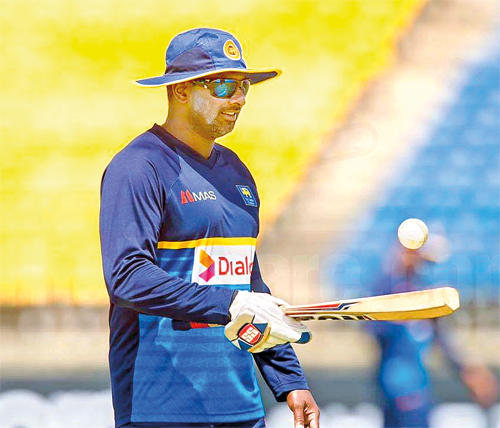 Taking every step of the way to the top during the past decade, Gunawardene's short yet dazzling coaching career came to a full stop when he was wrongly accused of match-fixing. Yet the former Ananda College, SSC and Sri Lanka explosive opener maintained his innocence, knowing that he had done nothing wrong to harm or cause disrepute to the sport he most adored.
Eventually, after a lone battle, the former southpaw managed to get his name cleared and step into the hunting ground where he always liked to be — coaching. When Gunawardene lost all his say in coaching overnight he had followed every step of the way to reach the Sri Lanka national team as a batting coach.
"Obviously, when you are accused of something that you never did, and you know about that for sure, you go mentally down in a big way. When your career comes to a complete halt overnight, when you have no way of doing your usual daily routine and losing your source of income, it obviously puts you down. To be brutally honest, I had only a handful of close friends and my family left, and thanks to them I was able to keep my head straight. I'm mentally stronger than ever, and I don't think anything can stop my progress now," Gunawardene proudly stated, after having guided the Sri Lanka Under-19 team to back-to-back series wins.
Gunawardene was set free after two years and six months, and he had lost a great deal of time which could have taken him elsewhere not for the setback. But his touch and methods to help any team achieve success where he is part of, never seemed to have died off.
Gunawardene's answer to his critics, if there were any, was to show his class with work. So he did, soon after being appointed the Head Coach of the Sri Lanka Under-19 team. With a mere three months in whole to lead the team to the Under-19 Asia Cup and the ICC Under-19 World Cup, Gunawardene's initial task was to prepare the team of youngsters for two bilateral series — against reigning world champions Bangladesh and England in Youth One Day Internationals.
Sri Lanka raked up a 5-0 clean sweep against Bangladesh and claimed a 3-2 win against England, despite the young cricketers not engaged in much of cricket activities for a long period owing to the pandemic.
Yet Gunawardene used his consciousness to guide the youngsters to record two important series wins, in his comeback attempt in cricket coaching. While the focus was on preparing the team for the two important events on the cards, Gunawardene made sure that all members of the team find themselves in the perfect mindset to take on challenges in the levels to follow. For that he did a lot of experiments, while also snatching up series wins, a fact Gunawardene terms as a win-win situation.
"I don't think anyone would have expected us to beat Bangladesh 5-0, but we did. In that series, it was more like trying out the right combinations. It was the first time our boys played together since there had not been any school cricket action for the past 18 months. We tried out different combinations, even after doing that and we won 5-0. Coming into the England series, we were more or less settled down to our bowling challenges, but we still wanted to try a few guys and see what they can do in the middle. And there were couple of batting slots we needed to try out. By now, after the series, we have settled down to a permanent batting lineup and bowling, more or less, is being settled down too," he summed up about the team's present status.
As a coach Gunawardene is keen to prepare the youngsters take up the challenges ahead in the levels above youth cricket while also making sure to taste wins. His message to the batsmen was to be prepared to bat anywhere in the order, depending on the conditions, opposition and the circumstances.
"It's very important from this age itself to get the mindset right as they progress to the next level in cricket. These are challenges that should be groomed for in youngsters now itself."
Having earlier handled the national Under-19s in 2015 and 2016, Gunawardene already had the approach on how to deal with the youngsters. He is one of the handful of local cricket coaches who had worked with almost every age groups in his career as a coach.
But returning after a period of challenges, Gunawardene was more keen in remaining in Sri Lanka despite receiving handsome offers from several other nations. With his heart and goal set to serve Sri Lanka at the highest level, Gunawardene craved to make a comeback in his native land and the first offer that came over to him was the position of Head Coach of the national youth team.
"From the day I applied for this position, I knew what and how it's going to be with the World Cup and Asia Cup in line. By the time I was appointed, I had already made the researches and was prepared to execute my plans. I was always with the Sri Lankan system, but the time period I had was little. It was nothing new to me, because I never left the system. I didn't have much time to do as I would have liked to, but with the limited time I had I'm happy with what I was able to do."
More importantly during the little time he spent with the youngsters Gunawardene have already engraved the importance of being straightforward in decision making as individuals in their respective roles and as a unit. Elaborating further, he explained that having clarified on their individual responsibilities in the playing set, the squad decides on three plans in orderly manner to execute in the middle. The rest is all in the calls the captain of the side makes, he explained.
"I don't interfere much when players are in the middle, I don't wish to send many messages. The captain and the players see the situation well in the middle, and they should be capable of making decisions. As a coach I can easily control the game from the dressing room, but that doesn't help the players in any way. The only time the captain will ask for guidance is when he is confused. These are boys under the age of 19, and you cannot expect big from them. Even if I get a message from the captain, I will send my opinion to the skipper and based on that he will still have to make his own decision out there."
Coming back strong with positive notes and shaping up the young Sri Lankans for the Asia Cup and the World Cup has provided Gunawardene's pathway to his future in his profession a much needed boost. He was slightly taken aback when the charge-sheet was raised against him, but he chose to fight for his rights and prove that his unblemished career of 25 years combined — as a player and coach — would not just end there.
"It was the worse setback ever in my life, as a cricketer, coach and as a person. I always believe that if your conscious is clear, the truth will always prevail. I never stopped believing in that and eventually the truth prevailed. This is my dream, to be here in the Sri Lankan cricket system and reach the highest position. For now immediate challenges have been already addressed with the junior team. The two tours gave us all a glimpse of what each of us are capable of. From now onwards, it's all about strategic and tactical planning and winning matches. Of course at this level, it's not all about only winning matches, but grooming the players to the next level while mentally preparing them for important challenges ahead, in the immediate future and the moving forward in their careers. Alongside, I too will follow my dream, and will see how it goes as time goes by," Gunawardene stated, summing up the progress made and the way forward, of the team and of him.