Humpback family revives Mirissa tourism hopes
By Malaka Rodrigo
View(s):
A family of humpback whales are rarely seen in Sri Lankan waters, but a sighting in Mirissa may be a good omen for the whale-watching industry this festive season.
Humpback whales (Megaptera novaeangliae) are known as 'songsters of the ocean' for the sounds they make.
They live as a pod and a pair of adults was first seen in Mirissa waters on Sunday December 12. They were seen throughout the week at different locations and a mother with a calf has also been seen.
"This is only the second good sighting of humpback whales in Mirissa waters since the industry started in 2008 as far as I know," says Ganidu Rochana, an experienced whale-watching operator in Mirissa. They were seen about two nautical miles offshore.
A humpback can grow up to 18 metres (60 ft) and can weigh around 40 tons. It got its name from the large hump that forms when they arch their backs before making a deep dive into the ocean. They have long pectoral fins that resemble a pair of long arms to give them a distinctive look.
Humpback whales are acrobats which often breach.
According to publications such as National Geographic, they also are famous for their 'songs', which are a complex sequence of moans, howls, and cries. Mainly the male sings and these 'songs' can sometimes continue for hours creating an underwater symphony, researchers have found. These songs are distinct for each humpback population and can be heard as far as 30km (20 miles) away, according to researchers.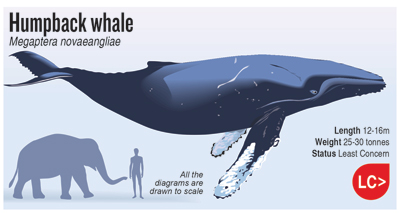 "During our studies, we could pick the 'songs' of the humpback whale many times, even though  sightings are rare,'' says Dr. Ranil Nanayakkara, a researcher who uses underwater microphones to study whale communications. "In fact, even a study in 1983 by a whale research vessel called the Tulip supported by the World Wildlife Fund recorded humpback whale 'songs', so their presence in our water is well established.''
The humpback whale is a migratory marine mammal and the ones seen this week off Mirissa could belong to populations inhabiting the Arabian sea, Dr. Nanayakkara said. Another population of humpback whales that inhabit the Arctic is known to visit the waters in this region in June and July, so photographs are shared with experts who study them for further identification, said Dr. Nanayakkara.
Humpback whales had been hunted to the brink of extinction where 90% of the population got wiped out by the time they got protection in1966, researchers say. Populations have recovered.
The sea off Mirissa has become Sri Lanka's prime whale-watching spot mainly due to its residential population of blue whales – the largest creature of the world. The industry began around 2008, but due to the coronavirus disease pandemic, operators did not have work in the past season. As tourists start arriving, tours are slowly picking up in Mirissa.
Last month, a group of operators complained that sightings have been few, but experts say that this is linked to the high freshwater influx into the ocean due to the high rainfall that pushed the food sources of whales further in the ocean. Such effects are temporary and the whales are now back in their regular grounds, they say.
The best way to say that you found the home of your dreams is by finding it on Hitad.lk. We have listings for apartments for sale or rent in Sri Lanka, no matter what locale you're looking for! Whether you live in Colombo, Galle, Kandy, Matara, Jaffna and more - we've got them all!