'COVID-19 brought home the need to think globally and act locally'
View(s):

Highlights of speech by Colombo University's Vice Chancellor Prof. Chandrika N. Wijeyaratne who was Chief Guest at the Convocation and Award Ceremony for Membership of the College of General Practitioners (MCGP) Diploma 2021

The pandemic has turned the spotlight on the strong bond between the General Practitioners (GPs) and the people they serve at ground level, particularly at a time when many were reluctant to seek hospital services.

The vital cogs who are the GPs in the wheel of healthcare delivery came to the fore when wave after wave of COVID-19 infections ravaged Sri Lanka.

It was in this backdrop that the College of GPs of Sri Lanka, headed by President Dr. D.K.D. Mathew held the Convocation and Award Ceremony for Membership of the College of General Practitioners (MCGP) Diploma 2021 last Sunday at the Jasmine Hall of the BMICH, Colombo 7. Thirty-four were awarded diplomas.

Saluting the college for the "pragmatic and wide-angled approach" to capacity building, professional development and advocacy over many decades, the Vice Chancellor of the University of Colombo, Prof. Chandrika N. Wijeyaratne who was the Chief Guest pointed out how it has added much lustre to the noble profession of medicine.

She paid tribute to the college and profession for their service during the pandemic. "Some of these valued colleagues fell victim to SARS-CoV-2, underwent many hardships, faced risks and some sadly succumbed. The yeomen service of Family Medicine practitioners is a true reflection of dedication, allegiance and service to humanity aligned with the Hippocratic Oath. The college has given leadership for an in-house oath pledged by every diplomate that epitomizes the true meaning of "general family practice".

Quoting from the "worthy" epitaph written in Ancient Greece, Prof. Wijeyaratne said……….."into whatever houses I enter, I will go into them for the benefit of the sick and will abstain from every voluntary act of mischief and corruption…………whatever, in connection with my professional practice or not, I see or hear in the life of men, which ought not to be spoken of abroad, I will not divulge, as reckoning that all such should be kept secret……….while I continue to keep this Oath unviolated, may it be granted to me to enjoy life and the practise of the art, respected by all men, in all times! But should I trespass and violate this Oath, may the reverse be my lot!"

The Vice Chancellor urged the diplomates to disseminate these valuable norms through thought, word and deed – and ensure that their peers, partners and students propagate the required attributes of clinical commitment and dedication, patient confidentiality, empathy and reverence for upholding ethical norms.

Focusing on the COVID-19 pandemic, she said that it brought home many points of which "we were previously aware of on a more theoretical note" and probably enforced the required responses at rather sub-optimal levels. We have since appreciated the need for:

n  Greater multi-sector coordination and that the health sector cannot function in silo

n  Improved public awareness and advocacy through encouraging professionalism with media personnel

n  Encouraging digitization and digital transformation of the health sector and a virtual doctor-patient relationship

n  Being environmentally conscious and addressing climate change

n  Addressing the one-health concept

n  Finding pragmatic solutions to day-to-day issues and needs

COVID-19 brought home to us the need to think globally and act locally, with our feet remaining on the ground, she said.

On a different note, Prof. Wijeyaratne said: "Being fun-loving with a relatively normalized work-life balance seems to be your forte as per my personal observations over the past three decades. In fact, 21st century physicians are more aware of physician 'burnout'. Moreover, engaging and working as a unified community is remarkable.

"Your commitment towards formulating evidenced-based, consensus practice guidelines combined with effective communication skills development and real-time manual patient record keeping won universal acclaim at the turn of the millennium. As budding trainees in internal medicine, I well remember my own guru, the late Prof. K. Dharmadasa, advising us trainee registrars in Internal Medicine in the 1980s, to always reply in writing to the much-respected GPs when discharging an in-patient.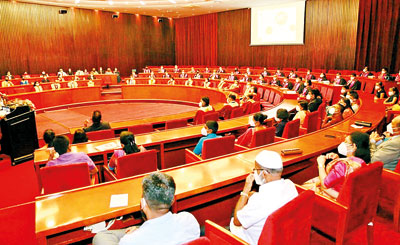 "This has left a deep mark on me – to value shared care and to always pay attention to 'closing the loop'. Health information systems (HIS), particularly in the out-patient department (OPD), have been advocated by your college members for many decades – that yet needs to be formalized universally. Moreover, HIS being electronically managed is a reality in quite a number of government hospitals with responsible digitization. I reiterate the importance of maintaining your data with due diligence and confidentiality.
"Permit me to suggest that you further expand your college's connectivity across multiple disciplines in a heightened fashion with digitization, clinical audit and also consider big data analysis through your research arm and in conjunction with data scientists and epidemiologists. Such an approach would add much value and meaning to the field of Family Medicine.
"The Family Physician plays a central role and is held in the most supreme trust. I am certain that this milieu exposes you to being contacted by your patient/family to give support and direction in issues that have no direct relevance to medicine. From naming a child, to arranging marriages, coping with separations and financial business and even inviting you to attest at weddings of the next generation!
"This indeed is a beautiful concept intertwined with the professional and humane outlook. The importance of engaging with the community with professionalism was brought home to us with the pandemic. Maintain the dignity and decorum of the family practice and you will be winners all the way through!"
The best way to say that you found the home of your dreams is by finding it on Hitad.lk. We have listings for apartments for sale or rent in Sri Lanka, no matter what locale you're looking for! Whether you live in Colombo, Galle, Kandy, Matara, Jaffna and more - we've got them all!