The King of Sri-Lankan Pop Music
The late Clarence Wijewardena's contributions to the Music Industry of Sri-Lanka
View(s):
This musical genius is none other than the unfading star of Sri Lankan music, Clarence Wijewardena. The innovator of "Sri Lankan Pop Music" has long left us. But even after decades later, we reminisce the revolution he created through a "new wave" of music, with the introduction of the "Sinhala Pop" genre to our local music industry in the 1970's. Since then and even in the present era, any artist performing before an audience with a guitar in hand is in debt to this maestro. His awe-inspiring and sensational musical creations have produced a plethora of singers in Sri Lanka over the years.  Not only his melodious voice but what he created with his guitar is truly phenomenal.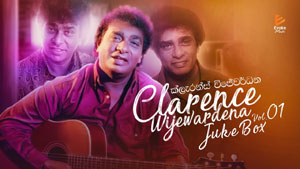 The transformation of Sinhala Pop music culture began with the start of "Moonstones" musical band.  Its well-known pop trio Clarence, Annesley and Indrani can never be forgotten in the music world. The creativity of Clarence through his novel music creations and harmonizing delicate melodies in band music  have exemplified in songs such as 'Dilhani Duwani', 'Gon Wassa', 'Mage Palpathe' and many other compositions.  All these prove his musical genius. The true awakening of Sinhala musical bands came with the formation of the 'Golden Chimes' and later with the creation of the 'Super Golden Chimes'. Apart from Clarence, Annesley and Indrani, many other talented musicians and singers entered the music scene during this era. Following the 'Super Golden Chimes', the concept of Sinhala musical bands swept across the country like a wild fire.
The revolution created single-handedly by Clarence is not any less important than the changes introduced to the Western Music world by popular groups such as 'The Bee Gees' and 'The Beatles'.  Clarence Wijewardena and John Lennon of 'The Beatles' are undoubtedly equals. Often many songs created by Clarence were sung by other singers. Clarence had the amazing ability to create not only the lyrics of a song but compose its melody and music arrangements, thereby completing a song in full with all the required elements.  This was an extra-ordinary musical gift he possessed which can never be appreciated enough.
It was Clarence Wijewardena's amazing talent behind most of the songs sung by Milton Mallawarachchi  – A 70's heartthrob and much loved "Singer of Youth" at the time.  Clarence was also the immovable shadow behind many successful songs of popular artists such as Annesley Malewana, Indrani Perera, Anil Barathi and Priya Sooriyasena – they were backed by his creative lyrics, sweet melodies and  spell-bound music compositions.  The very first song sung by Clarence 'Dileepa Podi Puthu' was created by him based on a poem written by Karunaratna Abeysekara, for a newspaper at the time dedicated to his son.  The song became an instant Super Hit, and his success and popularity as a singer surfaced with the public following its release.
"If Pundit Amaradeva is given a prominent position in the local music scene, a similar position must be granted to Clarence Wijewardena" renowned critic Professor Tissa Abeysekara once said. This utterance was later endorsed by the great Pundit Amaradeva himself.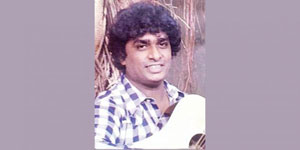 Following the demise of Clarence, talented veteran musician and singer Rookantha Gunatilake was able to take this genre of music further while establishing his musical career through the support rendered by Clarence Wijewardena.  Every keen music enthusiast in the country is undoubtedly aware of the extent of lyrics written by Clarence for various artists during his career. It is also noteworthy to mention that the first Non-stop music cassette in Sri Lanka's musical history was created by Clarence Wijewardena.  He also introduced new electronic mixes to songs sung by the popular duo – Chithra and P L A Somapala.
He also produced jingles for Radio and TV commercials and was an excellent copy writer for commercials such as, 'Hithata Sewanak – Hithata Niwanak' for Gam Udawa project (Still remain as unchanged), Ube kateth dot – Mage kateth dot' for Dot toffee, and for lot more brands like Bata, Pugoda etc.,
But what is unknown about Clarence was that he was a brilliant football player as a youth. He later went on to creating the first song intended for Sri Lanka Cricket by crafting its lyrics and melody.  Fans may never forget 'Suseema' comic created surrounding a music band featured in the 'Sathuta" comic magazine and the entertainment provided to viewers by Clarence as a music director through his music when it was later turned into a Teledrama on national television.
One can easily recall the way Clarence for the first time highlighted the singing talents of gifted artist Jackson Anthony by guiding him towards a new genre of music. I have never experienced this kind of refreshing intensity by another Music Director.
Clarence also directed the music in popular tele dramas such as 'Suseema', 'Nidikumba Mal' and films like 'Sikuruliya', 'Chathumadura', 'Apeksha', 'Sooriyakantha', 'Hello Shyama', 'Yasa Isuru'.
Clarence always understood the hearts of the youth in Sri Lanka. He often created his music through this heart-felt understanding. Therefore it is unlikely his music will ever leave us and instead its value will only increase in time.
Those who were closed to him knew well that he never chased after money and was a very simple and down to earth human being.  He often helped those in need.  Clarence never accumulated any wealth through his work. What remains today is his music, the phenomenal contributions he created in the local music industry and the veteran artists he helped to give birth.
Clarence never cared for awards and accolades; perhaps the best award he won was the love and admiration of his fans. This was despite the fact that his services to the country's band music industry often went unnoticed and unappreciated. But those who remember still cherish its value to this day.
"Dear musician, at this moment when we mark twenty five years since you left us your musical creations will live in our hearts forever. They will continue to entertain many generations to come.
A price can never be set for the services rendered by you to the music industry for over three decades. Your loved ones and thousands of fans will remember you with fondness, adoration and love as we mark your 25th death anniversary today – may your beautiful soul rest in peace. 
BY SAMAN NAGAHAWATTE
(Founder Member of the Clarence Wijewardena Memorial Foundation)
Searching for that next furry family member but couldn't find one in your area? Hitad.lk has the solution with our extensive listings of dogs for sale in Sri Lanka!