Picking those Christmas treats to add seasonal flavour
By Ruqyyaha Deane
View(s):
With Christmas just six days away, there might be some deliberation on what Christmas goodies to adorn your table with especially while squeezing in the last minute gift shopping, party planning and all sorts of activities. Figuring out where your staple Christmas treats should come from might be a tough nut to crack but we are here to help you out!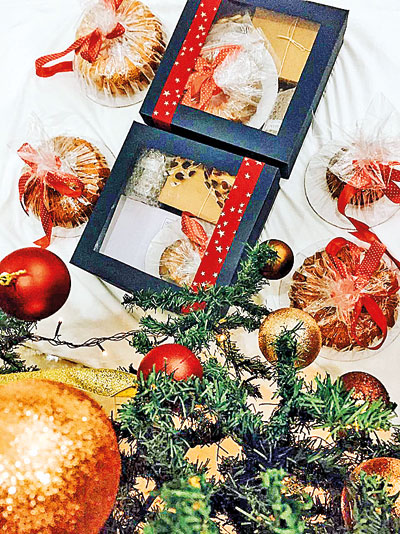 Love Bite by Ayesha Samuel is a small home-based business that began during the initial lockdown in 2020. Known for baked goods and curated hampers to fit different occasions, they have a Christmas Treat box that can contain a King Coconut Wine, mini Breudher, mince-pies, gingerbread cookies, love cake or Christmas cake according to a client's requirement. All the items were treats the Samuel family loved to have together during Christmas. This would be a lovely Christmas Treat box to gift and keep handy at home when you have a steady stream of guests coming in.
Love Bite has other different products that are worth taking a look at especially their hampers with essential items that can be gifted to those who might find them most useful. Check them out on Facebook under @lovebitesl.
For some, Christmas isn't Christmas without some delicious eggnog and many would vouch that Big Bird Delights' crowd favourite is without a doubt their eggnog described as 'Christmas in a bottle'. Jovanka Jayaweera began Big Bird Delights by selling eggnog to family and friends during the season and now her small business has expanded to catering dinners, short eats, desserts and various beverages. Although she is unable to take in any more orders for the rest of December, her eggnog which is a creamy milky concoction with the perfect hint of a kick and spices is available till January! You can check them out on Instagram under the handle @bigbirddelights.
From breudher to Dresden Christmas stollen, mince pies and Christmas danishes, Baker's Choice is your go-to spot for all your high-quality bread-based Christmas needs. Founder Laki Ratnayake saw a gap in the bakery market when he came back to Sri Lanka in 2011 from the United Kingdom. Introducing sourdough and reintroducing the lost flavours of  yeast has been a blast say the team from Baker's Choice and now their traditional Christmas treats can be a nutritious, delicious and wholesome addition to your table. For more information, they have a website – www.bakerschoice.lk as well as a Facebook and Instagram page @bakerschoice.colombo.
If you want to keep things fancy and really wow guests, Isabelle and Mimi (I&M) have a delicious variety of luxury afternoon tea treats ranging from gingerbread scones, Cadbury hot chocolate cupcakes, turkey, brie and cranberry cream mini croissants, Yorkshire puddings and more, all made with premium ingredients and lots of love and care. Avner Deane who is the mastermind behind I&M has been wanting to do something that moved away from high tea and instead focused on the origins of afternoon tea. You can check Isabelle and Mimi out on Facebook and Instagram as well.
Christmas and cookies go hand-in-hand just like salt and pepper. Leann Eleena Jayawardena's little baking business 'The Brown Girl Bakes' has slowly made a name for itself and her DIY Christmas Cookie kits are a hit with both parents and kids alike as they come in all sorts of Christmas themed shapes such as snowflakes, wreaths, candy canes and more along with bags of icing and sprinkles of course. These cookie kits are definitely going to be a hit especially if you have children coming over. The  Christmas cookies are on sale as well. Follow @thebrowngirlbakes.sl for
more info.
Searching for that next furry family member but couldn't find one in your area? Hitad.lk has the solution with our extensive listings of dogs for sale in Sri Lanka!