A royal visit and another side to Ceylon as a colony
By Yomal Senerath-Yapa
A souvenir of Prince Edward's visit a century ago has now been digitised by the American Institute for Sri Lankan Studies
View(s):
A hundred years back, in 1921, Ceylon was a flurry of Union Jacks and 'God save the King'  over a royal visit. Not, of course, the first but nonetheless important as this was the Prince of Wales, Edward Albert Christian George Andrew Patrick David, the King-Emperor-to-be and the most charismatic member of the House of Windsor.
Prince Edward (fated for a brief reign as Edward VIII) was the playboy prince, and at the time his affair with American socialite Wallis Simpson had not darkened his reputation, his boyish charm and raffish spirit were celebrated – a contrast to the old-fashioned sailor his father George V was, and a throwback to Edward VII.
It was with great enthusiasm the Ceylonese prepared to welcome the heir apparent with peraheras and thoranas and even granaries grandly decorated.
A souvenir from that visit written by British officials is a window to that bygone era and has now been digitally published by the American Institute for Sri Lankan Studies (AISLS), Colombo through the South Asia Open Archives.
Splendidly illustrated, the booklet shows the other side of the colony – that alongside the struggle for freedom was a pride in being part of the Empire; a jewel in the great crown beside rubies and emeralds like India and Burma, and Egypt and Fiji.
It is a magnificent evocation of the Empire at its height, and documents in detail the prince's activities during his stay in Ceylon with polo matches, garden parties, presentations of colour and parades and durbars in both Colombo and Kandy.
It may seem royal propaganda, using the age-old mystique to dazzle, but the cheering crowds, the gatherings of Ceylonese, colonial officials and military men, all clearly delighted to be in the company of British royalty, shows a great togetherness and loyalty that had been cemented by the visit.
The booklet can be viewed in full now via  https://www.jstor.org/stable/pdf/saoa.crl.31571842.pdf?refreqid=excelsior%3A7c6985dba85bebc83c9d8d0f2c202536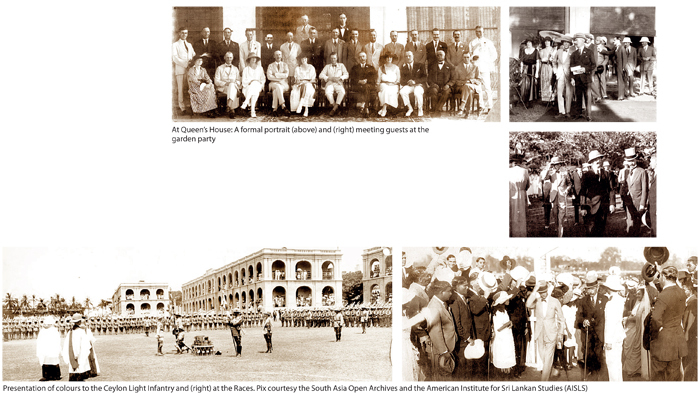 Searching for an ideal partner? Find your soul mate on Hitad.lk, Sri Lanka's favourite marriage proposals page. With Hitad.lk matrimonial advertisements you have access to thousands of ads from potential suitors who are looking for someone just like you.