Edward Lear in Ceylon: Brief encounter in watercolour
By Chandani Kirinde
View(s):
British poet and painter Edward Lear is known the world over for his limericks with his poems such as The Owl and the Pussy Cat which he served up with the "runcible spoon" continuing to fascinate generations of readers. Yet little is known of his work as an artist. Even lesser known to many Sri Lankans may be the fact that Lear, during a brief visit to Ceylon in 1874, painted a small but fascinating collection of watercolours, capturing the sights he encountered as he travelled along the southern coast of the country as well as to Ratnapura and Kandy.
Lear had sketched compulsively for almost three weeks while in Ceylon travelling by mail coach and one-horse trap to the South and Ratnapura, and by train from Colombo to Kandy and back.
Edward Lear was born on May 12, 1812 to a middle-class family in Holloway, England and made a name as an artist from the age of 15 developing an exceptional talent in ornithological and botanical drawings. "The appetite for books on birds and animals had grown since the voyages of Captain Cook in the 1760s and 70s, as more and more expeditions brought back unfamiliar plants and specimens of animals, birds, reptiles and fish," wrote Jenny Uglow in her recently published book on his life, 'Mr. Lear -A Life of Art and Nonsense'. In it she describes him as a man in a hurry, "running about on railroads", "from London to country estates  and boarding steamships to Italy, Corfu, India and Palestine."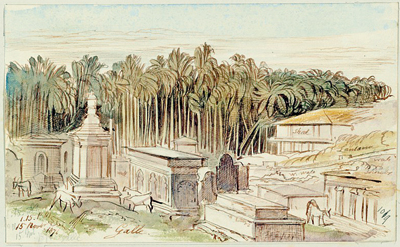 It was his life as a wanderer that brought him to Sri Lanka (Ceylon) in November 1874 for a visit that lasted till December 12 that year.
Lear accompanied by his loyal Greek travel companion Giorgio Kokali had reached Mumbai, India on November 22, 1873 and stayed in the subcontinent for one and half years, crisscrossing it using every kind of transport. "He went from west to east, north to south, from the Himalayas to Sri Lanka, his long dreamed of Ceylon," writes Uglow. They had sailed to Ceylon in the latter part of November 1874 to get away from the Malabar heat. "They had stayed on the island for a month, but their stay was troubled and weary. They walked on the beaches and Lear sketched the bread fruit trees and the boats, but it rained, and he was tired," writes Uglow.
Lear wrote his experiences in Ceylon in his Indian journal. The entire Lear material consisting of his journal, diary, and water colours, and drawings relating to this Indian expedition is in the Houghton Library of Harvard University in the USA which was accessed by the Sunday Times.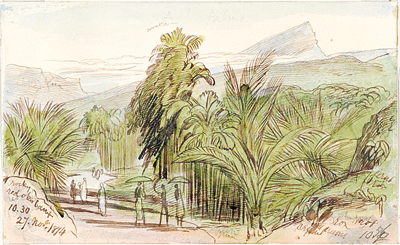 Lear wrote that their visit to Ceylon turned troublesome mainly because Giorgio fell sick with dysentery at the start of December and he feared for his friend's life.  "I go to bed, but with no light heart. Pray God he may recover!" Lear wrote in his diary describing those worrisome days in Ceylon. After Giorgio recovered from his illness, they cut short their trip and returned to the mainland but during his brief stay in Ceylon, he divided his time between Colombo, Galle, Matara, Ratnapura and Kandy drawing watercolour paintings and taking in the sights and sounds around him.
He arrived in Colombo by steamboat on November 9. "It seems a pretty place, but no more," he wrote of his first impression of the city. The trouble at the port to have his goods cleared through customs made him comment, " …. and I must say this first encounter with Serendibbians by no means prepossessed me in their favour."
In Colombo he was invited to Queen's House by the British Governor William Gregory. Lear described Queen's House as a "a very queer place, galleries  endless; but one may remark on the lovely matting."
Once he ventured out of Colombo and was on his way along the southern coastline, he was fascinated by what greeted his eyes. "Certainly, the lofty, lofty coco-lined roads of South Ceylon are wonderful and so, on all sides is the crammed luxuriance of a thousand sorts of beautiful vegetation; but beyond these, and now and then a brilliant space of shore and sea…..," he wrote.
In Ratnapura, Lear had stayed with Hugh Nevill of the Ceylon Civil Service who was the son of a close family friend William Nevill. "Hugh Nevill's house……..Nice large living rooms, but bedrooms fearfully ultra-uncomfortable, doorless, etc. Sherry and quinine. My visit here is a duty to the memory of dear William and Mary Nevill, but I fear it will not be a pleasure," Lear noted.
On December 12,1874 he sailed from Ceylon. "So! I am already far from Ceylon, for so many years the end of my landscape painting aspirations!" Lear said in his journal entry of the day.
Bibliographer H.A.I.Goonetilleke in an article he wrote in 1996 on "Edward Lear: Paintings and Drawings in Sri Lanka" said Lear's special favourites were the breadfruit and jak trees with the ubiquitous coconut vistas a particularly enticing draw.
The bulk of Lear's Ceylon paintings feature the south coastline. A total of 76 watercolour sketches and drawings relating to Ceylon have been identified, catalogued, and described by Goonetilleke in 1973. Of them 68 were done while on the island, two  in 1884 and six in 1885.
Three of Lear's paintings on Ceylon  now hang at Westminster House, the official residence of the British High Commissioner to Sri Lanka and these are  described in detail by Goonetilleke. All three are oil on canvas, painted in 1879 and based on the sketches he made while on the island in 1874. The paintings include a busy road scene near the town of Galle , a landscape with two Buddhist monks and vegetation including coconut  palms  as well as a river scene near Ratnapura with Adam's Peak in the distance.
Though his visit to Ceylon at the age of 62 was brief and wasn't the most pleasant of experiences, the island held a special place in his heart till the end.
On an unfinished picture that was on his easel when Lear died on January 29, 1888 was a huge painting of 'Enoch Arden's Island', a painting inspired by the narrative poem of Lord Alfred Tennyson, one his closest confidants. Taking his cue from Tennyson's poem on Enoch Arden, the sailor shipwrecked on his desert island , and also from his own travels, Lear had written to Edith Holman Hunt (wife of artist William Holman Hunt who taught Lear painting) shortly before his death telling her that he had begun work on a huge painting (15 feet long) to which he hopes to 'introduce every kind of flower and tree I saw in India and Ceylon'.
(Lear's Ceylon watercolours are reproduced here with permission of the Houghton Library)
Searching for an ideal partner? Find your soul mate on Hitad.lk, Sri Lanka's favourite marriage proposals page. With Hitad.lk matrimonial advertisements you have access to thousands of ads from potential suitors who are looking for someone just like you.