Do we have a solution to the perilous state of our external finances?
View(s):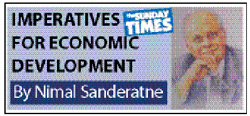 Everyone is aware of the perilous state of the country's foreign currency reserves. No one knows how the country will extricate itself from the perils of the inadequate and dwindling foreign currency reserves.
Foreign reserves
Foreign currency reserves have fallen to about US$ 1.2 billion at the end of November. This is inadequate to meet essential import needs. The current shortages of essential items are likely to aggravate unless the government obtains foreign assistance soon.
Moreover, the country is on the verge of bankruptcy and is among several countries such as Angola, Cyprus, the Congo, Gabon and Mozambique that are on the verge of defaulting on their foreign debt repayment obligations.
Yet there is no solution in sight. We are told the country has enough expertise to manage our external finances, and what we lack is foreign currency, not expertise.
Expectations
For many moons, there have been optimistic statements that there is no need to worry as there would be various currency arrangements and trade credit to replenish the foreign currency reserves and enable essential imports. Although these expectations have not materialised, we continue to hear similar statements that are now taken with a pinch of salt.
Still optimistic
In spite of this and the serious plight of the external reserves, the Central Bank of Sri Lanka (CBSL) continues to be optimistic that there would be significant inflows of foreign currency and there is no reason to worry. However, these expectations throughout the year have not been realised. It is becoming less and less likely that there would be substantial foreign assistance soon.
No consequence
Criticising rating agencies for pointing out this dangerous position and repeatedly saying that the country has never defaulted in its debt repayment obligations are of no help. There has to be a replenishment of foreign reserves from whatever source.
Best option
The best option of assistance is from the International Monetary Fund (IMF). However, it has been repeatedly and emphatically ruled out by the Central Bank and government. Will we be compelled to reverse this refusal and turn to the IMF?
Hopes and expectations
At present hopes and expectations of financial assistance appear to lie solely from India. Finance Minister Basil Rajapaksa, who is in New Delhi, is expected to seek substantial assistances from India in several forms such as trade credit, currency swaps and large investments.
Indian response
The Finance Minister has no doubt been warmly welcomed by Prime Minister Narendra Modi. Whether India could lend a substantial amount of dollars to a country that is near bankruptcy and has no means of repayment is a salient question. India may agree to a financial accommodation on condition that we seek assistance from the IMF to resolve the crisis in external finances.
India may also provide a Rupee line of credit to import Indian commodities, like the Chinese Yuan credit earlier. Such an arrangement would relieve the current nadir in external finances to an extent. Will we also agree to sell some national assets?
Successful mission
We have to wait anxiously to know how successful the Finance Minister's attempt to get assistance from India would be. In any case it will be a short term palliative, not a solution to our external financial crisis.
No prospects
The country is in a perilous state without a solution to the grossly inadequate foreign reserves of US$ 1.2 billion.  As serious is the fact that there is little prospect of these reserves increasing autonomously as the trade and balance of payments deficits are widening. Furthermore, remittances are also declining because of the artificially low official exchange rate compared to the market rate.
Besides, the expectation of a substantial increase in tourist earnings is unlikely. Only a slight increase could be expected in the next couple of months with the global resurgence of the virus. It would also be prudent to control tourist arrivals to avoid the spread of COVID-19 in the Island.
Recapitulation
The current reserve position is threatening as the debt repayment obligations this month and early next year and somewhat later in 2022 is much higher than the reserves of the country.
The oft repeated fact that the country has never defaulted in meeting its obligations is no assurance that we have the capacity to repay current debt obligations. The reserve position and the current performance of the balance of payments indicate the incapacity to repay the debts falling due next year.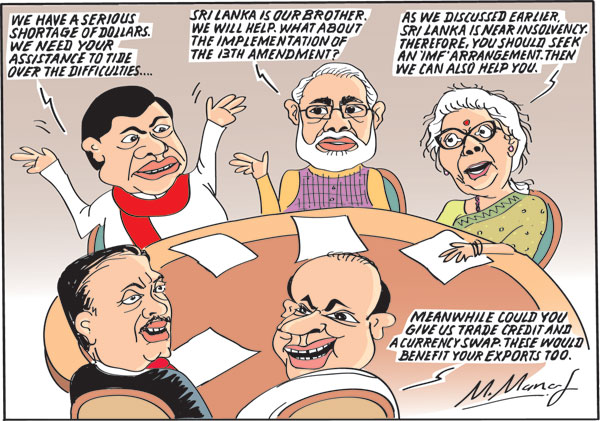 Conclusion
As the foreign currency reserves are moving towards a dangerously lower level there is no indication of how the country could save itself from a state of bankruptcy. There is little doubt that assistance must come from foreign countries as international sovereign bonds or commercial borrowing is impractical. Bilateral assistance from countries is the current mode of attempting to replenish the reserves.
However, there are still no signs of any substantial assistance from friendly countries even as bilateral currency swaps and trade credit to import essentials like food and fuel.
There is no clear idea as to how the country's external financial crisis will be resolved. What is in store for the country at the end of this year and the beginning of the next?
Buying or selling electronics has never been easier with the help of Hitad.lk! We, at Hitad.lk, hear your needs and endeavour to provide you with the perfect listings of electronics; because we have listings for nearly anything! Search for your favourite electronic items for sale on Hitad.lk today!