Square pegs in round holes
View(s):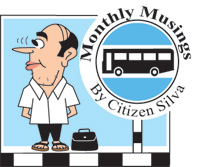 I have been musing this month about that peculiar English idiom 'Like a square peg in a round hole'.
Originally attributed to the English philosopher Sydney Smith (1771-1845) who used it during his lectures on Moral Philosophy at London's Royal Institution, the idiom has been used to describe someone who does not fit into the situation in which he or she finds themselves, just as a square peg (which is designed to fit into a square hole) cannot function in a round hole.
A person who is trying to do something they don't know how to do, is not capable of tackling the task they have been asked to do or who is woefully out of their depth in a situation – all these people can be described as square pegs trying to fit into round holes.
And today, with our economy and our society in tatters, our natural resources being pillaged and our politically appointed ministers proving incompetent beyond belief, I muse to myself that there are so many square pegs trying to function in round holes.
Take for example the appointment of Ven. Galagoda-aththe Gnanasara Thera to head a Presidential Task Force to study how to implement the concept of 'One Country, One Law'..
Borrowed perhaps from the Government of India's dream of 'One Nation, One Law, One Symbol' (which led to the removal of certain provisions of the Indian Constitution and the abrogation of the special status of Jammu and Kashmir) our own government has taken it upon itself to pursue this 'One Country, One Law' slogan.
But who has been appointed to head this task force? None other than Ven Galagoda-aththe Gnanasara Thera– a person who just three years ago was found guilty and by the Appeals Court on four Contempt of Court charges.
He was able to fully exercise his right to a fair trial by appealing his conviction – which appeal was dismissed by the Supreme Court. The pardon of Gnanasara Thera in 2019, therefore, constituted, like many of Donald Trump's presidential pardons, an unwarranted interference with our nation's legal process.
It set a dangerous precedent, indicating that the courts can be ignored and that properly tried, convicted and sentenced persons can be set free on the whims of the President.
In fact, the pardoning of Gnanasara Thera reminded me of one of the sayings of the Roman writer Publilius Syrus, who in his Sententiae wrote 'Judex damnatur ubi nocens absolvitur' – 'the judge is condemned when the guilty is acquitted'.
It is well known that military veterans are good at leadership – after all, the training of today's military officers prioritises the development of expertise in Command, Leadership and Management. But to be good leaders, these people need vision and purpose; they need a sense of service and a connection to the community. Those who have received their leadership training and experience in the military have of necessity to modify their leadership style when trying to lead in the civilian world. From having disciplined subordinates to command while in the military, they now have to deal with different thinking subordinates and citizens in the civilian world.
To win the trust and loyalty of militarily untrained and 'different thinking' civilians requires a different mindset.
It is a situation, as Walpole once said, that is a comedy to those that think – and a tragedy to those that feel.