Away from picture postcard tea country
By Yomal Senerath-Yapa
Plantation youth portray harsh realities of estate life at Thé Kahata
View(s):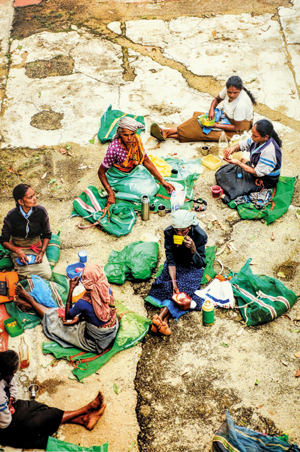 The upcountry tea estates; emerald hills and blue mist where pluckers in vivid sarees, line rooms and small shrines painted in bold shades, from pink to blue to marigold and scarlet, blossom against the crystal clear air.
Photogenic they certainly are – but the sordid reality of line rooms where sanitary conditions are embarrassing and the community lacks basic facilities with open sewers running slimy, and takaran roofs providing no guarantee against rain and storm, is seldom seen.
The photographs at the Thé Kahata exhibition held from November 13-15 at the Lionel Wendt were in stark contrast to the breezy shots that the visitor to the upcountry usually captures. These 100 pictures were taken by 40 plantation youths in their late teens to twenties.
Organised by the Centre for Policy Alternatives, GIZ and the Uva Shakthi Foundation, Thé Kahata celebrates the silent stalwarts behind the romance of Ceylon Tea.
This crop of young talent proudly carries the portraits of their people showing badly chapped hands plucking the 'black gold' for decades, teeth unknown to dentistry and goitre from lack of wholesome food.  An impish child peeps out of a primitive window in a blue line room; women kindle their hearths in corners of houses rigged with sacking; others rest sipping tea from flasks and share banter in sprawling yards, snatching a break from plucking.
Says Lahiru Kithalagama of the Centre for Policy Alternatives: "Our main goal was to create a discourse on the upcountry Tamil plantation workers and we wanted to address their issues in a non violent way."
A core target, he says, was to raise the issues among politicians and policy-makers.
The 40 youth were chosen from four estates: Holyrood and Logy in Nuwara Eliya, and Etampitiya and Uva Highlands in Badulla.
Well known photographers Ajith Seneviratne and Nadishka Ranasinghe honed the quite enthusiastic batch selected via interviews, imparting not only technical knowhow and artistic aspects, but also social awareness so they knew where to look for pictures that would illustrate their social reality.
Through social consciousness building they would "empower themselves with the composure and equanimity for leading as well as ushering in a better place in society".
J. Dushanthini from Etampitiya, one of the young photographers, said she was not really aware of the problems her community faced before attending the workshop.
The November exhibition was their fifth having previously had Thé Kahata at Talawakelle, Badulla and Uva Highlands.
Ashini Selvaraj from Hatton (23) said that attempting to highlight issues such as lack of sanitary facilities were met with protests from the older folk of the community. "But this is our right," she stressed. "If we want to achieve something we have to fight for it."
Nadaraj Priyadarshini, also 23 and from Hatton, said the exhibition has already paid dividends. Some archaic practices that harmed the dignity of the estate workers have been changed. While she would like to pursue higher studies, Priyadarshini says she will definitely continue photography as well.
The camera, in the hands of these youth, has been a great liberator – one could sense their new found confidence as they guided visitors through the Wendt.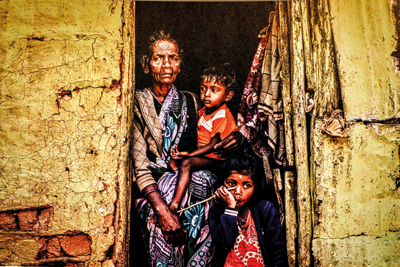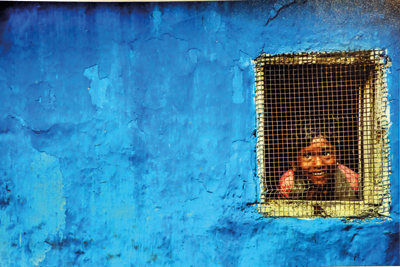 Searching for an ideal partner? Find your soul mate on Hitad.lk, Sri Lanka's favourite marriage proposals page. With Hitad.lk matrimonial advertisements you have access to thousands of ads from potential suitors who are looking for someone just like you.