Appreciations
View(s):

Looking back at the life of a man of many parts

A.R.P. Wijeyesekera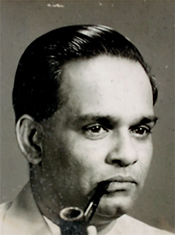 We celebrate the 100th birth anniversary of our father Arananda Rajamini Piyasena Wijeyesekera tomorrow, November 22.  He grew up among eight siblings and seven elephants including the Maligawa tusker. The family also owned a rubber estate and though they faced hard times during the depression when rubber prices plummeted,  dairy helped them to survive.
ARP's secondary education was at Royal College. After leaving school, he enrolled in the Auxiliary Fire Service. One day he was late to work only to find that his office building had been wiped out by a bomb!
Thereafter he worked in a number of private and government institutions. Among them were Ceylon Government Railway, Unilever, Lanka Sugar Corporation, State Hardware and Richard Peiris Co. Ltd
His engineering training began at the CGR workshops at Ratmalana. He spent time in England while studying for his IMechE exams and undergoing further training. He was also trained in diesel electric locomotives in Canada. The Queen visited Ceylon at this time and he was proud to say that he was in charge of the train that took her to Kandy.
ARP had several stints at the CTB, first as Chief Engineer.  In 1968 he was appointed Chairman, CTB.  He standardized the fleet to Fiat, Ashok Leyland and Tata Benz. They were used in the up country region.  This minimised the need for spare parts. He wanted centralised control.
Not only did we get to travel with him around Sri Lanka but we also got an insight on the influence of politicians on those holding senior posts in the government service. Our father refused to bow down to politicians and resigned from the post of Chairman within a short time of assuming the office a second time.
He tried his hand at entrepreneurship, starting Tractors and Roadways Pvt Ltd. He had pride in Walauwewatte Industries and nurtured the family coconut property, Walahena Estate.  He started a dairy on this property. Then as an out-grower he tried his hand growing foliage plants.
He also shared his wide experience on a number of professional bodies.  He was President of the Institution of Engineers Sri Lanka in 1980 and organised a course  for students to gain a professional degree.  He was also President of the Chamber of Commerce and Chairman of the National Chamber of Industries.
A loyal UNPer, he was the joint secretary of the first draft of the 1977 UNP manifesto which included a section on the protection of local industry.
His interest in the protection of local industry was also reflected in his work as a Member of the Board of Directors at IDB. He was also appointed as a member of the Presidential Commission of Tariffs.
He was a man of many parts; a golfer, keen wild life enthusiast who filmed with a 8mm cine camera and a still camera, radio enthusiast and also a keen cricketer.
He was a fearless journalist par excellence and simplified the complicated, working across disciplines. He wrote to a number of magazines and news papers.
His cry was "do not ask what your country can do for you but what you can do for your country."
Children Mala and Ranil
---
To my roommate and university batchmate whose generosity touched us all
D.P.W. Jayasundera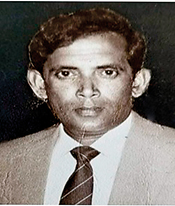 Deepal Piyatissa Wijerathna Jayasundera (D.P.W. Jayasundera)  – DP or Deepal as he was known migrated to North America and settled down in Winnipeg, Canada about three decades ago.
He urged all of us to migrate to Canada saying, "In Canada, the sky is the limit" and took the initiative to arrange Permanent Residence (PR) under the Manitoba Provincial Nominee Program for my daughter and her family. Subsequently, my daughter and her family arranged for my wife Chandani and me to become Canadian citizens. If not for his sincere generosity, we would not be in Canada today.
Deepal was born in Kalagedihena, Sri Lanka. His father Jayasena Jayasundera was the Sub-Post Master in Kalagedihena and his mother Alice Jayasundera was a teacher in the Kalagedihena Government School. In 1961, Deepal won an islandwide competitive "Rupasinghe Scholarship" examination to Royal College. His name is seen in the Rupasinghe Scholarship Panel in the main hall of Royal College. He was an active member of the Royal College boxing team.
When I entered University of Ceylon, Colombo Campus (now University of Colombo), my father found a boarding place for me with one of his friends (E. R. Eratne) in Barnes Place, Colombo 7. It was here I met Deepal. He became both my roommate and my university batchmate. He was not only studious but also keen to maintain physical and mental fitness as a boxer and weightlifter. His routine was 'early to bed and early to rise' and a nap after lunch. He obtained University Colours for weightlifting.
He started his government career as a Valuation Officer at the Department of Valuation. Later, due to his sports background he was recruited to the Sri Lanka Air Force (SLAF) as a Flying Officer (Gazetted Officer).
Deepal married my second sister Thilaka. His best man was Tony Opatha (Sri Lanka Cricket Team/Flying Officer, SLAF) and his groomsman was Wijaya de Mel (Dept. of Valuation). When I married Chandani from the Wijetillake family, Deepal was the attesting witness at our marriage. He arranged for Wijaya to marry my elder sister, Yamuna. Because of this intimacy with my family, Deepal was like a brother to me.
Deepal worked at Western Glove Works in Winnipeg. After retirement, he moved to Medicine Hat, Alberta to live with his eldest daughter Nipunie and her family. His second daughter Yosha and her family are in Winnipeg and his son Asitha and his family are in St. Rose du Lac, Manitoba.
His motto was, "Unburdened with duties and frugal in ways" (appakicco ca sallahuka-vutti), from the Discourse on Loving-kindness (Karaniya Mettaā Sutta).
May he attain the Supreme Bliss of Nibbana!
Senaka Samarasinghe
---
My Seeya, the walking encyclopaedia
 Prasanna Wickramarachi
If kindness, empathy and mutual respect combined, had a face, it would my Seeya. He had a big impact on my life. Others who met him would say no different.
Prassana Kumar Wickramarachi was born in Gampaha in 1935 to Charles and Irene Wickramarachi, the second of eight children. His siblings fondly remember him as the fun older brother who would bring them treats and take them out for movies.
He schooled at Ananda College and then later joined the Posts and Telecommunications Department as a Telecommunications Engineer. The driving force in his life was his passion for telecommunications – how advancements in information technology had a significant impact on enhancing the way people communicated. He had this childlike curiosity and amazement in the way modern developments in technology transformed the quality of life for people. He never lost this passion for all things related to engineering and technology till the very end.
With training in Germany and England, he made his way up to become the first Managing Director of Sri Lanka Telecom in 1991.
Seeya also worked with the Asia Pacific Telecommunity (APT), the Asia Pacific regional telecommunication organisation based in Thailand, initially as its Project Engineer and subsequently as Chairman of the Management Committee.  This gave him wide exposure to telecommunication development issues including funding and reforms in the Asia Pacific region.  Subsequently, as Telecom Consultant with PERC he played a key coordinating role in the conversion of SLT to a strategic alliance and privatised company.  He compiled all his career experiences into a book called 'My Recollections'  in 2015 with the help of my father, Rohan.
One quality that I admired the most about Seeya was his ability to show compassion to others. It came naturally to him; he would treat people from all walks of life equally.  He had this quality of making people around him feel comfortable and never inferior.  That enabled him to bond with people irrespective of their race, culture or background.
This led to him and my grandmother Chandrani  – who was always the gracious hostess supporting my grandfather in all his ventures till the last day – having a large circle of friends and relations who adored them. My grandparents were lucky to have celebrated their 50th wedding anniversary in 2017 amidst a gathering of family and friends close to their hearts.
Seeya was a walking encyclopaedia. The ample knowledge he carried about various topics was always so fascinating. Mealtimes at my grandparents' were occasions that we always looked forward to.  My brother Kivindu and I being his only grandchildren learnt a lot just through the conversations at the dinner table. It could be about world history, a sport, music, or even the progress of technology, Seeya was able to deliver so much information, incorporating personal experiences, giving us an insight into how life was back then.
He was an avid reader and he would almost throw a tantrum if he was not able to get his hands on the daily newspaper each morning. Even his failing eye sight towards the end did not stop him from reading.
Photography was another of his hobbies passed down to us – my uncle Sanjeewa, my brother and I. My mother Damayanthi has acquired his love for music – not just one, but a variety of genres!
In his 84 years of life, he achieved so much, travelled the world, shared his wisdom, helped so many individuals in various ways and made us all better people. It has been two years without him and we miss him dearly.  He is fondly remembered with unending love by immediate family – Chandrani, Damayanthi, Sanjeewa, Rohan, Heather, Kivindu, Kavya and friends and relations.
Kavya Seneviratne
---
The role he played in the lives of many is made clearer in his absence
GAMINI WANASEKERA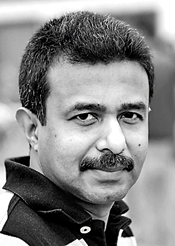 It is three months since Gamini Wanasekera passed away.
I first met Gamini as a first-year student at Law College.During the 33 years of our friendship, I like many of his friends, relied on his wisdom and insight, turning to him at the most challenging times.
His friends, colleagues and those who worked for him would go to him to pick his brains on a whole gamut of things – relationships, health, family matters, studies, employment, education, and children. Nearly always he had the answers and his friends benefited from his ability to think through things.
He was also able to gently persuade people to agree to his point of view. Although he rarely practised law- these were his advocacy skills at best.  He deeply cared for people and had the ability to listen and to look at matters dispassionately and rationally. He had the ability to tell his friends what they ought to hear. This was so even when he was 21when I first met him, and at 54 when he passed away.
I was privileged to be his friend through Law College, to teaching at CFPS Law School which we started 30 years ago with two other friends- Ajith Perera and Nanda Muruttettuwegama.
At Law College we engaged in student elections from 1989. He was one of the main architects of the decisive victory of our group – the Progressive Group or පPragathipila, at  student union elections in September 1990 holding the view of a more inclusive student community respecting the diversity of people.He was an outstanding student- topping the batch at the Final Examinations in 1991. As General Secretary of the Law Students' Union,  as a mooter and debater fluent in both languages, he demonstrated exceptional skills and talent. At the triangular moot competition organised by Law Faculty judged by the Attorney General Sunil de Silva and then Court of Appeal Judge Sarath N. Silva, I distinctly heard Justice Sarath Silva turning to the AG and saying of Gamini"this fellow will make a good State Counsel." That was not to be.
Despite his sharp intellect, discerning mind, advocacy skills, and interest in law, apart from a short stint at the NDB and in the chambers of Lionel Senanayake PC, he was never destined to make law his living. Instead, he ventured out to do a range of activities from teaching to business to civil society. At one time he headed the Family Planning Association and then moved to the UNFPA and thereafter to Population Services Lanka where he was Country Director at the time of his passing away. The multidisciplinary nature of his talents was evident in his role as Vice Chairman of the Ceylon Electricity Board and thereafter as a Consultant at the Ministry of Digital Infrastructure. He could hold his own in many spheres.
Despite his many achievements, Gamini cared little for the limelight often leading behind the scenes, meticulously planning and strategizing, but always willing to let someone else be the public face. He was a private person rarely showing his emotions in public. In the face of challenges, he would show exceptional calm.
Gamini was one of those who I turned to when I considered contesting the Presidency of the Bar Association.Although he had been away from Hulftsdorp, he once again joined me in that venture, supporting me and strengthening me in what was an unusually  challenging campaign. In the most difficult of times, he would always advise restraint and patience.
The tributes paid to him after his passing away from many people from different backgrounds are testimony not only of the diverse talents and skills, he possessed but also of the depths of the friendships he formed and of the man he was, motivating people and respecting their diversity.
The role he played in the lives of many, is made clearer in his absence and I am reminded of the words of  the Lebanese poet Khalil Gibran in 'The Prophet':"when you part from a friend you grieve not, for that which you love most in him is clearer in his absence, as the mountain to the climber is clearer from the plain."
May Gamini's journey through samsara be short and may he attain nibbana.
Saliya Pieris
---
Searching for an ideal partner? Find your soul mate on Hitad.lk, Sri Lanka's favourite marriage proposals page. With Hitad.lk matrimonial advertisements you have access to thousands of ads from potential suitors who are looking for someone just like you.