Critically and commercially topped horror thriller
'A Quiet Place II'
View(s):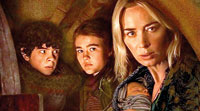 Following the critically and commercially successful 'A Quiet Place', director John Burke Krasinski has returned with the second sequel of the horror thriller 'A Quiet Place II'. The film is now being screened at Liberty by Scope Cinemas, PVR Colombo and Scope Cinemas (CCC) in Colombo 2.
The Paramount Pictures production stars Emily Blunt, Millicent Simmonds, and Noah Jupe reprising their original roles and Cillian Murphy and Djimon Hounsou have joined for the second version.
Having won two Screen Actors Guild Awards, Krasinski, the US actor, director, producer, and screenwriter also has received four Primetime Emmy Award nominations.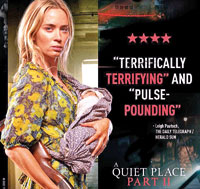 Following the events at home, the Abbott family now face the terrors of the outside world. Forced to venture into the unknown, they realize the creatures that hunt by sound are not the only threats lurking beyond the sand path.
During a baseball game, the Abbott family – wife Evelyn, husband Lee, deaf daughter Regan, and sons Marcus and Beau – and other spectators witness a strange cloud-like object hurtle towards the Earth. Hostile extraterrestrial creatures attack and begin slaughtering people.
Over a year later, the creatures have killed much of the Earth's population, including the father and one son Beau. Regan discovered that high-frequency audio feedback makes the creatures vulnerable, and she devises a makeshift method of transmitting the noise from her cochlear implant through a portable microphone.
With their home destroyed, the family searches for other survivors. Entering a fenced-off area, Evelyn accidentally sets off a sound alarm, alerting the creatures. As they flee, Marcus steps into a bear trap, attracting a creature with his screams. Regan and Evelyn kill it, free Marcus, then run into an abandoned steel foundry. An old friend, Emmett, appears and takes them to his soundproof underground hideout. Emmett, who recently lost his family, refuses to help further and says they cannot stay.
Started development of the second sequel in April 2018, the film was produced in Western New York from June to Septmber and the film had cost over US$ 60 million three times higher than its first sequel which cost US$ 17 million.
Though the film had its world premiere in New York City on March 8, 2020, it had to be postponed for a year due to Covid-19 pandemic. A Quiet Place II' set several box office records including biggest opening weekend of the Covid-19 pandemic and it has grossed almost US300 million worldwide.
Compiled by Susitha Fernando
Searching for that next furry family member but couldn't find one in your area? Hitad.lk has the solution with our extensive listings of dogs for sale in Sri Lanka!