Childhood memories and fatherhood bring forth ant tales
By Yomal Senerath-Yapa
View(s):
Andrew Ebell's 'First Adventures of the Ant Family' is a delightful triad of tales for children, evoking some anthropomorphic, urban and nuclear-family ants (living in a house just like Andrew's childhood home-with a big tree and a swing in the garden). It celebrates the fizzy joys of childhood- and if a human child finds the world a glorious new adventure, how much more exciting for a toddler ant- one millionth the size of the Homo sapiens baby, tottering through Jurassic landscapes!
The adventures happen to little Antic (whose snug family includes Mamant, Dadant and big brother and sister Anthony and Antoinette). They range from secret nocturnal visitors, Christmas time capers and escapades at the big city.
Andrew says the stories first materialised from his parents Lilamani and Richard more than 30 years back, to keep the Ebell children entertained. These alas were never recorded, and would be forgotten in time, leaving only the dramatis personae marooned in memory.
It was three decades after, with his own baby boy to feed and regale, that the Ants were resurrected by Andrew, by now a creative director having begun his journey in the advertising world as trainee copywriter.
With a push from his wife Shey and the encouragement of son Caleb (6) and daughter Ryleigh (2) now Andrew has come up with three fascinating tales illustrated magically, as a three-in-one volume.
Being able to connect with the world of children was part of his stock-in-trade as an advertising professional, says Andrew, where he has to get in and off many shoes daily- creating copy that has to appeal to so many disparate types- from policemen to pyrophobes. Besides, a 'little childishness' is the cherry on the cake for a creative, he believes.
Having grown up reading animal-centric books (Enid Blytons jostled with dogs, parrots and monkeys) it was again natural to turn to the fascinating communal world of insects.
The young illustrator of the book is Akiel Surajdeen. As a test Andrew gave each potential artist a photo of little Caleb and wanted them to do a baby ant based on his cherubic features. "And (Akiel's) looked exactly to me as Caleb was about 5 years ago."
The illustrations- joyous and full of detail and cute- bring the ants' rather sophisticated world to brilliant life.
It was through his muse, little Caleb, that Andrew also found his publisher. Kiribath Publishers is owned by the mother of Caleb's friend, who, having got to know of Andrew's work, offered their services.
The book is a wonderful primer in its own right, enticing children to make their first moves as readers, aided by the intriguing pictures of this just viable little Formicidae. Andrew also fascinates budding linguists with his stock of 'ant' words which forms a fun motif throughout the book (like S-Ant-A and Gi-Ant).
One looks forward to more sorties from Andrew's peppy imagination.       
First Adventures of the Ant Family will be sold at Pendi, Design Collective, Cozy Linen, Tropic of Linen, Arienti, Barefoot, Baby Bear, Milk and Numa from early next week.
The book is now available for pre sale on the Kiribath Publishers' Instagram and Facebook pages.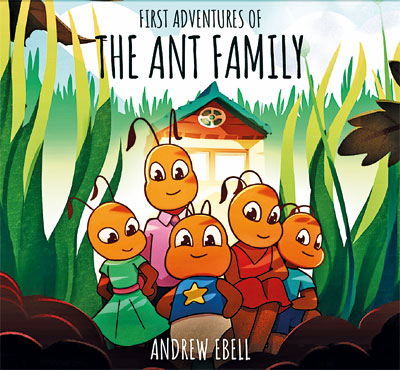 Searching for that next furry family member but couldn't find one in your area? Hitad.lk has the solution with our extensive listings of dogs for sale in Sri Lanka!