Rewarding career opportunity with MSU's Human Capital Management Programme
View(s):

Employees are the lifeline of an organization. Therefore, it is vital that every organisation hires the right employees and motivates them from time to time so that they develop a sense of attachment towards their organisation and also deliver their best.

In the years to come, it is going to become even more evident that people are the biggest competitive advantage and differentiator for any organisation.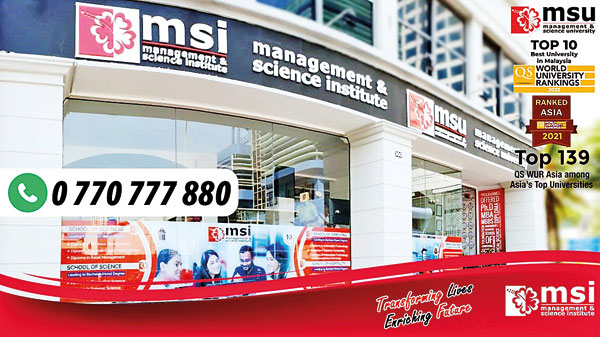 Until we develop artificial intelligence, we pretty much need human capital to accomplish anything in the world today. In fact, it takes human capital to create some other forms of capital. Human capital to is needed to design and build the high-tech machines used today.
And as we move deeper and deeper into a knowledge-based economy that depends on information, knowledge and high-level skills, human capital will become increasingly important.
The Management & Science Institute (MSI) as a registered institute under the Tertiary & Vocational Education Commission (TVEC) Sri Lanka is offers a multitude of diploma programmes in a wide variety of specialisation and provides students an opportunity of pursuing their bachelor's degrees and postgraduate degrees programmes at Colombo, MSU Malaysia or at any of their partner universities in the United Kingdom, Australia, Germany, and Japan.
To complement the needs for talents with human capital management expertise, the Management & Sciences Institute (MSI) offers the Diploma in Human Capital Management with aims to equip students with the requirements for careers in human capital vary.
It is also focusing on human resources as an essential function of an organisation and sees employees as a capital, meaning that by investing in employees, organisations can grow their capital in the future.
At the heart of every successful business lies the human capital management team who drive all aspects of staff management.
Having a career in Human Capital Management is a very rewarding experience and sets you up for an exciting future.
Here are a few benefits of studying Human Capital Management (HCM)
It's a versatile field: You will gain knowledge and experience in multiple areas like Business, Leadership, Law, Marketing, Psychology, and Education.
You can work in any industry:  Needed in any industry, and many of the skills that you develop will be transferable across sectors.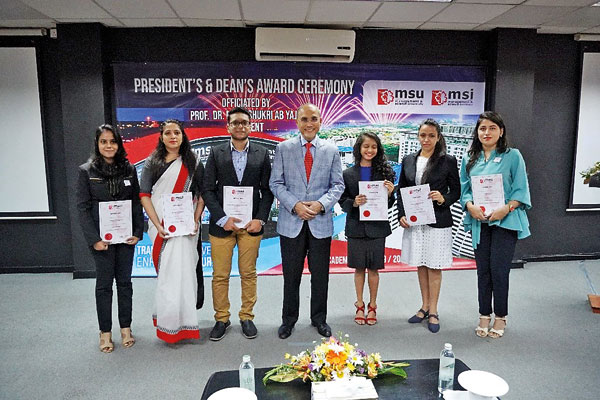 In fact, changing industries as an HR professional is probably easier than for any other kind of job. You can use the foundational knowledge you have acquired no matter what kind of business your organisation is in or even whichever country you are based in.
You have room to grow: As an important business function, HCM allows for an interesting growth trajectory. If you decide to work for a larger company, you might even move up the corporate ladder to top management roles like Chief Human Resource Officer or Chief People Officer. As you ascend, you will acquire new skills, authority, and a higher salary. But opportunities are just as limitless in smaller companies.
Here you will have the greater opportunity to personalise relationships with every employee and be given more autonomy in skill-building.
A satisfying and rewarding career: By far the best thing about HCM is the people you will work with and positively impact. Over time, you will see how much your support and position make in the difference of a company's employees, and you will help people reach their full professional potential. It can be a very rewarding career indeed.
Lessons are conducted through a combination of classroom learning and on-the-job training.
The programmes seek to maximize learning by utilizing hands-on discovery and discussion presentations, which allow room for creative thinking and problem-solving.
Students will graduate with cutting edge knowledge of the best industry practices, as well as a service innovation mindset, adding further value to their future employability.
Committed towards ensuring a high rate of student's success; besides providing international experience and exposure among students in their relevant subject areas, extensive industrial training components are also blended into all the programmes of study to enhance graduates' employability.
MSI has an excellent panel of lecturers both part time and full time who offer a stimulating and challenging learning experience. Our full-time faculty teaching is supplemented by that of visiting lecturers, experienced industry leaders, and experts.
All programmes are conducted over a period of 16 months on both a full time well as on a part time semester basis with the entry requirements being the G.C.E. O/L/ or A/L.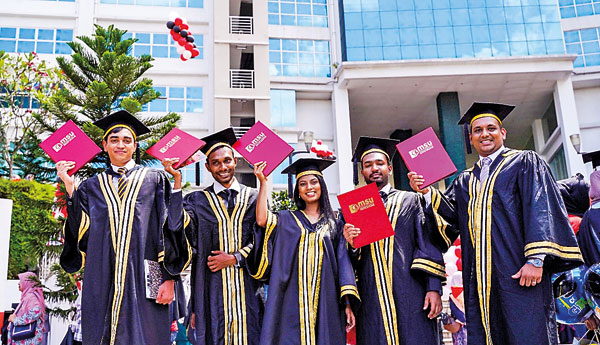 MSI is the Colombo Centre for MSU Malaysia, one of the top universities in Malaysia, Asia as well as globally.  MSU currently ranks in the Top 100 among the world's top young universities, Top 200 among Asia's best universities, Top 301+ for Graduate Employability Ranking and Top 601+ for University Impact. Ranked by both Quacquarelli Symonds (QS) and Times Higher Education (THE), MSU's world rankings place it in the Top 47% of the world's best universities in the QS WUR 2022 and Top 200 for impact on gender equality and no poverty in THE University Impact Rankings 2021.
MSU has also been awarded QS-rated 5-Stars on the metrics of Overall as well as individually across Teaching, Graduate Employability, Academic Development, Internationalization, Online Learning, Social Responsibility, Inclusiveness, and Hospitality and Leisure Management.
With 98.7% of its graduates successfully securing employment within six months of their graduation, MSU is ranked by the Ministry of Higher Education (MoHE) as Malaysia's #1 for graduate employability as well as MoHE's SETARA Tier-5 Excellent Status University in Malaysia.
MSU is recognised by the University Grant Commission (UGC) Sri Lanka, the Malaysian Qualifications Agency (MQA), the United Kingdom's Accreditation Services for International Schools, Colleges & Universities (ASIC), the Japan's Alliance on Business Education and Scholarship for Tomorrow (ABEST21), the Accreditation Council for Entrepreneurial & Engaged Universities (ACEEU), the United Kingdom's Institute of Biomedical Science (IBMS) as well as member of the Association of Commonwealth Universities (ACU)
For further information in obtaining programmes offered by MSI, kindly visit the Management & Science Institute (MSI) at No. 300 Galle Road, Colombo 03 or call us on
Tel: 011 257 6900 / 011 257 6700 Hot line 077 0777 880 or
email enquiry@msi.edu.lk or visit www.msi.edu.lk
HitAd.lk is the best and biggest mobile phone market in Sri Lanka, and we guarantee you will find what you need here from our extensive listing of mobile phones for sale in Sri Lanka. Whether it's a budget-priced smartphone for communication, or higher end features with advanced connectivity, there are many different options from which to choose from on our site!